Kanye West has RANTED about *that* Taylor Swift sex rap, insisting she was happy with the lyrics and even suggesting it was the popstar's idea…
Rewind. Yesterday at his New York Fashion Week show, rapper Kanye premiered a new song called 'Famous' which contained the lyrics: "I feel like me and Taylor might still have sex / Why? I made that bitch famous."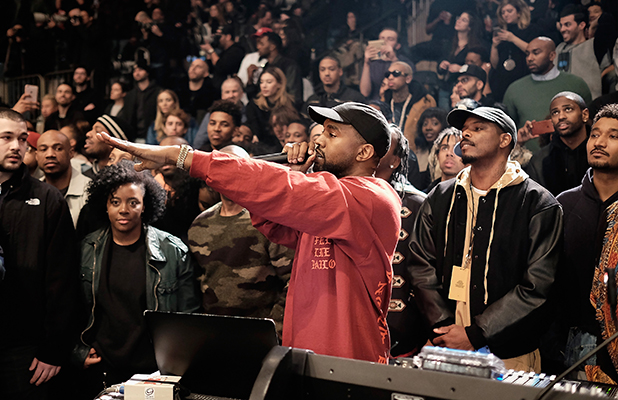 That was referring to the 2009 MTV VMAs when Kanye interrupted Taylor's acceptance speech to say Beyoncé should have won.
After the lyrics made headlines around the world, Kanye has now come out swinging in defence of his song in a series of ranty tweets, saying his wife Kim Kardashian West didn't object to his language and Taylor herself approved of the song.
So here we go…
"I did not diss Taylor Swift and I've never dissed her."
"First thing is I'm an artist and as an artist I will express how I feel with no censorship."
"2nd thing I asked my wife for her blessings and she was cool with it."
"3rd thing I called Taylor and had a hour long convo with her about the line and she thought it was funny and gave her blessings."
"4th Bitch is an endearing term in hip hop like the word N***a."
"5th thing I'm not even gone take credit for the idea… it's actually something Taylor came up with … She was having dinner with one of our friends whose name I will keep out of this and she told him I can't be mad at Kanye because he made me famous! #FACTS."
"6th Stop trying to demonize real artist Stop trying to compromise art. That's why music is so f**king watered down right now I miss that DMX feeling."
"7th I miss that feeling so that's what I want to help restore."
"8th They want to control us with money and perception and mute the culture but you can see at Madison Square Garden that you can stop us."
"9th It felt like a scene from The Warriors ALL GODS ALL GODS ALL GODS in the building. Not just the famous people there but the kids the mums the dads the families that came to share this moment with us."
And breathe.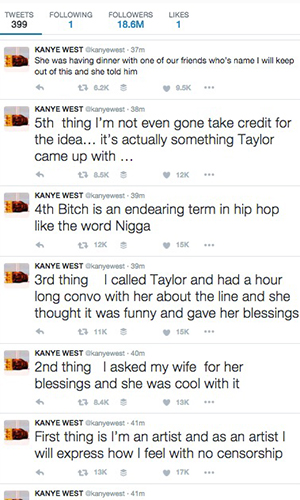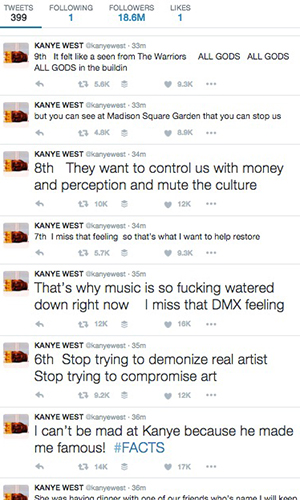 So far Taylor hasn't responded, but a rep for the star did issue a statement earlier today claiming: "Kanye did not call for approval, but to ask Taylor to release his single 'Famous' on her Twitter account. She declined and cautioned him about releasing a song with such a strong misogynistic message. Taylor was never made aware of the actual lyric, 'I made that bitch famous.'"
Taylor's brother Austin revealed his displeasure at the lyrics earlier today by binning a pair of Kanye Yeezy shoes, while Taylor's close friend Gigi Hadid, who was at the show, tweeted to say her attendance didn't mean she agreed.
For exclusive competitions and amazing prizes visit Reveal's Facebook page NOW!