Paul Knightley had 'tried to stop The Baby Diaries from airing' after watching a preview of his show with girlfriend Sam Faiers, according to reports.
Earlier this month, Paul made his reality TV debut as he and Sam documented the lead-up to their baby's birth in a one-off show for ITVBe.
However, following the episode airing,
Paul was heavily criticised by viewers for kissing his mum on the lips and it was claimed he hadn't been very supportive with Sam
. Sam was quick to defend her boyfriend after seeing such comments, and now, reports reveal that Paul never wanted the show to hit our screens in the first place.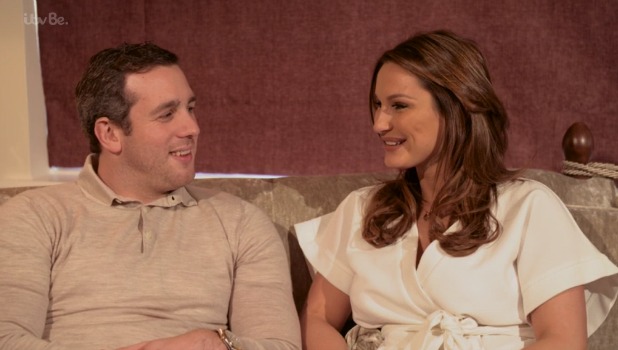 According to
The Mirror
, property developer Paul had tried to prevent
The Baby Diaries
from getting the go-ahead.
A source told the paper: "Paul tried to block ITV bringing the show out first. He was very uphappy with the edit when they saw a preview. He thought he didn't come across very well, especially with Sam. But a contract is a contract.
"Not even Paul predicted the reaction to that kiss with his mum," they added. "He is secretly fuming."
The Baby Diaries
followed Sam's pregnancy with her first child and captured her son's birth on camera, as well as the former
TOWIE
star and Paul's first moments of being parents.
Viewers were quick to hit out at the close relationship the 27-year-old has with his mother, after their kiss, but Sam made sure to jump to Paul's defence.
At the time, she hit back with a photo of herself kissing the couple's son Paul Tony, insisting: "I will kiss my baby boy on the lips forever. Thank you for everyone's support and kind comments on our show."
She added: "Media & people will always try find negative.I'm happy & so totally in love with my family #myworld #positive x."
Paul had to endure further criticism, as others claimed he hadn't supported Sam in the lead up to their baby's birth,
leading Sam to respond for a second time.
She shared a sweet photo of Paul and his junior asleep together on a hospital bed. Sam told her followers: "Wow Paul really is getting some stick. I wish people wouldn't look into it so much. It's just a TV show edited & made for good viewing."
"Yes he fell asleep reading baby books, didn't attend yoga & no he doesn't cook but he is the most caring loving man I know and the best daddy to baby Paul," she insisted. "Also I'd like to add... This is the man who got me better from Crohn's disease. Months of studying and researching to find me alternative natural medication. He's my hero."
Her comments came after
Sam had revealed, prior to The Baby Diaries airing, that Paul hadn't been so keen on the idea of a reality show.
"He wasn't too keen," she admitted during an interview on ITV's
Lorraine
. "He took quite a bit of persuading, it's not his world and he's never been on camera before. I actually thought he was a natural and he was quite good."
"He done it for me," she admitted. "I'm glad he got involved as much as he did because it shows us as a family unit, together going into parenthood."
Sam and Paul welcomed their baby boy on 29 December 2015
. The couple found out Sam was expecting just four months into their relationship.
They have now been dating for over a year.
For exclusive competitions and amazing prizes visit Reveal's Facebook page NOW!