Megan McKenna and Jordan Davies have revealed their feelings on that heated row with Lacey Fuller on Ex On The Beach.
Last night, fans of the MTV dating show finally got to see Megan and Jordan arrive on the beach, and as expected it was one explosive entrance!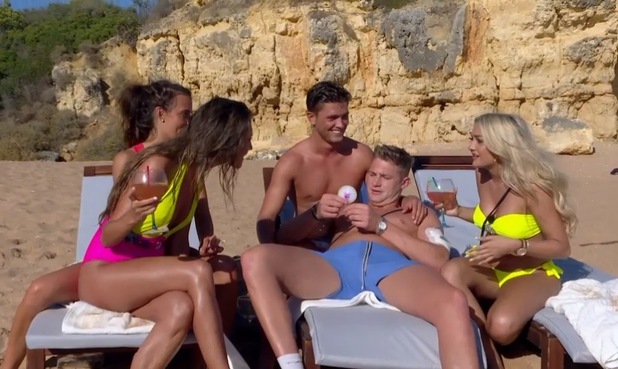 They were greeted by Jordan's ex Lacey Fuller (the pair admitted they'd had a one night stand in the past) and it's no surprise Megan wasn't going to be her biggest fan. And that's putting it mildly.
Meg's immediately kicked off at Lacey and ended up throwing her cocktail right in Lacey's face. In an interview with MTV, Jegan reflected on the argument, and Megan hinted she felt bad in retrospect, saying: "It's not the poor girl's fault."
"When I first met Lacey, I wasn't intimidated," said Megan, and that certainly came across to Lacey, who said she had no choice but to stand up for herself. "Megan was all guns blazing, I just thought you've got to stand up to yourself, you can't sit down to this."
Jordan reckoned Lacey underestimated his girlfriend, telling the camera: "Megan humiliated her on the beach because she [Lacey] thought that she'd be able to say things that make Megan feel little.
"But it's not going to happen, Meg was just coming out with all these one-liners."
Despite those 'one-liners' -
see them all here
Lacey didn't back down.
"I think I gave her as good as she gave me, but she did just love picking fights, she loved the arguing."
Showing some humility, Megan said: "Really and truly it's not the poor girl's, fault, is it?" But Jordan backed up her actions telling her "it was fun to watch."
"I'm glad it was fun for you to watch," she said "it wasn't for me when I was getting a cocktail chucked in my face!"
"You threw the first one to be fair..." pointed out Jordan.
Megan's renowned for being
very
fiery, but even viewers who'd
seen her meltdown over mashed potato
on
Celebrity Big Brother
expressed shock at her behaviour towards Lacey.
At one point directing attention towards Lacey's boobs, she told her: "They look like f**king lemons stuck on your chest, love. I have real stuff."
However after the show was aired, Megan defended herself in an Instagram post, and hit out at her now ex-boyfriend Jordan in the process.
She shared a screenshot of a message that read: "Hey everyone. Just wanted to update you with the reason why I was angry with that blonde girl on
Ex On The Beach
.
"It was because she had been drinking vodka off my table in a club a few weeks before knowing full well she had slept with my then bf. Also an hour before I entered the villa, I was told off camera that she had been slagging me off before I had arrived.
"My tw*t of an ex also had lied to me about this as we both agreed to tell each other everything about our past before we entered the beach. But shock, that was another thing to add to the list of lies."
For exclusive competitions and amazing prizes visit Reveal's Facebook page NOW!