It sounds like there is going to be a whole helping more of tears, tantrums and bust-ups on Ex On The Beach as Olivia Walsh has teased: "You've seen nothing yet."
How much more can there be?!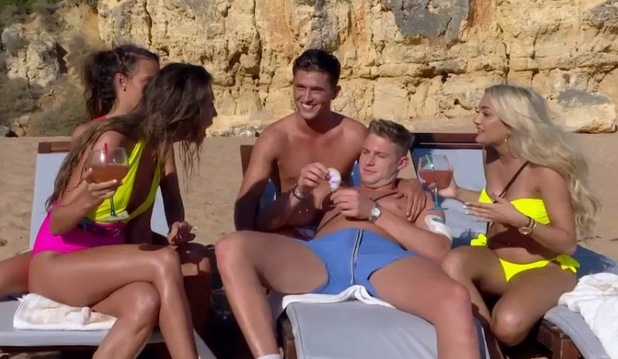 Olivia is currently starring on the fourth series of the show and while we're only four episodes in, we've seen security stepping in way too many times more than what we're used to.
However, according to the reality star, we've still got lots more to come.
Taking to Twitter after yesterday's explosive episode, Olivia told fans: "Amazing messages about last nights @mtvex guessing you all loved it! Crazy thing is you've seen nothingggg yet #ExpectTheUnexpected."
Amazing messages about last nights @mtvex guessing you all loved it! Crazy thing is you've seen nothingggg yet #ExpectTheUnexpected

— Olivia C Walsh (@oliviachristina) February 10, 2016
This series is already proving to be one of the best
Ex On The Beach
runs yet and we're now itching for Tuesday to roll around to see just how much messier the dating show can get.
After all, we've already seen punches thrown, chairs thrown, drinks thrown... And that's supposed to be nothing compared to what's to come? We are SO intrigued.
Still, while we wait to hear the latest from Portugal and our new
Ex On The Beach
faves, let's remind ourselves of the carnage that has already gone down...
Warning: Contains strong language and sexual references
1. Lewis vs. James
We were only one episode in and these boys just couldn't help squaring up to each other. James' not so pleasant attitude towards ex Olivia really had Lewis all fired up - he hates to see a bloke being disrespectful to a woman - and he couldn't resist stepping in to jump to Olivia's defence.
2. Lewis vs. YoYo
Siding with James after his initial spat with Lewis, YoYo then jumped in when things got heated between the boys once more. And when things seemed to move on, YoYo couldn't resist winding Lewis up yet again by quipping: "You picked your dummy up yet?" Bad move YoYo... bad move.
3. Naomi vs. Gina
Naomi had her sights set on Joe, so you can imagine her face when she comes back to the villa to see his ex Gina lying on the table in her bikini. She made sure to mark her territory by telling Gina her former flame was 'obsessed with her', but Gina wasn't going down without a fight... An actual cat-fight that is.
4. Lewis vs. James (Round Two)
Following James' raunchy date with Scotty T's ex Ashleigh Defty, his ex Olivia is not happy. She tries to tell James exactly what she thinks of him, but after being shut down again and her pal Helen being told to 'pipe down' by James, Lewis loses his cool. Security...
5. YoYo's exit
Nancy-May dropped a bit of a bombshell when she revealed she had to chose someone to send home from the show. After her little fallouts with YoYo, he pretty much guessed he was in the firing line.
6. Megan vs. Lacey
Megan and Jordan were back to rule the roost and Megan wasted no time in telling her boyfriend's ex-fling Lacey exactly what she thought of her. It was clear the girls weren't going to get along, but especially not after Megs branded her co-star a "four out of ten." Ouch. Lacey gave back as good as she got, with the girls' explosive introduction resulted in them both being drenched in each other's cocktails.
7. Megan vs. Lacey (Round Two)
Back at the villa, Megan couldn't let things lie and called Lacey out for appearing to have a problem with her. Of course, it wasn't long before things got personal and made for one seriously awkward welcome drinks...
8. Megan and Jordan vs. Scotty T
The couple turned their attentions to Scott and were keen to know where his heart or his, ahem, downstairs really lie. They wanted to know who he wanted to hook up with more Nancy or Lacey. Megan made it clear she thinks Nancy was better suited to him, but that didn't stop the Geordie Shore star from breaking into a sweat.
9. Megan and Jordan vs. Lewis
Seeing a pattern here? Well 'Jegan' did say they wanted to stir things up. Megan was sent on a date with Lewis and made sure to fill Jordan in on everything that went down - including Lewis' flirting. He has openly admitted he thinks Jordan should "jog on" and make way for 'Legan', so clearly his affections for Megan were not going to go down too well.
For exclusive competitions and amazing prizes visit Reveal's Facebook page NOW!