Danielle Lloyd gave an emotional interview on ITV's This Morning today about the trauma of "nearly bleeding to death" after developing an infection post-breast surgery.
The mother-of-three spoke to Holly Willoughby and Phillip Schofield about her surgery regrets after waking up in 2012 in complete agony with a hole in her left breast.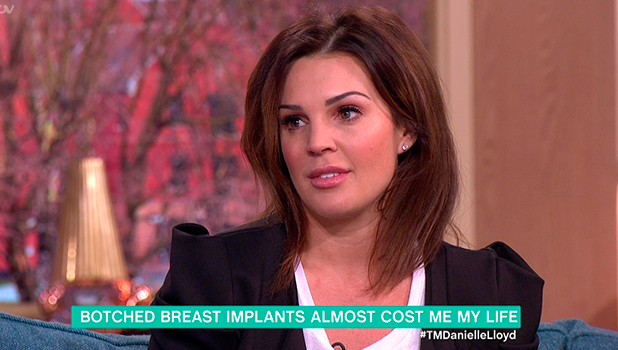 "I'd had breast surgery, after having children I had the loose skin, so I decided to try and get them fixed. I just went in for regular implant changes," she explained.
"I woke up and my breast was literally the size of my head and they wouldn't stop growing. I had a hole in the left side of my breast. There was gunk so I knew there was some sort of infection. I woke up the next day in a pool of bloody, gunky water."
She was taken to hospital to have the implants removed, but surgeons discovered a blood clot while she was under anaesthetic. I started to bleed to death, I actually lost six pints of blood and you've only got 12 in your body so I had to have an emergency blood transfusion."
Danielle said she was left with "sagging skin" and feeling horrible. "I couldn't believe what I'd done to my body and not only that, I was lucky to be alive. I'd wanted to better myself to make me more confident and I'd gone from that, to not having any confidence at all.
"I really wish that I would have waited 'till I was a lot older, a lot more mature, maybe 'till after I'd had all my children to then decide. Natural's better."
She said as people didn't understand what she had been through, when photos of her on the beach published after her surgery surfaced, she faced trolling. "They used to say really nasty things. It's really cruel and there's so many trolls out there that'd be mean to people, they don't understand how it made me feel at that time."
Danielle concluded: "You don't need to get cosmetic surgery to get yourself beautiful. That's the message. I'm not saying that you should never get cosmetic surgery but if you are going to do it you really need to research properly and think about what you do and take your time because it's your health, it's your life. I have got three young boys and I couldn't put myself through that pressure again, I couldn't live without them."