Stephanie Davis has described the idea that Jeremy McConnell cheated on her as "rubbish."
The former
Hollyoaks star told the Loose Women panel
there is no truth in the rumour Jeremy bedded a woman in Newcastle while she was still in the
Celebrity Big Brother
house.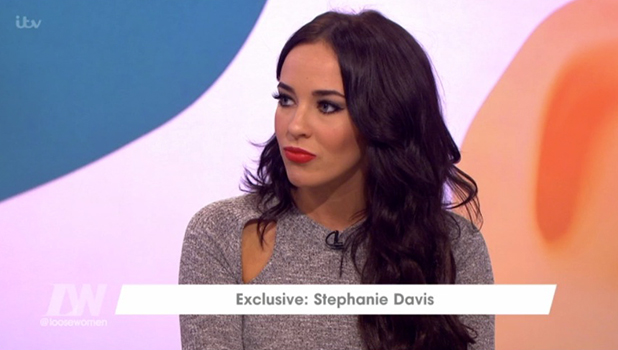 She pointed out the woman had even denied the story.
"It's rubbish. The girl even cleared it up on Twitter. Me and Jez knew that would happen. People now, in some ways, don't like to see people happy and will try to knock you down."
Stephanie, 22, fell for Jeremy in the
CBB
house, despite having a
boyfriend, Sam Reece
. Now, she's split from Sam and is "working towards a relationship" with Jeremy.
Irish model
Jeremy, 25, also also denied the cheating claim
, telling Ireland's
Ray D'Arcy Show
at the weekend: "I got in a picture with her, but the papers... with the whole romance scenario and that. I was talking to Steph about it today and we were laughing about the whole thing. The only people who need to trust are the two of us, and she trusts me and I trust her."
And the woman tweeted: "For the record nothing happened with me and Jeremy. Standard Newcastle rumours!!"
Stephanie told
Loose Women
that she will be reunited with Jeremy later today when he returns to the UK from Ireland, where he was visiting friends and family.
Meanwhile, she said
things are "definitely over" with Sam
and she'd sent him a text after the finale saying: "Good luck with everything and I've finally met someone who really does love me for being me."
Sam has yet to comment.