Kerry Katona was pretty shocked on today's ITV's Loose Women when Katie Price decided to tell everyone Kerry had a very high sex drive.
Yikes!
Kerry, 35, was appearing on today's show while her close friend Katie was doing her weekly guest panellist slot, so of course, plenty of subjects came up that perhaps wouldn't have been on the agenda otherwise.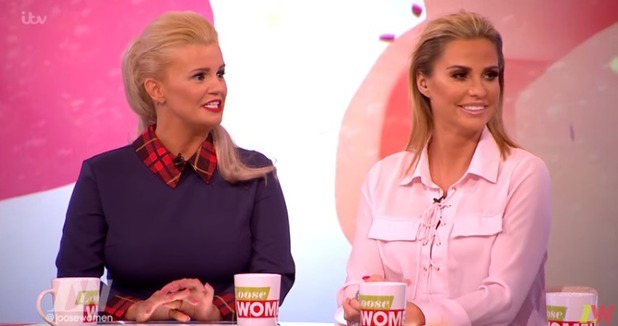 After chatting about Kerry's marriage break up and whether she'll start dating again, always outspoken Katie had a message to any men who may meet Kerry and feel a spark in the future.
"I have to say, she has a very high sex drive this woman," said Katie. "I don't want men to think she won't have time as she has these kids. Am I right or wrong Kerry?"
After blushing, Kerry said true!
Oh, Katie!
Katie, 37, was full of praise for her friend, who she met in the
I'm A Celebrity… Get Me Out Of Here!
jungle. "You're on your own at the minute, you have five kids, it's hard work. [Your youngest child] DJ is nearly two, it is hard. You're such a good mum and do it all on your own And all you want is to be loved for you."
Kerry replied: "I think I've always had to be my own hero and look after myself, my kids come first, I used to have to look after my mum, it would be nice for someone to look after me but I don't know if I could accept that."
The former Atomic Kitten star has five children from her marriages to Brian McFadden, Mark Croft and George Kay.
Katie told her friend today: "You have the five kids and you're normally the breadwinner. You need to find a man who doesn't stress you out. This is the happiest I have seen you. You look good."
"Take your time this time and don't jump into it," she said. "I know you deserve somebody who absolutely loves you. You want someone that loves you as much as [the man in
The Notebook
]. That's what you need."