Sam Faiers has hit back at critics of her boyfriend Paul Knightley following last night's The Baby Diaries.
The former
TOWIE
star opened her life to the cameras for the ITVBe show, allowing viewers access to their final weeks of Sam's pregnancy and the birth of their son Paul Tony Knightley.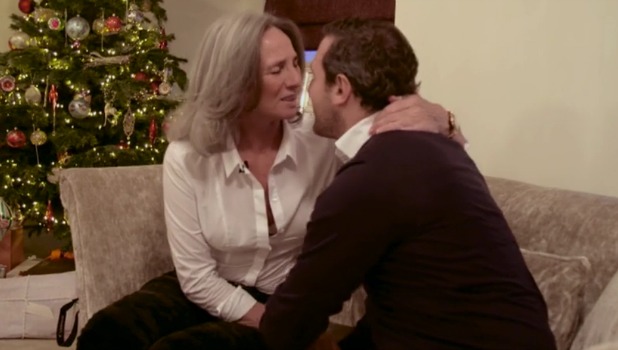 While the point of the show was the little bundle, several outlets picked up on criticism levelled at Paul, who was making his TV debut.
One particular criticism was about Paul kissing his mother on the lips during a scene where he spoke with mum Gaynor about the impending arrival of her first grandchild.
Sam, however, has not hit back at that posting a photo to Instagram showing her planting a kiss on her baby son Paul's mouth, saying: "I will kiss my baby boy on the lips forever. Thank you for everyone's support and kind comments on our show. Media & people will always try find negative.I'm happy & so totally in love with my family #myworld #positive x."
Fans left their reactions via Twitter:
@SamanthaFaiers i think your missing the point, the bad press is about how you had no support at all..being present doesn't count, want more

— Nathan (@nathansmith1994) February 8, 2016
@SamanthaFaiers but the kiss with his mum was so awkward just the whole hand round neck and stuff. #weird

— Hayley (@hayls89) February 8, 2016
@SamanthaFaiers the kiss wasn't disturbing it was paul's general attitude and control towards you. He needs to man up

— Amy Alderson (@amyalderson2000) February 8, 2016
@SamanthaFaiers people who have watched you for years are just being protective because Paul didn't come across v well at all. X

— sam bramwell (@bumfluffboo) February 8, 2016
@SamanthaFaiers I think it's odd when parents don't kiss their children on the lips. Who air kisses their kids! #kissonthelips xxxx

— Becky Edwards (@BecRees) February 8, 2016
@SamanthaFaiers And so you should do,Your documentary was lovely,your a Natural Mum an Baby Paul is lucky to have you both as Parents #LOVE

— bud (@divabud68) February 8, 2016
@SamanthaFaiers Baby Paul is beautiful.. Well done Sam!! You are doing a brilliant job!! Keep smiling and enjoy your little man xxx

— Jade Charles (@jadecharles26) February 8, 2016