The Jump has faced backlash from viewers, with many calling for it to be axed, after three celebrities have been severely injured while training for the show.
Channel 4's winter sports competition sees a host of celebrities tackling a variety of extreme sporting events on the slope live on television. And throughout its three series, many celebs have been forced to pull out early from the show after suffering injuries during training.
So far this year,
Rebecca Adlington, Tina Hobley and Beth Tweddle have pulled out
and after news surfaced revealing the extent to Beth's back injuries, many viewers are now questioning if
The Jump
is safe enough to continue.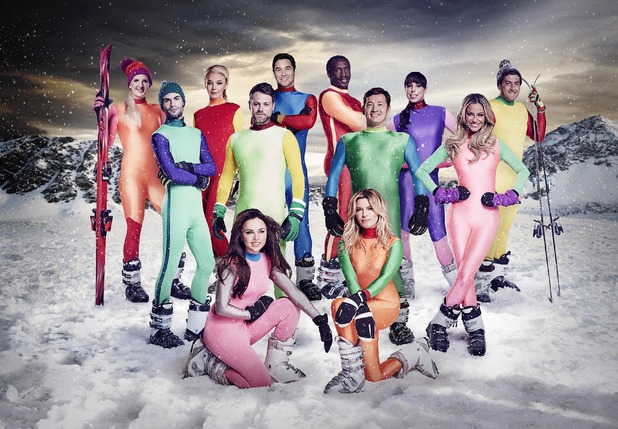 Over the weekend, reports revealed Beth had suffered a nasty injury to her back during an accident while training out in Austria. She had to be airlifted to hospital and has since received 'routine surgery' to fuse fractured vertebrae in her neck.
Since then, it has been reported Beth is 'stable' while recovering from her op in hospital. An updated posted to her Twitter page read: "The early medical indications were positive as Beth was able to move her hands and feet, despite being in a lot of discomfort.
"Beth was taken down for surgery where they took a piece of bone from her hip and used it to fuse the two vertebrae that were fractured, along with pinning them together. It was a scary time for all of us and we're just very grateful that the operation was a success."
The statement also provided a message from Beth. She said: "Thank you so much for your support and concern. The last 48 hours have been very scary but all the messages have really helped to keep me positive. I will keep you updated on my progress."
Her injury followed
Holby City actress Tina dislocating and breaking her elbow in two places
and Rebecca dislocating her shoulder.
Now, fans have reacted on Twitter, insisting the show should be axed as it is too dangerous for celebrities to be taking part.
The Jump = 24 Hours in A & E on ice.

— Sue Perkins (@sueperkins) February 7, 2016
This show is so bloody dangerous! How many can get taken out in one show jheezzee!! #celebritiesdroppinglikeflies #thejump

— Casey Batchelor (@CaseyBatchelor) February 7, 2016
Everyone seems far more interested in The Jump now it's looking like it'll end up with a death toll...

— Stuart Taylor (@stuartctaylor) February 8, 2016
Think they need to axe #TheJump

— Lady Ang (@AngeloT01) February 8, 2016
Why do celebs sign up to do "The Jump"? So far this year there's been a dislocated shoulder, dislocated elbow and now fractured vertebrae

— ShelleýLouisePT (@breakaway_fit) February 8, 2016
clearly #TheJump is a bad idea for a reality show.

— Cheeky Chops NJ™ (@BitCheekyNJ) February 8, 2016
Why is The Jump still a show? Better question, why do people think "yeah, ski jumping looks easy. I'll have go."?

— Matt Hebberd (@theDevonianLion) February 8, 2016
Surely Channel 4 can't renew The Jump now! Ridiculous they could do a show that could get people as injured as Beth Tweddle!

— Katie (@xredsexydevilx) February 8, 2016
Just to "Jump" on the bandwagon, I agree the @Channel4 should axe #TheJump as it's clearly FAR too dangerous for amateurs.

— Malc Jennings (@roboemjay) February 8, 2016
Poor Beth, Tina, Rebecca, Sid and Mark Francis. Much as I love the show, it needs to be cancelled NOW! #TheJump

— Fiona V (@fvaughan12) February 8, 2016
How many more people have to get injured before they realise #TheJump is a dangerous show and someone's gonna get severely injured???

— Paige Briscoe.∞ (@PaigeBriscoe_) February 8, 2016
Despite the backlash, however, some were quick to show their support for
The Jump.
While some viewers claimed the celebrities signed themselves up knowing full well the risks that come with the show, others suggested it was the only reality TV show that really challenges its stars.
Watching The Jump and it's bloody brilliant

— Laura Button (@LauraButton93) February 8, 2016
Love the faux outrage at #TheJump . They're grown adults, let them get on with ffs. Nobody forced them into this programme. #boreoff

— Dirk Diggler (@Deadlinesman) February 8, 2016
celebrities got injured in #TheJump & now people are calling to axe it, this country seems full of people who want to live in bubble wrap

— Matt Cooke (@GreenGiraffe22) February 8, 2016
I'm minority but I love the jump it's the only 'Real' tv featuring celebrities. The celebs are fully aware of risks, don't axe it!#TheJump

— Karen Benvenga (@BenvengaKaren) February 8, 2016
Why would C4 axe #TheJump cuz someone broke their back? That's how extreme sport works, you wouldn't axe the olympics if the same happened

— Amber Rose (@AmberRoseEvans) February 8, 2016
A spokesperson from Channel 4 has told
Reveal
in light of recent comments from viewers: "The Jump is now in its third series and, since launch, 46 celebrities have taken part successfully.
"Though it is a new course the events have been designed to be no more difficult than in previous years and all contributors have undertaken a rigorous training programme to prepare them for the show," they explained.
"All winter sports carry some element of risk, but in light of the number of injuries this year, Channel 4 has asked the producers to review safety procedures again to further reduce the prospect of accident."
Despite already having strict protocols in place when it comes to the show, Channel 4 informed us that every event and training plan is now being reassessed so that such protocols are as 'tight as can be' when it comes to the safety of the celebrities taking part.
Meanwhile, on the show,
James Arg Argent was the second celebrity to be eliminated.
He jumped the shortest distance when facing Brian McFadden, Sid Owen and Mark Francis Vandelli in the jump off. Following his time on the show, Arg admitted he was "gutted" to be out of the competition, but he couldn't believe he had made it to week two.
He joked to host Davina McCall: "I think my mum will be pretty pleased if I go home this week."
Former
EastEnders
star
Louisa Lytton was the first celebrity to get the boot.
For exclusive competitions and amazing prizes visit Reveal's Facebook page NOW!