Tiffany Pollard has been enjoying a good look at Scotty T in the Celebrity Big Brother shower again.
The US reality star was feeling rather frisky last night as she wandered around the house, declaring: "I am horny. I don't want to give too much info but it's really bothering me."
Her solution? Go to the bathroom and see if Scotty needed help in the shower.
No, he didn't, but judging from her screams of delight in a video posted to the official website, he might have opened the shower door to allow her a look at him in all his naked glory.
"Do you need any help washing?" she called out, while swigging what looks like prosecco.
Suddenly she started laughing and shouted, "Oh Scotty! Thank you! It's so nice! It's luscious! Oh Scotty, it's so nice. Oh Scotty, oh my gosh, I know what I'll be dreaming about."
She also went over to the shower to peek directly through the door after he opened it!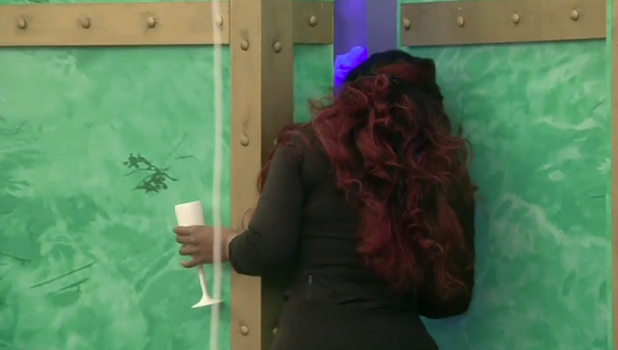 Tiffany has made no secret of the fact she'd like a hook up with Scotty,
trying to kiss him during Gemma Collins' birthday
, and later saying: "I know for a fact he wants to go up to the snog and f**k. I know he does, he just doesn't want to let anyone down. But I want him to get it up then I will put him down. I hope it happens. I will f**k him, why not?"
Scotty, however, has said he won't be hooking up with her.
"I can't be riding Tiffany, no way, that would just complicate things to the maximum, wouldn't it? The people in the house would feel weird, especially since Megan was here and all that. It's not fair and I wouldn't do that to Megan. I'm not the type of lad to do that. It's just friendly banter. Even though she definitely wants a slice of my chopper, she is not getting it!"
CBB
continues tonight at 9pm on Channel 5.