Katie Price has defended piercing her daughter Bunny's ears, and revealed that ex-husband Peter Andre has said he would prefer her NOT to pierce Princess'.
The mother-of-five was on today's
Loose Women
panel, where talk turned to the controversy sparked when Katie, 37, shared an image to social media showing Bunny, 18 months, with earrings.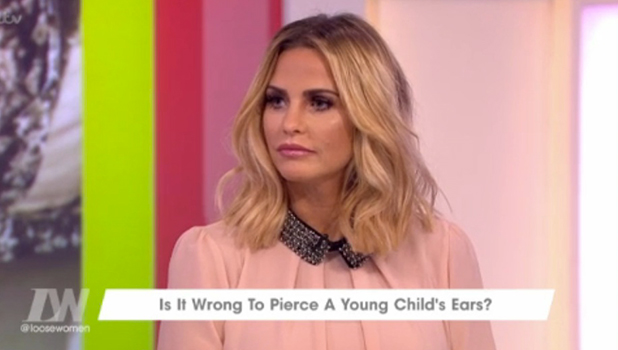 "It's only ears pierced, let's get over it!" said Katie.
"I only got Bunny's done, not Princess', and people are talking about it. I did get it done and I'm not going to sit here and have to justify myself. She looks really cute. I've had lots of opinions from people who agree or don't agree."
When panellist Ruth Langsford said some critics considered it tantamount to child abuse, Katie replied: "Oh come on! What about kids who get circumcised? They don't get a choice."
Ruth pointed out that has a religious element.
"Well mine is that Kieran's half Spanish and it's their tradition," replied Katie. "Like I say, no one has to sit here and justify. Princess really wants her ears pierced. As me and Pete have split up, we asked Pete and he said he would rather she didn't, and I would only do it if he agreed. I said until your dad agrees…"
Katie said Princess is eight, which is around the same age as she was when she had her own ears pierced. She pointed out lots of celebrities have pierced their children's ears but nobody gets as much stick as she does.
When asked if Bunny had cried, she replied: "A little bit but at the same time, when Princess was younger I loved the bling and pink but never got her ears pierced. Don't get me wrong, when a baby is a baby they should stay pure and a baby. Maybe I'm contradicting myself but what can I say? I got it done and I think she looks beautiful."
Katie concluded the debate by joking: "I'm going to put highlights in Junior's hair next week. What do you think about that? There's another subject. What age do you highlight your kids' hair."