Jeremy McConnell certainly loves his tattoos so perhaps it's no surprise he's planning to mark his Celebrity Big Brother experience with a new inking.
The Irish model appeared on ITV's
This Morning
on Monday (1 February) following his eviction from the house on Friday evening.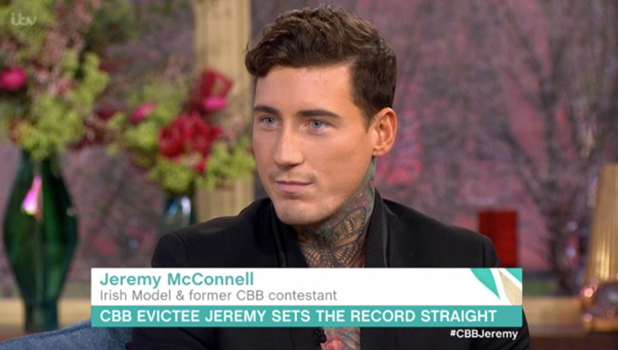 "I have been getting tattoos since I was 16," he said.
"There's not much room left is there! Maybe on the feet! I will probably get something for Big Brother and my time in the house – don't worry, not Stephanie's name!"
Jeremy, 25, struck up a friendship with actress Stephanie Davis, 25, in the house that turned into something more than friendship, with the pair sharing hugs, kisses and exchanging 'I love yous' before his eviction.
It made headlines because Stephanie has a boyfriend, model Sam Reece.
Jeremy said today: "I meant everything I said to her. I'm not there as a 'showmance', I saw some stupid stuff that I'm trying to play a game, but I'm not like that at all. I always follow my heart. I never went in there with an agenda or to try and wreck people's lives or anything. I just went with my heart and that's what I felt.
"I stand by that…. obviously the circumstances, I would not like to be in that position. I'd like to think that I had a bit of integrity, to Sam [Reece], I'm sorry the way it worked out."
CBB airs tonight at 9pm on Channel 5