Katie Price has admitted it was "wrong" of her to let her eight-year-old daughter Princess pose in heavy make-up.
During her stint in panto over Christmas, Katie was often joined by her little girl Princess backstage and last month,
the mum-of-five sparked huge debate after sharing a photo of Princess wearing a full face of make-up to Instagram.
Fans were quick to criticise Katie for letting her daughter grow up too fast and now, the former
Celebrity Big Brother
winner has admitted she was in the wrong.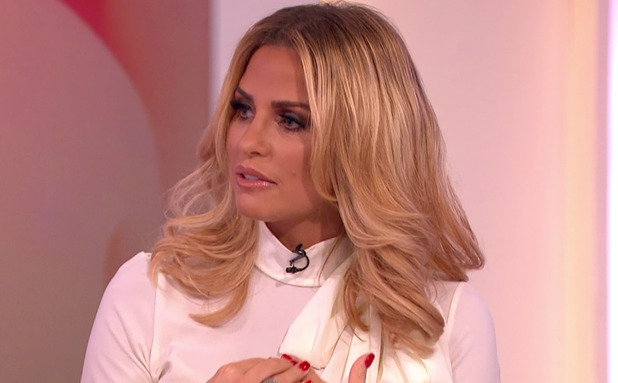 Princess had been pictured wearing lashings of mascara, pink lipstick and blusher in the photos, mimicking her mum by posing for the camera.
The snaps led to Katie being harshly criticised and hitting back, the 37-year-old then
posted a video of Princess having her say on the make-up scandal.
She said in the video: "By the way I want to do my make-up not my mum. I do. Anyway, it's none of your beeswax, so oosh."
While some supported Katie and Princess, explaining all little girls want to try out make-up and dress up from time to time, others suggested Princess was acting "way beyond her years."
Now, looking back on the photos, Katie has admitted it wasn't the right decision for her to share them online.
While discussing what age it is appropriate for girls to wear make-up in public, she told the
Loose Women
panel: "You're all right. I was in the wrong. Princess sees how I pose. She thinks it's natural.
"These pictures were taken when we did panto at Christmas and she just saw her mum doing it. I wouldn't let her go to the shops like that."
Katie continued: "To me that's innocent because she's copying her mum. But after I posted it people were saying to me, 'Oh my god Katie, think about peadophiles.' And I thought, 'Oh yeah, you're right.' When you say it, you can see it."
Katie also revealed her ex-husband and Princess' dad Peter Andre did have something to say about the photos and the video she had shared.
She said: "[Pete] said she doesn't speak like that. And I said, 'Yeah, you're right.''
Katie added: "I don't mind being controversial with myself, but not with my daughter."
Some of the comments Katie had received at the time included:
"As a mum for me this is sick. Never in my life would it cross my head, even if I was famous, to put a picture like this on social media. Make-up? OK. Dressing up? OK. But why must people see it? Don't want to judge, but child safety first.""This is a child, how dare people call her ugly and say she will turn into her mum?! So what if she does? All little girls like dressing up and putting make up on.""Is this not what a normal little girl does? Has fun with make-up and poses, sings in the mirror with a brush, dances about like a dancer on stage and generally have fun..."For exclusive competitions and amazing prizes visit Reveal's Facebook page NOW!