Celebrity Big Brother's Jeremy McConnell has continued to lavish Stephanie Davis with compliments, this time telling her: "You're the cutest thing I've ever seen."
The Irish model has made no secret of his
feelings for Stephanie
, who has been
dating another model, Sam Reece,
for the past year.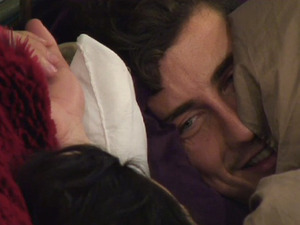 While cuddling up under the bed covers yesterday, Jeremy said: "You know they say attraction isn't a choice. Sometimes I just want to… I just look at you and… I don't know."
Stephanie wanted to hear the end of that sentence but Jeremy seemed a bit reluctant to continue any further. "You know what," he told her.
"I don't," she replied. "Tell me. Sometimes you look at us and just what?"
"I don't want to say because it sounds cringey, like," he replied. "It is what it is. You're just the cutest little thing I have ever seen. You are so cute."
Jez also informed Stephanie that he wanted to be married by the time he is 29, while she told him she wanted kids by the time she turns 30.
Clearly Steph and Jez are back to being friends again after their slight disagreement on last night's episode. Jeremy thought Stephanie was angry at him for
kissing Tiffany Pollard
in a game of truth or dare, but told her she couldn't speak as she has a boyfriend.
CBB
continues tonight at 9pm on Channel 5.