TOWIE star Ferne McCann has revealed her ankle injury from seven months ago has kept her off the netball courts ever since.
As well as starring on
TOWIE
, getting stuck into the
I'm A Celeb
jungle and popping up on our TV screens,
Ferne reignited our love for netball, thanks to her enthusiasm for the sport.
She favoured battling it out on court to getting on a treadmill at the gym, and still got involved with her local club despite her gruelling schedule. Unfortunately, though, after tearing her ligaments Ferne hasn't been able to play competitively since, but that doesn't mean she's not still netball's biggest fan.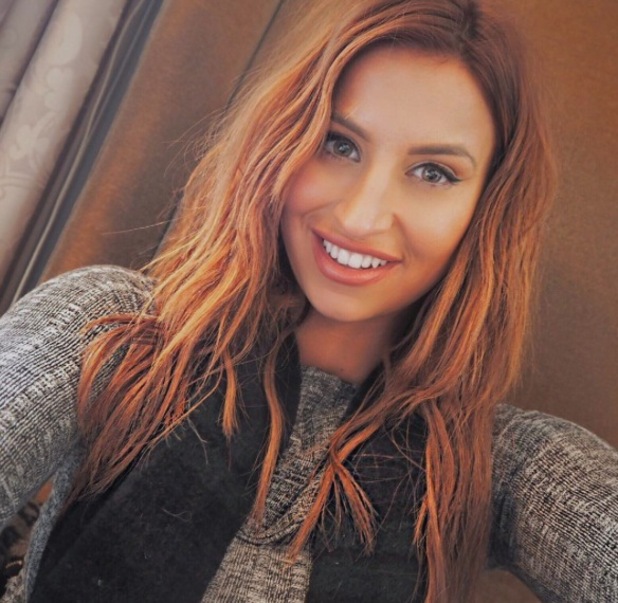 We caught up with Ferne yesterday (24 January) at the Copperbox Arena in the Olympic Park to dust off our trainers and join her, some of Netball Super League's biggest stars and GB athlete Louise Hazel for a friendly game.
Warming up the court for the final series match between England and Australia, Team Media took on Team Sky to mark netball month and somehow managed to beat them 20-12. Yay us!
Reveal
sat down with Ferne after the match and she told us: "Netball is such a fantastic sport and I'm really pleased that it's being celebrated. The game is now selling out arenas and it's supposed to be a minority sport!"
Ferne said: "It's a bit gutting, I love the sport so much, but I haven't played properly since getting an injury seven months ago. I've got a really irregular shaped ankle."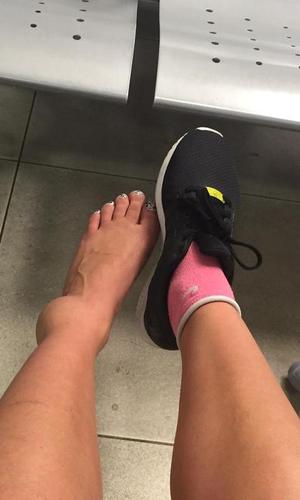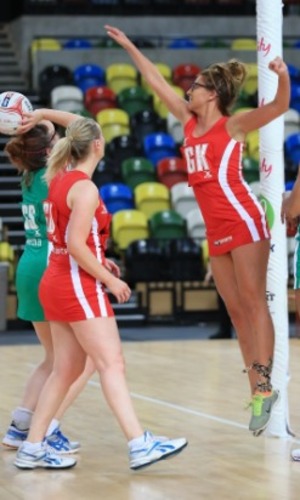 Back in June,
Ferne revealed she was in a "lot of pain" after tearing ligaments during a netball match
. While she didn't break anything, she was forced to rely on crutches for some time and needed physio to aid her recovery.
However, while she may not be playing as much anymore (we can confirm Ferne is still pretty ace on court), she is now getting involved with netball in other ways.
Ferne has been spotted cheering on her netball faves from the sidelines as a spectator
and she told us: "You'd never think to buy tickets for a netball match, but it's such a brilliant atmosphere. My sister and her team went recently - they all went for a night out after and had a brilliant time."
The 25-year-old has been presenting court side too. Channeling her expertise from her stints on
This Morning
, Ferne stepped in front of the camera and was spotted interviewing the crowd during yesterday's England game.
Plus she managed to bag herself a seat right on the edge of all the action, rubbing shoulders with netball pro Tamsin Greenway. Not bad, eh!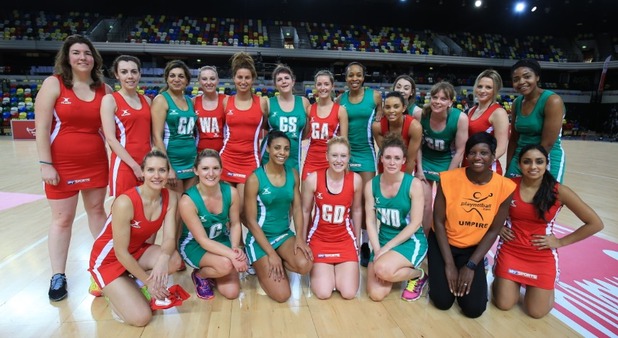 Ferne did also spill to us her best tips for staying motivated when it comes to staying in shape. While playing a sport like netball can feel like you're not even exercising sometimes (the desire to win and having a giggle with your teammates sugarcoats the hour of non-stop cardio!), there are some things you can do to stop your workout from feeling like a chore.
"Buddy up - that's my biggest tip for staying motivated," Ferne revealed. Not everyone has the luxury of being able to have a personal trainer, it's a massive expense, so get your friend or your sister, buddy up with someone and then when you're not feeling very motivated, they can spur you on."
"Another tip," she added. "Take your gym stuff everywhere. I stayed in London four days in a row this week and I didn't bring my gym stuff, so I couldn't train. Always have it or a pair of trainers on you."
Sky Sports' biggest ever season of netball begins with January's Netball Month and live coverage of every round of the Vitality Netball Superleague throughout the season.
For exclusive competitions and amazing prizes visit Reveal's Facebook page NOW!