Katie Price has said she knows people probably judge for her son Harvey's size.
The mother-of-five spoke on today's ITV's
Loose Women
as part of a discussion on childhood obesity, stemming from a mother who spoke out this week after receiving a letter from school proclaiming her healthy son as overweight.
Harvey, 13, has Prader-Willi Syndrome, which has side effects including a constant desire to eat and never feeling full.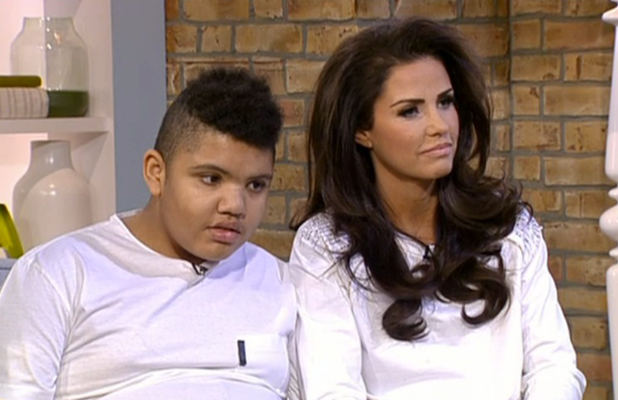 Katie said: "Obviously when people see Harvey, he's massive, I'm not going to lie, he's obese. He wears clothes bigger than [my husband] Kieran. Obviously he has problems, he has Prader-Willi so basically he wants to eat and eat and eat. It affects our whole house as it affects his behaviour.
"We have to lock the kitchen. We all sit down and eat together but with Harvey it's so difficult. He eats so quickly and sees us with food on our plate and he wants it. We try to feed him healthy but he kicks off. It gets to the point sometimes, not that we're feeders, but just to calm him down we make him pasta. It's not that we're giving in all the time, just sometimes we have to pacify him."
As for whether she feels judged in public, she said: "If I'm shopping, to get Harvey around, he always goes to get blueberry muffins, four in a packet, and he holds them the whole way around as he knows in the car, if he's good, he can have a blueberry muffin.
"I know people probably look and go, don't you think he's fat enough? I think they do judge me, but when they see me with all the kids, they can clearly see that he obviously has a problem."
Katie, 37, also said: "With anyone who goes on a diet, we all know healthy food probably doesn't taste as good as rubbish food does, unless you know how to cook it properly. I haven't a clue how to make real healthy food with the sauces and all that, and I haven't got time to do it, to be honest.
"And Harvey isn't silly. He knows salmon and veg doesn't taste as good as carbonara."
Watch the discussion below: