Katie Price spoke on today's Loose Women about her experience of taking an overdose to win back then-boyfriend Dane Bowers.
The former glamour model documented the overdose in her autobiography,
Being Jordan
, saying she swallowed pills after their relationship ended in a desperate bid to get him back. She ended up phoning a friend immediately, who sent paramedics to her home to take her to hospital.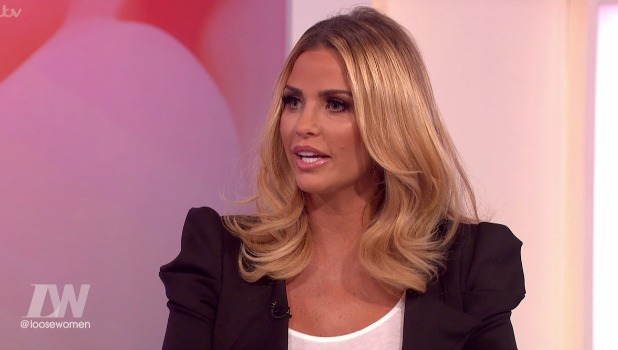 Today, Katie said: "I think loads of people try to do things to make their exes jealous but at the end of the day they've seen what you are really like, so if you make yourself up to look different or try to go with their mates, or this or that. If they don't want to know you, they don't want to know you.
"Even when I was younger, stupidly enough I wanted my ex Dane Bowers back so I did an overdose. It's so stupid and it didn't get him back. You do these things for attention. It does not work. I was young and naive."
Katie, 37, said she'd tell any young person now who thought that sort of drastic action would work, that they are very wrong.
"I was so heartbroken and I used to say he was the love of my life but I've realised he's not. I regard [my husband] Kieran as the love of my life. It broke my heart but it made me stronger."
Katie wrote in her autobiography: "I thought, if I can't be with Dane, I don't know if I can go on. I picked myself up and staggered to the bathroom. I opened the cabinet and grabbed a bottle of pills... If I take these, I thought, then he'll realise how much I love him and how much I want to be with him and he'll come back to me."
She reiterated on today's show that it was a "stupid" thing to do.
Watch the whole discussion below: