Has One Direction's Louis Tomlinson become a father?!
Short answer: we don't know!
Twitter is awash with speculation that Briana Jungwirth has given birth to a baby boy, apparently because a woman claiming to be her grandmother confirmed the news on social media.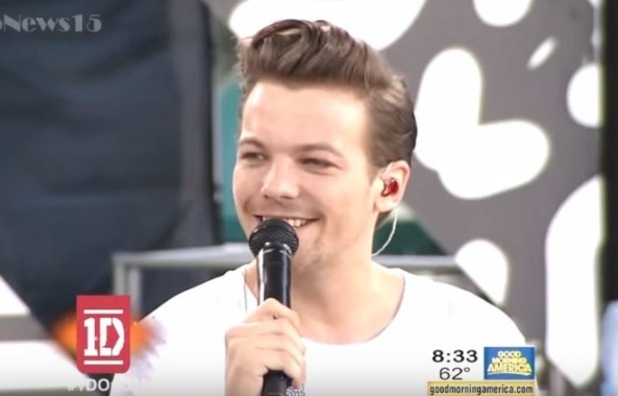 There's been absolutely zero statement from Louis or his management, though we suppose that's no surprise given that since the baby news surfaced back in July, neither have really made any public comment.
Louis
confirmed the pregnancy on a US TV show, saying he was "buzzing"
but apart from that it's been silence.
A lack of official word on the baby's safe arrival hasn't stopped thousands of One Direction fans taking to Twitter to share their congratulations, skepticism, jokes and everything in between.
The confused!
I'm still unclear as to whether this baby is still inside Briana or not hopefully Louis isn't as confused as me #WelcomeBabyTomlinson

— mallika (@aimlessphan) January 22, 2016
"We have no idea if Louis's baby is here or not, but let's make sure it's trending anyway!" Okay, then... pic.twitter.com/qxchaPKhbv

— elodie. (@czzerny_) January 22, 2016
The congratulations!
It's a baby boy! Congrats Louis. Surely soon he will follow your footsteps #WelcomeBabyTomlinson

— ️hadid (@jeninaxpricelle) January 22, 2016
@Louis_Tomlinson Congrats or your baby!! I'm sure you will be an awesome dad!! Good luck!!!

— Astute Bookworm (@JenniferRed4) January 22, 2016
oh my goshhhh!!! new baby bornn!!! congratulation @Louis_Tomlinson !!!
#WelcomeBabyTomlinson

— ALLONA TALAROC =)) (@allonatalaroc19) January 22, 2016
The jokers!
The truth behind Louis' baby @Louis_Tomlinson #WelcomeBabyTomlinson pic.twitter.com/3xxdg25S3g

— Cleo (@cj_sassy) January 22, 2016
The ones who won't believe without Louis saying so!
"Briana had her baby"
"Louis is with her"
"it's a boy"

how many lies have you heard today? pic.twitter.com/DnbD3Mz9LJ

— elina ◡̈ (@kultaaho) January 22, 2016
@typicallarrys I will only believe it if Louis travels to Pride Rock and introduces the baby to the animal kingdom!!

— Alex (@AlexZakke) January 22, 2016
send me a picture of the baby and louis and ill welcome it #WelcomeBabyTomlinson

— catt (@stylezbun) January 22, 2016
The baby name suggestions!
Louis should call his baby cocopops

— Amber (@lwturtles) January 22, 2016
Those clinging on to Larry Stylinson hopes
WHAT IF LOUIS AND HARRY HIRED BRIANA TO MAKE A BABY
#WelcomeBabyTomlinson

— m; (@badbloodfthes) January 22, 2016
#WelcomeBabyTomlinson I know I shouldn't but I'm laughing holy god by baby do you mean Harry? Cause he's Louis' baby. He's a Tomlinson now?

— larry stylinson. (@perfectlyxlarry) January 22, 2016
Louis and Briana's baby news came as a shock to many fans who hadn't realised they'd been dating. Many didn't know of Briana or her background until the baby news sent everyone digging for info.
It is believed they shared a few dates in May last year after Louis split from long-time girlfriend Eleanor Calder. He's now thought to be dating US actress Danielle Campbell, but is allegedly planning to relocate to LA to be close to his child.