Celebrity Big Brother's Jeremy McConnell and Stephanie Davis have been discussing the moment they started liking each other.
We know, bit confusing, right?
Just after
Jez told Stephanie to leave him alone last night
and she admitted
wanting to marry boyfriend Sam Reece
, now they're back to being super close and talking about when they first started liking each other.
So. Confusing.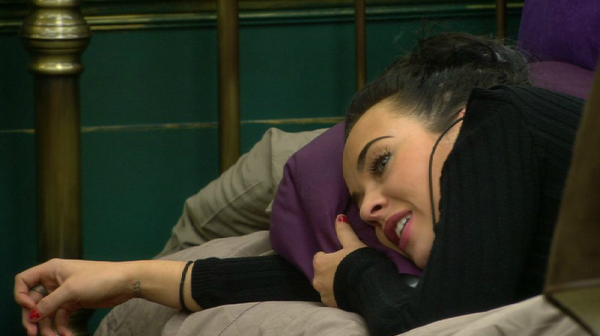 In a clip posted to the official
CBB
website, the two housemates are lying in separate beds and chatting with each other about their friendship.
Jez wants to know when Stephanie started to like him, so she says: "Straight away really. When we were doing the keys [task to unlock the house]."
"Really that quick?" he replies joking: "I only started liking you two days ago."
He then makes Stephanie burst into laughter when he says: "You make me feel funny inside when I look into your eye balls."
The conversation then turned to, um, farting with Stephanie going TMI by saying: "Last night I was dropping bombs, like unbelievable." Lovely!
Then Jez turned the chat back to him, asking: "When did you look at me and say, 'I like this guy'?"
"If feels like we have been in here forever," answers Stephanie. "I can't even remember the point. The first night when you walked down the stairs, how long ago did it feel?"
"You proper wouldn't leave me alone that night," said Jeremy.
"As soon as I knew you were Irish and you were funny. I just thought Scousers and Irish, and I have Irish people in my family, so I know that Irish people are sound and I always get on with them. I thought, boom! He'll be a sound lad and you were."
Stephanie and Jeremy's friendship/more than friendship has been pretty confusing over the past two weeks. They've shared a kiss and cuddled up and Jez even said he loved her, but
Stephanie said on last night's show she missed boyfriend Sam
and had possibly been using Jeremy as a substitute.
"I've just realised everything," she said. "I've missed Sam so much that I've had to block him out completely. Maybe I've substituted Jez for Sam as I've missed the contact.
"I don't want to look like a tease, it's not like that, I think the world of Jez."
CBB airs tonight at 9pm on Channel 5