Gemma Collins has told Big Brother they can pay for her new hair extensions, after complaining about a lack of heated rollers in the Celebrity Big Brother house... because, er, hair straighteners are for weirdos...
The former
TOWIE
star ranted to the Diary Room in last night's episode about being fed up with the tasks and angry that her "expensive" hair had been "frazzled" because of a lack of amenities in the house.
"I don't want to play another task. I f**king hate them. I just want my life back.I want to get up, go and get a blow dry, a spray tan, go to my shop and my normal life," she moaned.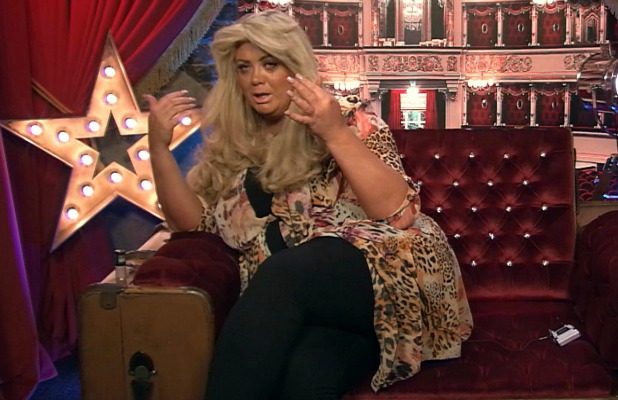 "Instead of playing f**king stupid tasks all day for a £200 shopping budget all to win a bit of smoked salmon, who is bothered about that? It's all too much."
She went on to cry as she said: "I ain't having it no more. It's a f**king piss take. You're all taking the piss out of me. Honestly, I'm being serious. My hair is very expensive and it's f**king frazzled because you only have straighteners in here and no heated rollers.
"You better pay for me to have a new set of hair extensions. My f**king hair is frazzled. Why didn't you think to have heated rollers in here? Straighteners are what f**king weirdos use on their hair. Is that what you think about me? I ain't gonna perform anymore."
As you'd expect, plenty of viewers - including
Corrie
's Samia Ghadie - took to Twitter to discuss the whole 'are hair straighteners for weirdos?' topic..
I must be a weirdo then cos I always use straighteners on my hair #CBB #Gemma 's pearls of wisdom

— Samia Ghadie (@realsamia) January 21, 2016
just spent £150 ordering a new pair of GHD's just to hear Gemma Collin's say 'only weirdos use straighteners' how will I go on

— Em Dilorenzo (@emily_dilorenzo) January 21, 2016
Calling all girls who use straighteners on their hair... I'm sorry to break it to you, but according to Gemma Collins we're weirdos! #CBB

— Emily Knott (@em_knott) January 21, 2016
Can't believe big brother provided straighteners and not heated rollers!!!! Liberty. Stay strong Gemma X

— Tom Harvey (@tomharvey7) January 21, 2016
#cbb Gemma "straighteners are for wierdo" no babe there for girls like me with natural curls I love @missgemcollins but what a silly comment

— Emily B (@EmilyB_Official) January 21, 2016
'Straighteners are what weirdos use' yeah thanks Gemma looks like I'm a weird then #cbb

— MIAAA (@MiaApril1999) January 21, 2016
I use straighteners Gemma & I'm not a weirdo. Who has time to use heated rollers every day?!? Idiot! x #CBB

— H.. (@Heather_1705) January 21, 2016
Shoutout to the girls still using their trusty GHD straighteners. Gemma's a hater #CBB

— Yeesh. (@yeeshie_) January 21, 2016
baffled that Gemma on cbb has said 'only weirdos' use straighteners on their hair lmao guarantee 90% of England own straighteners hun

— abbie (@abbb_clarke) January 22, 2016
How to win friends and influence people.. tell them they're a weirdo for using hair straighteners and this from the mouth of Gemma Collins

— Vicky Gardener (@Bubz_) January 21, 2016
Gemma might get to use her heated hair rollers soon enough, though, as she's one of seven celebrities up for eviction tonight, alongside John, Megan, Jeremy, Stephanie, Danniella and Tiffany.
CBB
airs at 9pm on Channel 5.