Was Angie Bowie's epic Celebrity Big Brother meltdown all pre-planned?!
Viewers saw the 66-year-old
former wife of David Bowie ranting and raving in the Diary Room
earlier this week, demanding Big Brother provide her passport, phone and a car to get to London.
The following day, she packed her suitcase, returned to the Diary Room and demanded once again to leave.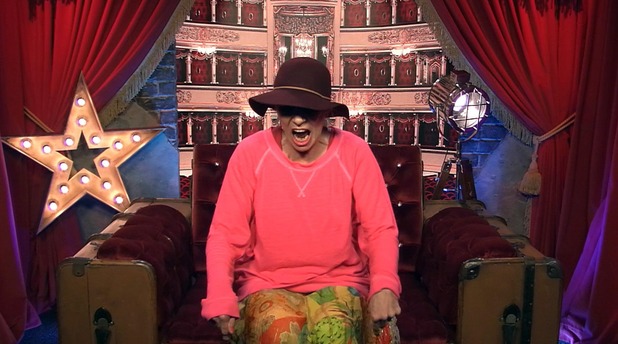 Speaking to the
Daily Star
after
walking out of the house yesterday
, she explained: "I said it twice already so the third time had to be gold. I was about to go on stage... you know how it is when you're queuing up for the big scene. I had to go in and make it look really good or I was not going to get released."
Clever....
Angie's epic
meltdown saw her breaking down over sleep deprivation and feeling poorly
. "You sons of a bitch. I am sick of this," she told Big Brother, who had to tell her to take her hand off the camera.
When Big Brother asked her to explain what had happened, she replied: "NO! Give me my stuff now! Hurry the f**k up! Open the goddamn door!"
She then started pulling at wires and cameras, forcing Big Brother to tell her to leave the equipment alone.
"Please get me my stuff and then I won't touch your equipment," she fired back.
"You did it! Ooh! You cracked me! It was all going to be just peachy until you decided that the smart way to drive me crazy was tohave another of your pathetic parties where you inebriate these people with alcohol and I can't sleep. No! It's over!"
That night, the
former model slept in a spare bedroom
, before
returning to the house to reveal she was leaving because of illness
. She told the housemates she had a temperature of 103.
A rep for Channel 5 said yesterday: "After being unwell for a few days, Angie Bowie has decided to leave the Celebrity Big Brother House. Her exit will be addressed in tonight's live show on Channel 5 at 9pm."
She's the third housemate to quit this year, following Jonathan Cheban and David Gest.