They might share the same channel, but when it comes to winning a National Television Award it's all out competition for This Morning and Loose Women.
Daytime TV just moved into a whole different league! An NTA battle erupted
live
on air today (19 January) and it was utter chaos as both shows fought for votes. Until the ad break interrupted the fun, obviously.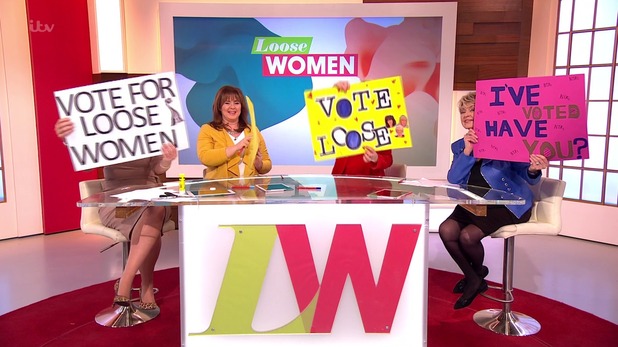 During today's
This Morning
programme, hosts Phillip Schofield and Holly Willoughby linked into
Loose Women
for the usual chit-chat to find out what was coming up on the show.
Instead of a smiling panel they were greeted with the
Loose Women
ladies doing some serious promotion work, holding up banners saying 'Vote Loose Women'! Sneaky lot, aren't they?
The cheeky gesture was made on the last full day to encourage viewers to vote for
Loose Women
over
This Morning
in the Best Live Magazine Show category
at the National Television Awards
.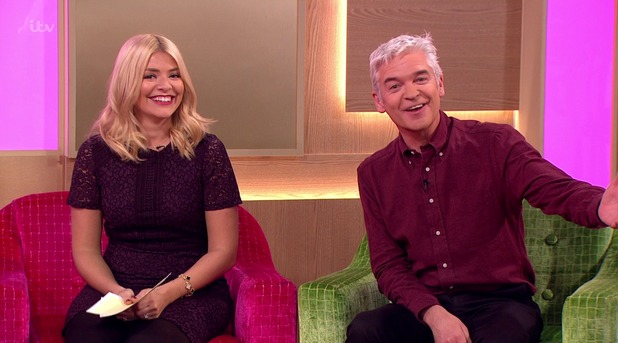 However, the
Loose Women
lot soon learned that you don't mess with Phil and Holly's air-time and get away with it, oh no...
The camera moved back to Phillip and Holly in the
This Morning
studio, and the presenting duo recognised that this was their golden moment to win over the viewers.
Holly said: "You naughty ladies!" Phillip smiling, added, "Utterly shameless! But of course [looking into the camera] you could decide what you want to do - do you vote for the
Loose Women
? Or... you could vote for us?!"
He added: "And then we have the amazing night out... and then we're in a state the next day on the show - so what do you wanna see?!"
Holly continued: "We can either drink to celebrate or drink to drown our sorrows so either way, I'm not holding out much hope for Thursday morning!"
Putting on an Oscar winning (and potentially even NTA winning) performance, Phillip carried on: "...And there was a fire at the James Grant offices [their management offices], and all past NTAs have all gone up in smoke..."
Looking sad, Holly said: "We've got none now..."
Hammering the point home, Philip rounded off their plea: "So you know, we have to start from scratch... Hi, Loose ladies!"
So, who has your vote then? The banner-waving, cheering
Loose Women
crew? Or the sob-story
This Morning
duo? It's really a question of which lot you want to see hungover and still having to present live on TV!
For exclusive competitions and amazing prizes visit Reveal's Facebook page NOW!