Gemma Collins has given Stephanie Davis a few home truths in the Celebrity Big Brother house after learning Steph had kissed housemate Jeremy McConnell despite having a boyfriend on the outside.
After hearing that Jeremy confessed to Scotty T about snogging Stephanie under the bed covers, the
TOWIE
star couldn't help but voice her opinion when she saw Steph and Jeremy snuggling in bed once again.
"It's public knowledge you have already kissed under the covers. It's so wrong what you're doing. You have a boyfriend."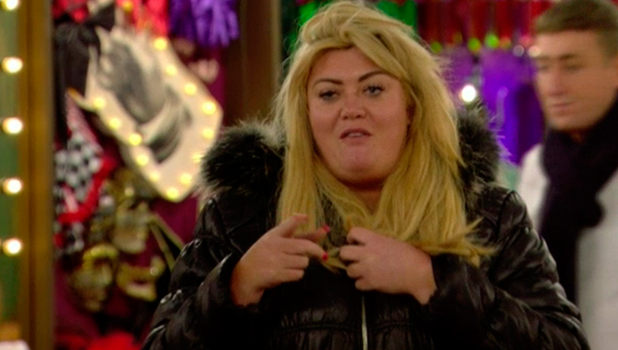 Stephanie, who is dating model Sam Reece, insisted she HADN'T kissed Jeremy, but GC pointed out: "You have told people! Jeremy told Scotty!"
"What you are doing is wrong is so wrong on so many levels," continued Gemma. "You have a fella, Stephanie. Pull it together. I'm trying to help you. You have a boyfriend. I think you're acting like an absolute disgrace snogging Jeremy and making him look a mug."
Stephanie hit back with a string of insults,
calling Gemma "talentless" and saying she wasn't a celebrity
as she'd come from
TOWIE
. It all got a bit heated so Big Brother called Stephanie to the Diary Room, leaving GC and the rest of the housemates to assess what had just happened...
Gemma told the others: "Do you know what she should do? I've realised since meeting Jeremy I don't have feelings for Sam. I've fallen in love with someone. I'm the biggest supporter of love and romance and I'm so happy for anyone who falls in love, but you don't kiss another boy when you have a boyfriend because that boy is getting hurt and we've all suffered at the hands of love."
Housemates Megan and Danniella agreed and told Gemma she'd done nothing wrong.
Viewers also took to Twitter to share their thoughts on Gemma's truths...
So much respect for Gemma Collins tonight! Everything she said was right! Also was Stephanie trying to copy Megan's tantrum for airtime #CBB

— Hottest Boy Alive (@XHottestBoyX) January 17, 2016
Stephanie's upset cause Gemma's being honest with her. Truth hurts #CBB

— Benny (@Beno_ldn) January 17, 2016
Finally someone tells Stephanie what she needed to hear. Credit to Gemma for not reacting to Stephanie's personal attacks either. #CBB

— Matthew Davies (@MatthewDavies__) January 17, 2016
Stephanie needs to calm down #cbb. She's no more of a celeb than gemma is. Yeah she been on hollyoaks but she started off on a reality show.

— fiona (@Fionam0302) January 18, 2016
Gemma - for once is so right about it. #cbb. And you can see she tells the truth coz Stephanie is offended.

— T a m (@luongini) January 18, 2016
I agree with Gemma but I don't think it was her place to call Stephanie out like that #CBB

— Nini (@nini2real) January 18, 2016
Stephanie on #CBB is just unreal Imagine attacking Gemma for being on TOWIE when you're known for Hollyoaks it's no much better love

— Ellie (@eleanorrrrrrrr_) January 18, 2016