Leonardo DiCaprio
is the only person who doesn't see the fuss about *that* moment involving Lady Gaga at the Golden Globes.
The
Revenant
actor was caught on camera having a laugh with the people on his table but when Gaga brushed past to pick up her gong, she seemed to bump into him, causing his smile to turn into a look of nervousness / terror / yikes, I better not get in her way…
It was the most talked about moment of the night.
But Leo doesn't get it.
During an interview on ITV's
This Morning
today, Leonardo said: "We were laughing about that afterwards. I actually had no idea who was passing me or what was going on, but that was a funny little bit that went around… we were laughing at it at the after party!
"It's amazing what goes viral these days, I guess I'm of a different generation now. I have no idea where this stuff comes from or how it's even captured!"
They could repeat the moment at next month's Academy Awards as both Leo and Gaga are up for gongs. Leo's nominated for 'Best Actor' for his role in
The Revenant
while Gaga's song 'Till It Happens To You', from
The Hunting
, is up for 'Best Original Song'.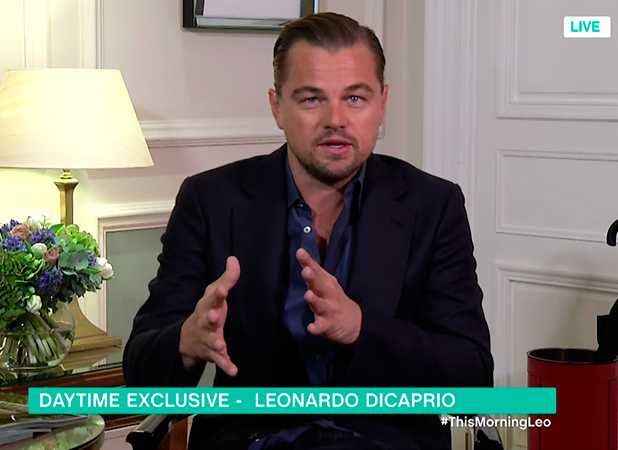 Leo chatted about the Oscars before the nominations were announced, admitting he doesn't do movies to win awards, but it's a nice acknowledgement that you're doing something right.
"I do know that it's completely beyond my control at this point. It's interesting because that's not why you do the work, you know? You do the work because you love making movies and you want to look back and have a filmography that you're proud of," he said.
"When you're on set you have to give everything that you possibly can while you're there but of course being recognised by your peers and all that other stuff that happens is kind of the cherry on the cake so to speak. But all the work from me has been done, I've done everything I could possibly do, so it's all up to you to decide whether it's worthy of being seen or talked about or awarded."