Sam Reece has NOT dumped Stephanie Davis, despite his tweet about withdrawing support from her in the Celebrity Big Brother house.
The model tweeted overnight: "Hi everyone, I will no longer be supporting Stephanie Davis... Thanks for all your support and love you have given me!!"
Many fans took that to mean Sam was publicly dumping Stephanie.
Not so, he says.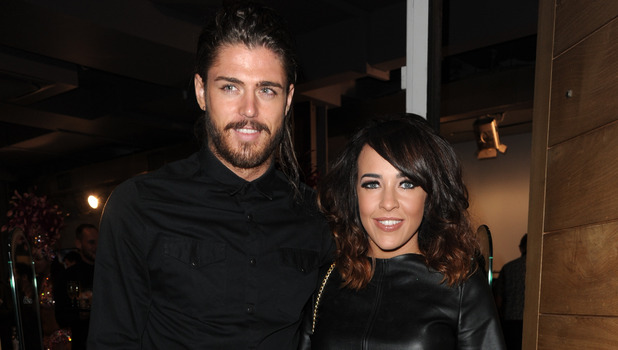 In a statement to Twitter this afternoon, he said: "I would like to clarify that Stephanie and I continue to remain a couple irrespective of comments on social media surrounding our relationship saying that I've 'dumped' her as she still remains in the house.
"Monday's comment was me withdrawing my support via social media for the time being. I will be talking to her when she leaves the Big Brother house."
He then added: "I would never end a relationship over text or social media. I want to talk to Steph face to face."
Sam's tweet about withdrawing his support came after viewers saw Stephanie snuggling up in bed with housemate Jeremy McConnell, who has admitting to having feelings for her that go beyond friendship.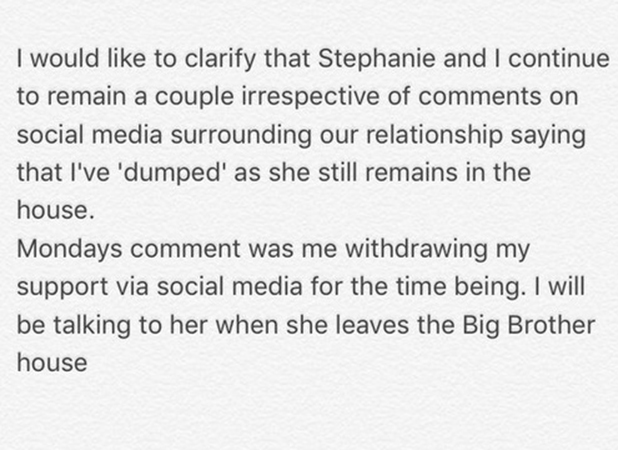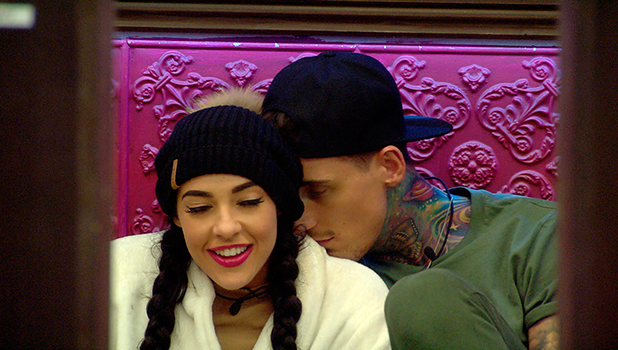 Jeremy said: "I don't want to look like a little homewrecker and I know she doesn't want to do anything. She's a gorgeous girl, she's sound, she's genuine and we have a laugh. And a bit of a flirt. Of course I flirt with the girl, it would be unnatural if I didn't and I'd be lying if I said I didn't find her attractive.
"It's more than friends, it's obvious."
Stephanie, meanwhile, burst into tears on yesterday's episode as she spoke about Sam and what he might be thinking when watching the show.
"I want Sam. I love him so much, I just want to see him. I don't want to do anything that ruins the one thing that makes me happy. I don't want him to be mugged off on the other side as I know Jeremy likes me. But he's my best friend in here and we have a laugh and cause mischief. But I'm devastated at thinking Sam is sad.
"I haven't done anything but I'm worried in case people say stuff. It's not like that. Just cause Jez fancies me. He keeps looking at me like he's in love with me. Even if Justin Bieber got down on one knee and proposed to me I would say no, I love Sam so much."