Geordie Shore star Scotty T (Scott Timlin) has got everyone thinking he could be crowned the winner of Celebrity Big Brother, after he received huge support on Twitter following his entrance last night (5 January).
Yesterday, CBB kicked off its seventeenth series and viewers watched as party boy
Scotty T joined the likes of Gemma Collins, David Gest, Stephanie Davis
and his
Ex On The Beach
co-star Megan McKenna in the house.
Less than 24 hours in, he's already proved to be a front winner to come out as this year's champ, with the entire Twitter'verse going totally crazy over Scotty's entrance...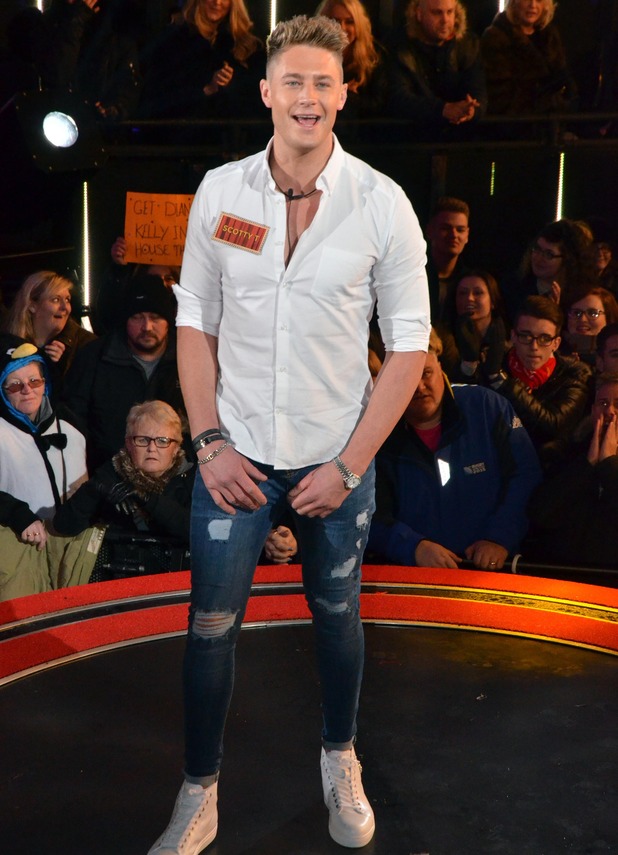 So much so, that at one point last night Scotty T had bagged himself more tweets than
Celebrity Big Brother
itself. Woah.
Ahead of going into the mad house, the reality star told viewers he was looking forward to waking up in a house with some "new birds", explaining Charlotte Crosby and co just don't cut it for him anymore. With his eye on the ladies, Scotty claimed his female housemates may be put off by his womanising persona, but they're bound to come round to him - especially when he woos them with his cooking.
Although, our favourite line from Scott in his VT was when he confessed his nan thinks he is on
Blue Peter
. Oh, if only she knew...
He said: "I think up until recently my grandma thought I was on f****** Blue Peter or something. Up until recently, she was like, 'Oh, what's this TV programme you're on?' No way in hell is she watching that, she'd literally sh*t herself."
His arrival seemed to send fans into a frenzy, and not only did he receive a slew of support from his Geordie Shore co-stars, but Scotty T also had his legion of followers super excited for what's to come.
What do we predict? Plenty of carnage....
Check out the reaction Scotty T got:
Here he is brother from another mother!!!! Kid will smash it.... Already got money on him to win and to shag hahahaha!!! #CBBScottyT Oioi

— GAZ (@GazGShore) January 5, 2016
They gunna hurry up and put Scotty T in the house yet or what @ScottGShore #CBB

— James Tindale (@JamesGShore) January 5, 2016
There he is!!!! Go on @ScottGShore can another Geordie win another reality show can't wait to see him in here

— ☮ Sophie ☮ (@SophieKasaei_) January 5, 2016
Hahaha literally still buzzing from @ScottGShore entrance!!!! Not happy about him saying I stink mind LMAO who thinks he's gunna win?!

— Charlotte Crosby (@Charlottegshore) January 5, 2016
Go on @ScottGShore son make the Geordies pround you can do thispic.twitter.com/U1U6stAReF

— Chloe ferry (@Chloe_GShore) January 5, 2016
Celebrity Big Brother is gonna me mint this year. @ScottGShore has to win, come on lad #CBBScottyT #CBB2016

— Ben Macauly (@ben_macauly) January 6, 2016
I fancy @ScottGShore wayyyy too much #cbbscottyt

— Pea (@PhoebeRosanna) January 6, 2016
@AndiNeglia #ScottyT from #GeordieShore is hilarious to watch & good eye candy lol #CBB @ScottGShore @mtvgeordieshore #cbbscottyt

— Sharan Adlem (@SharanAdlem) January 6, 2016
Team #cbbscottyt

— $MITHY (@LeeSmithySmith) January 6, 2016
#CBBScottyT he's so hot omg

— Paul #TeamShelli (@PaulParmar1) January 6, 2016
@ScottGShore For the win #cbbscottyt #TeamScottyT

— MCFLY (@Mrs_Poynter98xx) January 6, 2016
@mtvgeordieshore so glad #CBBSCOTTYT is in the @bbuk house!!!!

— Bruce Wayne (@hillsymcmlxxvi) January 6, 2016
#CBBSCOTTYT for the win

— Vicky (@Vicky_B_x) January 6, 2016
@ScottGShore you have won it already Scott #cbbscottyt

— Janine (@janinefitch69) January 6, 2016
Cannot wait to see what antics Scotty T gets up to in there! #CBB #CBB2016 #cbbscottyt

— Sorcha's World (@SorchasWorld) January 6, 2016
@ScottGShore has to win celebrity big brother!! #cbbscottyt #scottyttowin

— Nicole Robertson (@nicole13x) January 6, 2016
#CBBScottyt has got this in the bag #CBB2016

— Σάρα Ιωάννα (@SARAHJSTANLEY76) January 6, 2016
Come on #cbbscottyt only watching it for you!!

— Emma Ledbury (@lederz92) January 6, 2016
My love for Scotty T is unbelievable, I find him absolutely hilarious, can't wait to watch him throughout cbb!! @ScottGShore #cbbscottyt

— CHLO DODD (@chloedodd_) January 6, 2016
Celebrity Big Brother airs nightly on Channel 5.For exclusive competitions and amazing prizes visit Reveal's Facebook page NOW!