E! has revealed that Total Divas will be returning to our screens with its brand new series on Sunday 24 January. Eek!
After one seriously dramatic finale last time round, we can't wait to see what our favourite divas have been getting up to. Did Paige finally tell her beau that she wasn't ready for marriage? Did Nikki Bella *actually* kiss her ex-boyfriend Dolph Ziggler? And what will Brie Bella make of her sister's ex's advances?
All will soon be revealed in series five of
Total Divas
, but here's a recap of what happened when season four wrapped up and what the girls made of the drama...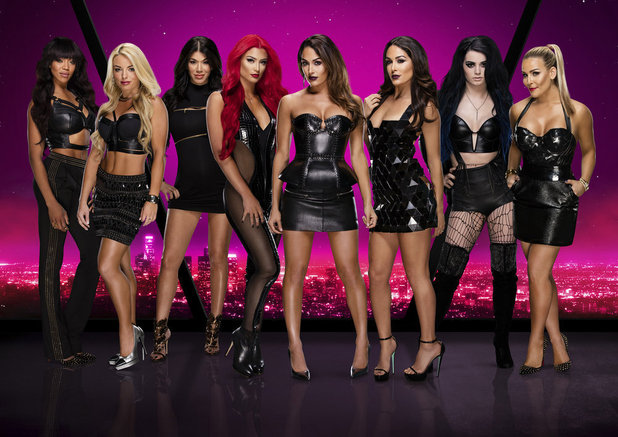 1. Paige admitted she didn't want to marry boyfriend Kevin Skaff.
Fans of the show saw Kevin get down on one knee at a tattoo parlour, after having 'Will You Marry Me?' tattooed onto his arm. Visibly shocked Paige wasn't too sure what to say, but accepted Kevin's proposal. She later confessed to her fellow divas that she wasn't ready to have a ring on her finger. She consulted Alicia Fox and Rosa Mendes and they told the WWE star she had to come clean to Kevin as soon as she could, but choosing to bail when Paige did have the chance, she decided to keep quiet and jet to Japan still as his fiancée.
Since then, Paige has kept coy on whether she and Kevin are still set to wed, but
she did tell Reveal she didn't want to rush into anything.
"With marriage, it's a lot of pressure. A lot of people want it, but for me, I don't like to rush into things," she said. "I'm 23, if I was to get engaged, then I'd want to be engaged for a long time."
Paige added: "I don't want to lose Kevin, I love him to bits and that's the issue I don't want to hurt him."
2. Dolph Ziggler tried to kiss Nikki.
After bumping into her former flame Dolph (real name Nick Nemeth), Nikki was oblivious that her ex-beau still had feelings for her - even if her twin Brie had pointed it out to her. Hanging out with Nick again, Nikki (who is dating John Cena) confided in him that John doesn't want marriage or kids. Whisking Nikki off for a private chat (while John's ring music played in the backgroud... awkward, much?), Dolph explained that he could give Nikki all those things John couldn't and telling her his feelings haven't changed since they dated, he went in to kiss her.
Of course, it then cut to the credits and fans are still left waiting to find out whether Nikki actually gave in to her former flame's charms. However, we have a sneaky feeling she didn't, as
Nikki told us she couldn't imagine not being with her boyfriend of three years John.
She told us: "With Nick - when you've been there and done that - it's hard to go back once you're already over it. It did cross my mind, though, that someone does want to make me a wife and someone does want to make me a mother, so it did get my brain working.
"Poor John was like, 'Is there anything I should be worried about?', I was like 'umm I don't think so', but I adore John, I couldn't imagine my life without him."
Phew!
3. Nattie Neidhart lied to husband TJ about her eye injury.
Throughout series four, viewers watched Nattie struggle with an eye injury and the starlet was left devastated when she was told fixing her eye could mean she could never set foot back in the ring again. As well as dealing with her own issues, TJ then suffered a severe injury to his neck and spine. Deciding to focus on her husband's recovery over her's,
Nattie chose not to worry TJ about her eye and told him she was ok
. However, her mum saw right through it and called Nattie out for lying.
Explaining why she chose not to tell her husband, Nattie told us: "There's time when I'm upset or something that happens at work and I don't want to tell him every single solitary detail – even though I should – but especially during his injury."
"I was like, 'you know what he has got so much on his plate, I don't want to unleash all these things on him,'" she continued. "TJ's always like Nattie you can tell me anything, but during that time, when we were in the initial stage of his injury, it's not always about me."
Speaking about her own injury, Nattie added: "When somebody says you can't do what your passion is, it's kind of like a death sentence. It's challenging, but I'm working through it."
4. Eva Marie made her comeback in the ring.
After taking a year out, fans saw
Eva Marie return to wrestling last series
and she was determined to come back with a bang. Realising that any crowd reaction, good or bad, will work in her favour, Eva was raring to go and won her comeback match against Cassie. Now she's made her return, the 'All Red Everything' starlet admits she is hoping to change people's misconceptions of her - even though she's starting to get on board with the boos.
"It's a tough pill to swallow [being booed]," she admitted. "But then I had people like Nattie [Neidhart], wrestling is in her blood, she was born into the business, and she completely understands that you have to have both reactions. If you don't. You're not doing your job. It's better to have something than absolutely nothing..."
She added: "I think that there was a misconception of when I first came into the business. People definitely have this wrong interpretation of who I am as far as being a WWE diva and why I want to be here."
What we know already about season five...
While we do have some unanswered questions there are a couple of things we do know that happen and we'll be keeping an eye out for them.
Not only do the girls take a trip to Paris, but this time round
they are joined be a new addition, Amanda Saccomano (aka Mandy Sacs).
After surviving Tough Enough, Amanda has joined the divas, but how will the girl's react to her arrival?
Amanda told us her co-stars were unaware of her joining them. She said: "When they told me I was going to be on Total Divas and the girls don't know, that got me way more nervous! I spoke to all of the girls when I walked in because the character I played on Tough Enough, I didn't want them to assume I was a b*tch, I'm not like that."
"These girls have been doing it a lot longer than me," she added. "I look up to them. I wasn't going to go in and be a b*tch that's not who I am!"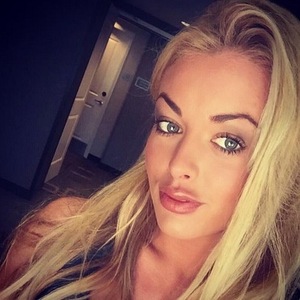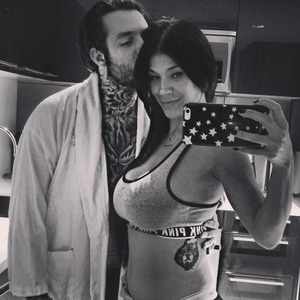 As well as welcoming a new addition to the
Total Divas
cast, Rosa is preparing to meet her very own new arrival.
She is pregnant with her first child
and with her due date creeping ever closer, we've no doubt we'll get to see her pregnancy unfold during season five.
We also know firsthand that this series marks a very special moment for Rosa, as
she and her fiancé Bobby Schubenski get engaged
. Bobby popped the question after surprising Rosa in Paris, but we'll have to wait until that episode airs to see how he did it.
We caught up with Rosa just hours after and she gushed: "You can ask the girls, I've been looking for love for... I don't even know how long! When we met it was love at first sight, I knew I was going to be with him forever, it was just a surprise that I got pregnant."
Total Divas returns to E! on Sunday 24 January at 6pm.
For exclusive competitions and amazing prizes visit Reveal's Facebook page NOW!