Geordie Shore: The biggest moments from the show's 11th series...
Geordie Shore's
11th series has finally wrapped up and this time round we saw our faves hit the Greek islands for a season of sun, fun, tears and tantrums.
Of course, their trip wasn't going to be drama-free and we reckon this series could have been one of
Geordie Shore's
most dramatic yet. We had bust ups, break ups, bombshells, one proposal and exits. That's a lot to take in, right?
Here's everything you need to know from when the Geordies took over Greece...
(Warning: Videos contain strong language and sexual references)
Charlotte kissed Scotty T
Well this, we never expected to happen. One, because it's Charlotte and Scotty T - they would never be paired together. And two, Charlotte had a boyfriend. Although, the starlet appeared to forget she was in a relationship after having one too many drinks. Completely mortal
she asked Scotty for a kiss, before grabbing his face to steal a smooch
. Waking up the next day, she only has one explanation... she thought Scott was her boyfriend Mitch. Awks.
Charlotte and Holly fell out
The BFFs had a testing time out in Greece, all thanks to Holly's relationship with Kyle. Fed up with hearing Holly moan about the way Kyle is ignoring her on nights out and doesn't care about her, Charlotte finally snapped. "All you do is talk about him", she screamed back at her pal, "You're obsessed." A shocked Holly told Charlotte she had embarrassed her by shouting in front of everyone, but
Charlotte hit back that she was angry because she felt like she had lost her best friend
. Ouch.
Holly and Kyle split
Row after row, Kyle finally had enough. Admitting defeat, the Geordie lad
decided things were not working between himself and Holly and broke up with her.
Convinced it would make her happier in the long run, Kyle told Holly she was the right person for him, but it was the wrong time for him to be in a relationship. Holly, meanwhile, couldn't understand why he wasn't willing to try and work through their issues, with Kyle telling her he couldn't keep breaking her heart every night. It was pretty emotional, right?
Holly caught Kyle kissing another girl
While Holly found it hard not to keep crying after her break up, Kyle seemed to be embracing his newfound freedom. One of the most awkward moments of the series was when
Holly walked in and caught Kyle tashing on with another girl
, just days after calling things off. Keeping her cool, she didn't kick off and gave Kyle a telling wave that screamed, 'Yup, I saw you.' Cool, calm and collected on the outside, Holly turned around to her girl pals and admitted she was heartbroken. She said: "My heart has been broken into a million pieces, but I can't show him that because then he'll know he's won." Oh, Hols!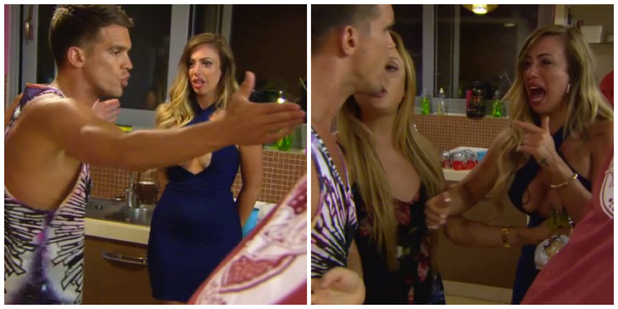 Holly and Gaz fall out
Remember that time
Gary claimed Holly and Kyle's break up had put a curse on the house
? Yes, really. Instead of sympathising with his co-stars over their recent heartache, Gaz blamed the split for being the reason why nobody in the house had pulled in 24 hours. Obviously, that didn't go down well with Holly, and when Gary remarked she needs to accept the truth that she and Kyle shouldn't be together, all hell broke loose. So much so, that both Holly and Gary had to be restrained by Charlotte.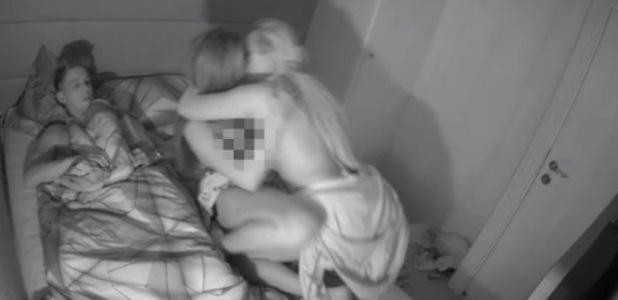 Charlotte and Chloe kissed
As well as locking lips with Scotty T,
Charlotte also necked on with Chloe.
Their kiss, however, was a cunning plan to turf Gary out of the double bed he had claimed for himself. Coming back to the house after another booze-fuelled night out, Charlotte and Chloe found themselves without a bed. So what did they do? They started playing tonsil tennis in front of Gaz in the hope that they could kick him out of his. Gary, who was dating ex-girlfriend Lillie at the time, admitted it was "soul destroying".
Kyle had a bust up with Aaron and Gaz
After having to put up with Holly and Kyle arguing one minute and the pair flirting the next, Aaron decided to call Kyle out for his behaviour. The reality star basically told Kyle he couldn't have his cake and eat it, asking him why he was still flirting with Holly if he had broken up with her. His comments touched a nerve and Aaron soon found himself squaring up with Kyle outside of the taxi. Gaz then got involved, and after being shoved by Kyle, security had to step in.
Holly and Kyle were given an ultimatum
Holly and Kyle's constant rows eventually took their toll on the rest of the house, and after the group found themselves falling out with the pair,
they decided to give Holly and Kyle an ultimatum
- one of them had to go. "It's gone too far. It's not just between you and Kyle, it's got to the point where it's between everyone," Charlotte said. While the ex couple tried to convince the group they'd had an honest conversation and finally sorted out their issues, Gary wasn't so convinced. Delivering the blow, he said: "It's too late, one of you has got to go."
Kyle left Greece
Taking one for the team,
Kyle decided it would be him who left Greece.
Watching him go, fans got a little choked up to see Holly break down in tears. Finally getting closure on their situation, Holly said: "I feel like now this is the end and I feel totally broken as a part of me just wanted him to turn around and say he had made a mistake, that he didn't want this and he was stupid. But he didn't want to be with us, and a part of me still wants to be with him."
Charlotte delivered Holly a few home truths
After seeing Holly still tearing up over Kyle,
Charlotte decided to tell Holly a few home truths that she needed to hear
- no matter how much she didn't want to listen. Telling her best friends she has lost her, things got emotional as Charlotte said: "Until your best friends tell you, it won't sink in... You saw it, but you will never believe it because you are in love with him. But listen to me Holly... he is an a*sehole. All I want you to do is f****** forget about him... I don't see my Holly. I can't see her. You're trying to please Kyle and you're not even with him... don't you ever stick up for him. He never cared about you."
Chloe dropped the L-bomb to Scott
Since her feelings for Scott came flooding back, Chloe had desperately been trying to get the boy's attention out in Greece. And after another drunken night out, Chloe got a little jealous to see Scott spooning Nathan instead of her, so she decided it was time to come clean on her feelings. Trying to tell Scott she really likes him,
Chloe accidentally told him she loved him
... and instantly regretted it. Cringing and in total denial, she was then caught saying: "No, no no, I do not love Scott! I don't know why I said that, I don't love Scott!" Oh, Chloe!
Scotty T eyes up a reunion with Holly
With Kyle out of the picture, Holly apologised to Scott for ignoring him while she and Kyle were together. She had chosen to stop speaking to him out of respect for her ex-beau, as she and Scott have history. Spending time with him again, it wasn't long before
Holly found Scott flirting with her
and he even hinted the pair could have unfinished business. But, while he was all for a reunion, Holly wasn't so keen. "Oh. My. God. Scott can flirt with me all he wants," she said. "But history will never repeat itself."
Chloe and Holly came to blows over Scotty T
An eagle-eyed
Chloe obviously saw Scott flirting with Holly and instantly saw red
. Knowing that Holly was well aware of her feelings for Scott, she (with a bit of Dutch courage) decided to confront her co-star. Holly, however, wasn't impressed. "I have just been finished [with], and Chloe has the audacity to comer over to me and accuse me of flirting with somebody who isn't even her f*cking lad," she said. "After everything I've been through, she dare speak to me like that?" Not only did their fallout ruin the night, but it also boosted Scott's ego. He totally revelled in the fact the girls were fighting over him.
Nathan revealed he is gay
After going on a journey of self-discovery,
Nathan (who had always claimed to be bisexual) realised he is actually gay instead
. He came clean to BFF Chloe, before deciding to tell the rest of the group. Explaining he wanted to be honest with them, so he could finally be himself, Nathan said: "I haven't changed as a person. I'm still the same person I was before and I feel like if I don't tell you now then I can't be myself 100 percent... What I'm trying to tell you is that I'm not bi... I'm gay."
Ricky proposed to Marnie
Ricky flew out to Greece to surprise Marnie
, and while she was shocked to see him, she had no idea what was in store. The Essex boy whisked her off for a romantic dinner, before telling her he had something he wanted her to see. Telling Marnie he wants to spend the rest of his life with her, Ricky (who has now actually split with Marnie), said: "I love everything about you... I want to be that couple that when we get old, we look back and we go, 'You know what we made it.'" He then told her to look over the cliff top and 'Marry Me?' was spelt out in lanterns on the beach below. Clearly shocked, Marnie kept the poor boy awkwardly waiting for an age, before finally accepting his proposal.
Marnie quits the show
Once she got engaged, Marnie had a big decision to make and
decided her future was her relationship with Ricky, not Geordie Shore.
She told her beau she was going to head home with him and tell her co-stars she was leaving for good. Admitting it was the right time for her to go, Marnie got emotional as she dropped the bombshell she was leaving to the rest of the house. "I want you to be strong for us because this is one of the hardest things I've had to do in my life," she told them. "I know we've been through so many ups and downs, but I'm ready to start a new chapter in my life."
All that in one series? How will next season top it?!
For exclusive competitions and amazing prizes visit Reveal's Facebook page NOW!