Dear readers, I hope you're set for a tinsel-tastic Christmas. It's easy to waste time falling out over burnt turkey, presents you don't like, or Nana having too many sherries. Instead, rock a festive jumper, have a cheeky little kiss under the mistletoe and enjoy pulling a cracker! Bobby xx
This is was in last week's magazine (issue 50/51). Make sure you pick up Reveal magazine this week for my brand new column!
AN XTRA HELPING OF SIMON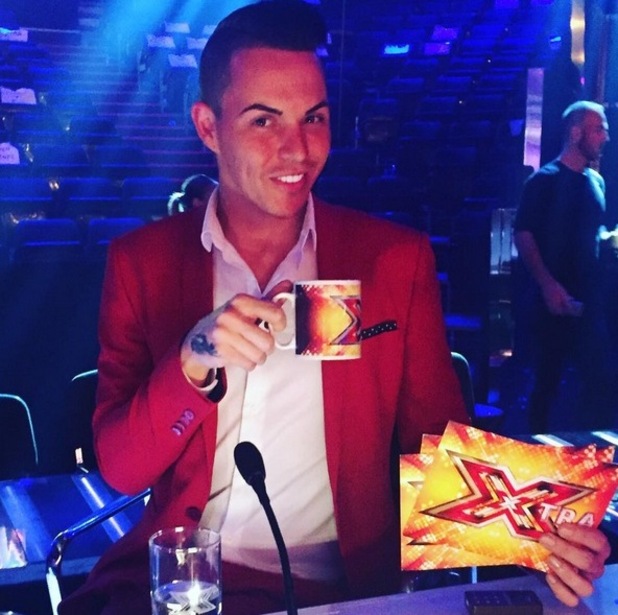 You know it's Christmas when it's
The X Factor
final, and you may have seen me on
The Xtra Factor
– I admit, I fan girl around Cheryl, and gave Simon Cowell's chair at the judges' table a whirl... I was debating taking his or Cheryl's mug, but, 1) I didn't have Louis on me (my Louis Vuitton bag) to hide it in, and, 2) I didn't fancy having "getting thrown out of Wembley for robbing Simon Cowell" on my record!
MUM'S HOME
My mum's been unwell for a while with acute myeloid leukaemia, and sadly, last Christmas she was in and out of hospital. This year she's on the mend and having Christmas at home, so I'm going all out! I'm normally really traditional, having my tree up 12 days before and 12 days after, but I wanted to bring it forward a bit this year for Mum. I like to spend a whole day dedicated to putting my decs up. I can't do it all willy-nilly in 25 minutes – I need a bit of Mariah on in the background, and some mince pies with cream to keep me going!
#TEAMSPROUTS
i'll be cooking dinner for my family this year. There'll be my mum, dad, probably aunties, uncles and cousins, so I'm going to do a couple of meats as well as the tradish turkey. I like a bit of ham on the bone, maybe some beef. I'm quite good at roasts but I've never actually done a turkey before. I've heard the trick is to keep it moist. So, you heard it here first – Bob will be keeping his bird moist in the kitchen this Christmas!! I'm also doing sprouts. They get quite a bad rep but I do a mean, posh pot of sprouts, with pancetta and a big knob of butter – sweet as a nut. A soggy sprout is a friend to nobody, know what I mean?
FESTIVE BOX
This time of year makes you feel like a kid again, even when you're not. So, for that childhood nostalgia, I always watch the same thing as I did then – all the old reruns of Only Fools and Horses. It just wouldn't be Christmas without a bit of Del Boy and Rodney Trotter riding around in their little yellow van, would it?
Send your questions and comments to Bobby Norris at bobby@revealmagazine.co.ukTry Reveal's digital edition on iPhone & iPad. Subscribe now & never miss an issue!
10 reasons why we want to be in TOWIE: