As well as all the tears and the usual drama, the TOWIE lot do provide us with a *lot* of comical moments too. Did you see these corkers on The Only Way Is Essexmas last night?
Danielle Armstrong may have got emotional after calling off her romance with Lockie, Jess and Pete may have decided to be just friends and Lewis may have spent most of the episode grovelling about *that* bombshell he dropped last series, but there were moments were the Essex gang had us all giggling.
Making the most out of their festive fun, Bobby Norris, Arg and co had us tearing up - but this time for all the
right
reasons.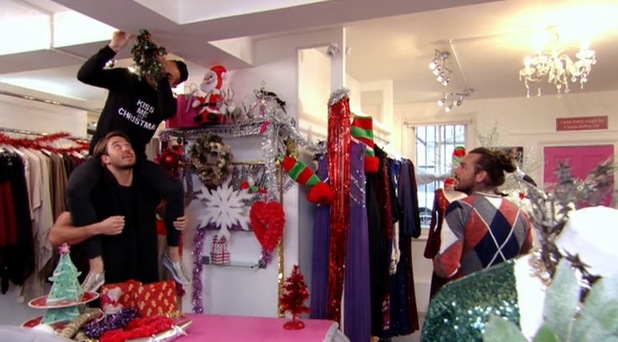 1. Lockie taking a pop at Pete.
When it comes to mistletoe, Bobby always gets it right. It doesn't matter if it's white, green, red or blue, you should never mock Bobby's efforts to give a place a festive lift. We loved how Lockie jumped to his defence when Pete criticised his mistletoe.
Pete asked Bobs if his bunch was supposed to be white, to which Bobby, sitting on Lockie's shoulders hit back: "It's Essex misteltoe." And Lockie quipped: "Yeah shut up Pete."
Oo, lovers' tiff?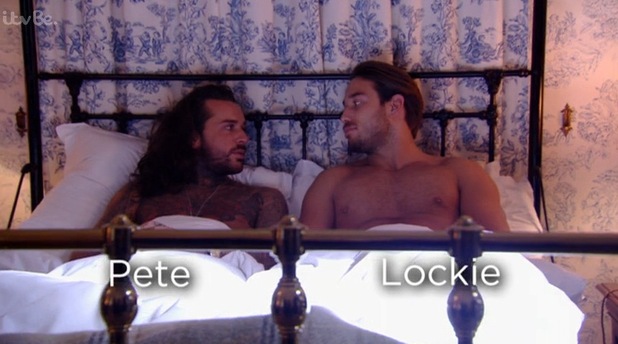 2. Lockie and Pete sharing a bed.
Their little barnie over the mistletoe was nothing their bromance couldn't get over and the boys soon patched things up in bed, with conversation quickly turning to spooning. Proving James wears the trousers in their relationship, Pete told his pal: "You're a good big spoon. You're the big spoon, I'm the little spoon. That's the way it goes."
Lockie said he didn't know there was touching permitted, with Pete joking: "You must have been asleep."
Oh, you guys.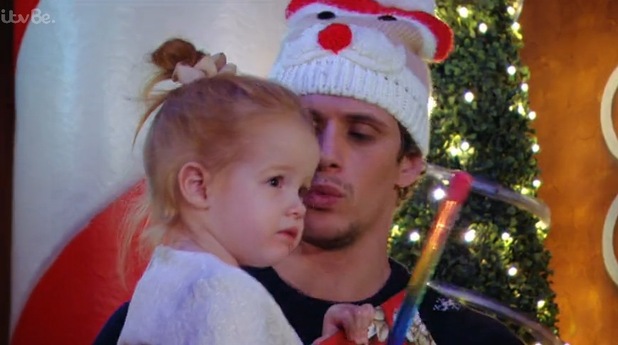 3. Jake's delayed surprise at Flo's sneeze.
Jake and Chloe Lewis took her niece Flo to visit Santa and chatting to Lewis Bloor, the little tot clearly wanted to steal back the limelight. Mid way through the trio talking, little Flo accidentally sneezed - although it took a few seconds for Jake to realise. "Ooo."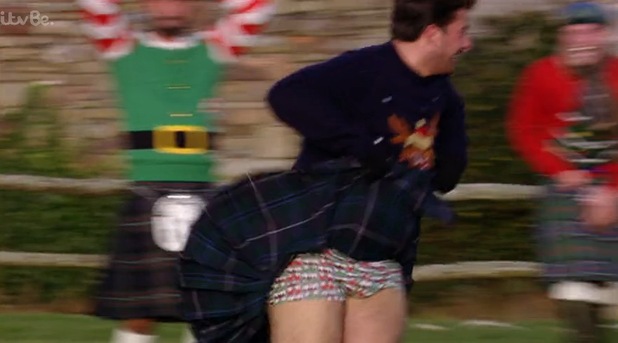 4. Arg's welly throwing.
Up in Scotland, the gang were trying out a little sport, welly throwing. Yes, it's a thing. Arg couldn't believe his luck when he beat Jake and Dan Edgar and celebrated by flashing his Christmas-themed boxers.
Lovely.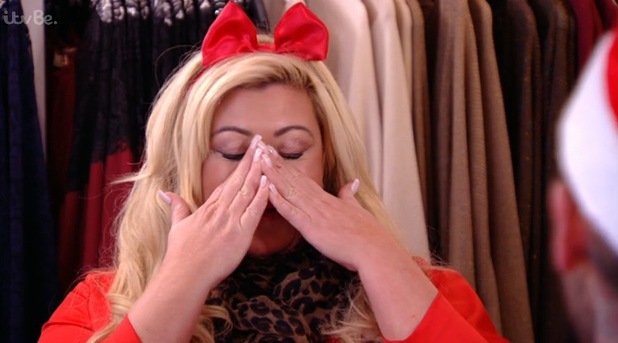 5. Gemma getting red-faced.
Oh, Gem. She couldn't have been less obvious when it comes to her crush on Pete. Telling the Essex boy that everyone fancies him, Gemma told Pete she was available this Christmas, after he ruled out his latest flame Jess Wright. Pete then asked Gem if she fancied a "bunk up" and it's safe to say she was left blushing. And just to make her face match Rudolph's nose a little bit more, Pete teased: "You gone a bit red there, Gem?"
Cheeky.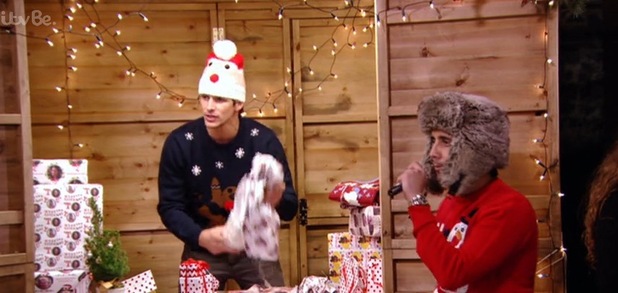 6. Jake and Liam's Christmas Wrap.
While Jake expertly (debatable) wrapped Christmas presents, Liam rapped for passers by. Like what they did there?
Improving on his first tune that he wrote following his date with Ferne McCann, Liam showcased his latest lyrics: "Come on girls it's Christmas time, come get your presents wrapped, get in the line."
"Gatsby's here, it's Christmas time. Everyone munching, food and wine. Yeah come on girl, that's the Gatsby way. Helicopter ride on the first date, imagine the presents you'll receive on Jesus' birthday. So have a good Christmas and a Happy New Year, but always remember Gatsby's... Ho, ho, ho, here."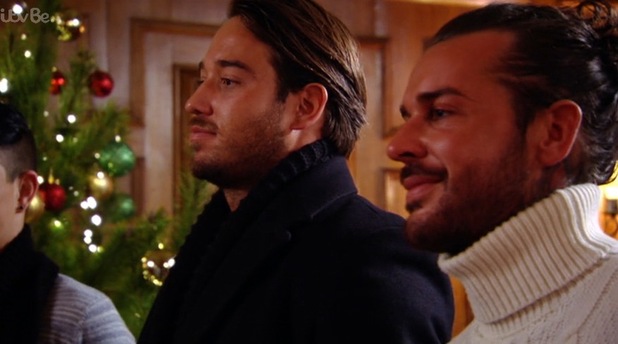 7. Tommy Mallet describes Lockie and Pete as the Mitchell brothers.
He kind of gets it spot on, no? Lockie and Pete arrived to surprise Danni and Jess, but with them looking more hard-faced than loved-up, Tommy couldn't help but say: "What's happening boys? Don't say hello or no greetings? They just walked in like the Mitchell brothers or something walking into the Queen Vic!"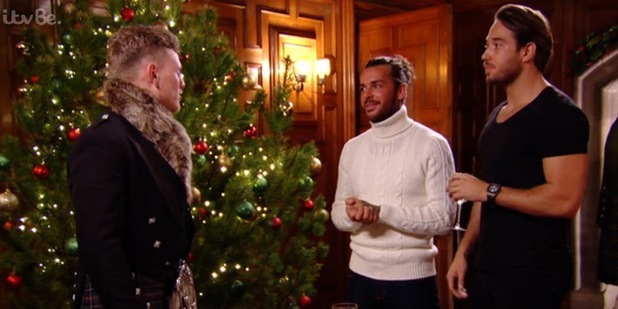 8. Tommy's Lew Bloor joke.
After listening to Lockie vent about Dannielle giving him mixed signals and mugging him off, Tommy tried to ease the tension. His response? "It could be worse though, you could be Lew Bloor."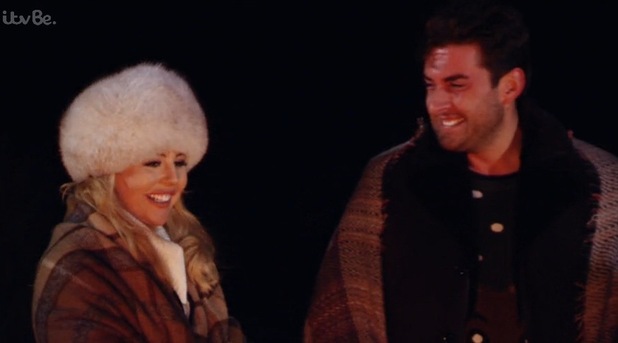 9. Lydia's engagement joke.
She's clearly itching for a proposal and when Arg toasted that 2016 was going to be their year, Lydia was all for it. She told her beau she know it's going to be her year (if he knows what she means) and when he replied, 'Oh, really?' Lydia gave him a stern warning: "It f****** better be!"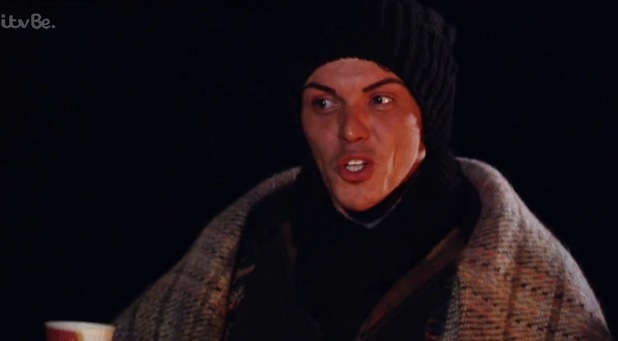 10. Bobby and his manliness.
Heading to Scotland, Bobs had to dig out his winter warmers, but it turns out they're a lot manlier that he first thought. He told his pals: "Can I just how manly have I been, lately? This trip I can't believe it. I'm almost wearing flares."
So long Bobs and his skinny jeans.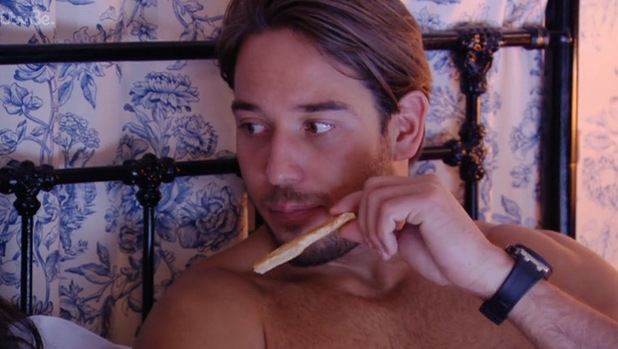 11. Arg the grass.
Oops. Arg caused a bit of a stir by telling Jess that Pete had slept with someone a day after kissing her and unluckily for him, Pete knew it was him that 'fessed up. When he asked Lockie to guess who had been the culprit, James said: "Let me think. Arg the grass? That's all the geezer does eat and grass."
We loved their "eat and grass" tune. As if on cue, Arg then walked in and Pete called him out for ratting him out to Jess and of course, Arg denied he'd done such a thing, leading Lockie to joke: "Is it me or does this toast taste like grass?"
Now, now boys.
I've stuffed enough birds in my day @liam_blackwell stop your killing me #onlybadbirds

— Michael Hassini (@MichaelHassini) December 16, 2015
12. Gatsby stuffing birds.
Yup, it's as crude as you think. Helping Debbie out with the turkey, Liam quipped: "I've stuffed enough birds in my day."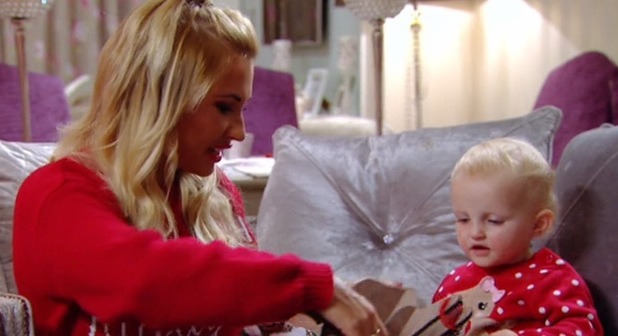 13. Nelly's unimpressed face at Mario's Christmas present.
Everyone thought Mario was such a heart melter turning up for with a gift for little Nelly, apart from Nelly that is. Opening it up, Mario had got her personalised wooden antlers to mark his Christmas trip to Lapland with the
TOWIE
lot four years ago - her face says it all.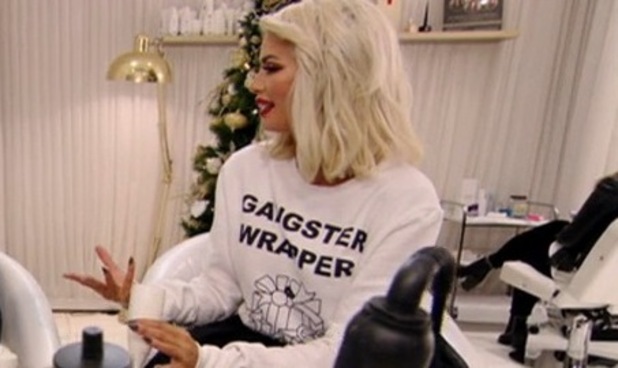 14. Chloe's a 'Gangster Wrapper'
Chloe's Christmas jumper did make us giggle. Not your usual festive sweater, but SO up our street. We love.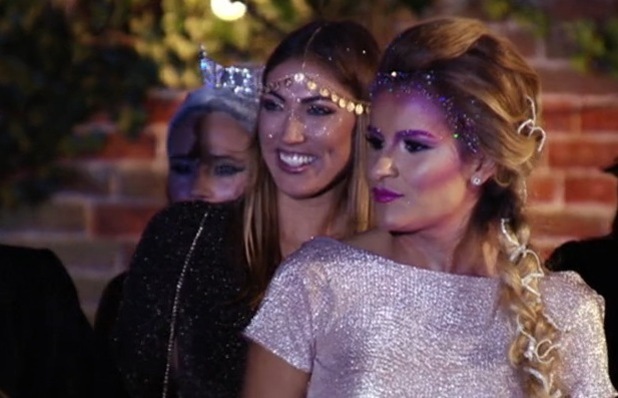 15. Tommy's husky entrance - and leaving Georgia to walk.
Ever the gentleman, Tommy arrived to the group's Christmas bash in style on a husky driven scooter, but he couldn't quite squeeze on a plus one. Poor Georgia was standing all on her lonesome waiting for her Prince Charming to arrive and they boys couldn't wait to have a pop at Tommy for it.
"What did you do make Georgia walk?" "That's a liberty." "I would have let my bird have the dogs."
Tommy hit back: "Don't worry about me, I've held down my bird for a year and a half now, yeah, you didn't even get past second base rude boy." Burn.
16. Bobby and Vas' bad present face.
Come on, we've all done it. Getting his co-stars prepared, Bobby asked: "Have you all practiced your gift face? You know that one where you get given something like honey and oatmeal body scrub."
At that, Vas showcased his like a pro. Those eyes!
For exclusive competitions and amazing prizes visit Reveal's Facebook page NOW!