Another year of TOWIE has wrapped which means another twelve months of rows, romance, flirtations, break ups and everything in between. We've lost track of the amount of times "mugged off" has been said by an Essex star in the last year - and the number of times voices have been raised.

Here's our countdown of the 26 rows of the 2015 that had us all talking...

26. DEBBIE AND LYDIA DIFFER OVER ARG
"Nobody wants to argue with their mum. I want to put it to bed as much as she does" - Lydia on Debbie
We never thought we'd see Debbie and Lydia falling out but that's just what happened. Lydia wasn't happy about Debbie's ongoing relationship with her ex-boyfriend Arg, which led to tears and drama. Lydia felt she couldn't move on from Arg while her family continued to be in contact with him. But in the end, Debbie reassured her daughter that Lydia is the number one person in her life. (Lydia and Arg are now back together again.)
25. LYDIA TELLS DANIELLE TO LAY OFF FERNE
Lydia wanted Danielle to apologise to Ferne and put a line underneath their recent rowing, saying Danni had been slagging Ferne off to everyone and that wasn't fair. "There are a lot of arguments and they always seem to come from your way…" But Danielle didn't want to hear that. "Why are you starting on me? Saying I'm a troublemaker? That girl humiliated me in front of a room full of people and she shouldn't have done that. I will do what I want to do Lyd and if you have a problem with that, piss off. I don't want to fall out with you but you've wound me up tonight."
24. PETE CALLS LEWIS A MONGREL
When Lewis dropped *that* bombshell that he'd kissed Jess after her vineyard date with Pete, it's safe to say Pete wasn't impressed. Who remembers that click of his neck? It all got very awkward when Pete walked in on Lewis and Jess discussing the aftermath. Pete said: "I don't understand why you're smiling about this. The pair of you have made me look like a f**king idiot. He's a mongrel, I didn't deserve that from you [Jess]."
"He's a mongrel, and I didn't deserve that from you"... @p_wicks01 HAS SPOKEN! Tune into #TOWIE final tomorrow 10pm
https://t.co/o9dc9n3B82

— ITVBe (@ITVBe) November 10, 2015
23. PETE LOSES PATIENCE WITH VERITY
"She's not my cup of tea. V for vile" - Pete on Verity
Pete was Verity's biggest champion when she joined the Essex scene earlier this year but that friendship soured over the summer. When we caught up with Pete in October, he simply told us: "With Verity, well, Danielle was right. She's not my cup of tea. V for vile. I thought she was a nice girl... I do think she's a nice girl deep down somewhere, but it's hidden behind a mask of vileness. We didn't really fall out but she's after what she can get I think." They had exchanged words at the carnival party during the summer when Verity was put out about Pete flirting with Jess and he responded by saying she acted differently on nights out and he didn't like that.
22. MIKE CALLS FERNE KISS A "DRUNKEN MISTAKE"
"That 'drunken mistake' comment is a big mistake from Michael Hassini" - Ferne on Michael
When Mike called his kiss with Ferne a "drunken mistake" back in October she was understandably peeved. She told us: "If I was that much of a drunken mistake, he wouldn't have done it again two weeks later when we were sober on marathon day. And then ask to take me out. And then I pied him. So that 'drunken mistake' comment is a big mistake from Michael Hassini."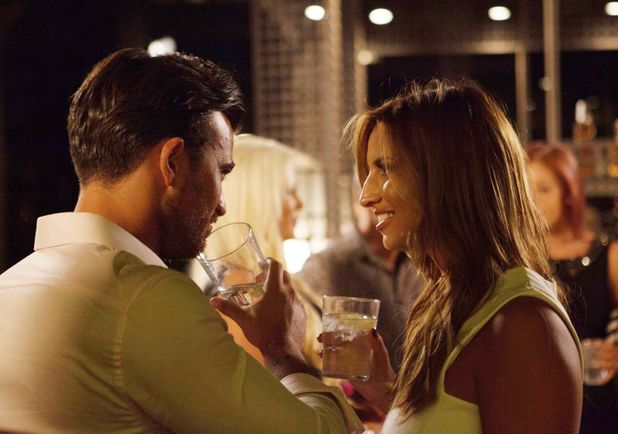 21. CHLOE'S NOT HAPPY WITH JAKE'S INSTAGRAM
"I've seen the pictures! So it's alright for you to go to a house party with seven girls, that's fine, but I follow someone back on Twitter and it's major – Chloe to Jake."
Things kicked off between Chloe and Jake when she saw pictures he'd put on Instagram of him and some girls. She said it was double standards as he'd been furious when she followed a boy on Twitter.
20. LAUREN AND JESS' RELATIONSHIP CHANGES
"Our relationship is different now. I haven't heard from her. It does feel awkward when I'm around her. It's a shame as we did have a close bond" - Jess on Lauren
The normally close Jess and Lauren had an awkward patch in their relationship over the summer, caused by newcomer Dan Edgar. Jess and Dan enjoyed dates earlier in the year, but after that fizzled out his attentions turned to Popey. Jess felt things had happened behind her back, while Lauren was in tears at the girls turning against her. Lauren eventually told Dan she couldn't be with him and be friends with Jess… but they kissed at the summer party. Jess tweeted in response: "Said it 1000 times.Never cared about them being together. Cared about my friendship which suffered in result. Sorry for caring. Anyway off out."
19. DANIELLE AND VAS HAVE DIFFERENT OPINIONS
"The only reason why he is going around apologising is because his mate Popey has left him in Essex with no mates so he had to make amends" - Danielle on Vas
Vas and Danielle's woes started thanks to *that* video of Lockie and Verity flirting. Danni told Vas she'd been humiliated by the release of the tape – but Vas claimed on Twitter that Danni already knew the content and he'd privately apologised to her two months before that scene aired but she'd ignored him. That sparked a Twitter rant from Danni, to which Vas said: "Life is too short to spread all this negative hate. Let it go. Enjoy your life. Stay positive."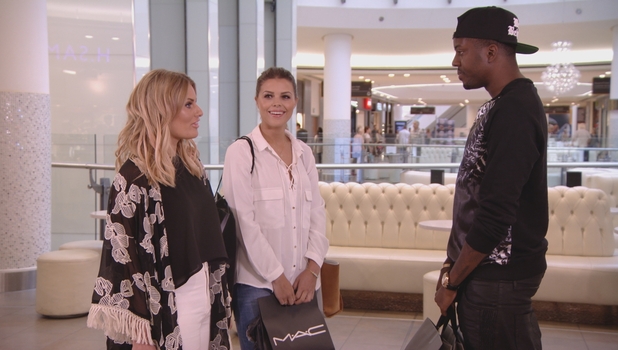 18. LEWIS THINKS PETE WAS RUDE TO TOMMY
"If you point fingers at and swear at my friends I will be involved. I believe in something called manners, mate. I don't know about you. I stick up with my pals" - Lewis to Pete
When Pete joined the cast earlier this year, he didn't get off on the right foot with Lewis. Lewis accused him of saying one thing to the boys and another to the girls around the whole Ferne McCann drama. He also told Pete he had been "aggressive and rude" to Tommy – although Pete denied that. "Tom's my best mate and if I think someone's not talking to him with respect I'm going to get involved," said Lewis.
17. GEMMA THINKS VAS AND LAUREN ARE UPTIGHT
"I think I'd rather sleep on the beach than sleep in a villa with Gemma Collins and Bobby Norris. Their loud energy, the noise, their bickering. It would be too much for me" - Vas on Gemma and Bobby."
Vas and Lauren fell out with Gemma in Marbs after accusing her of saying she didn't want to share a villa with them. Vas admitted he found GC a bit too intense, so she said Lauren and Vas were too uptight and needed to chill out. Vas accused Gemma of talking to people like they were staff.
16. LEWIS TAKES A SWIPE AT MIKE'S HAIRLINE
"Mate you're 20 years old, the only thing past it is your hair line. You talk about my weight, I can lose weight but that hair line you need a transplant for. Standing here you look like McDonald's arches. I don't know whether to have a row or order a f**king Big Mac" - Lewis to Mike
Lewis and Mike's dramas went way back: Lewis accused Mike of getting with an ex-girlfriend years ago and lying about it. He was also annoyed Mike was interested in another ex, Nicole Bass. It all descended into personal insults – Lewis accused Mike of making jibes about his weight so he pulled up his top to show his physique. "You're cringing me out!" said Mike. "I have a geezer showing me his abs…" Lewis then took a swipe at Mike's hairline.
15. LAUREN DOESN'T LIKE DANIELLE'S BANTER
"I don't know why you need to talk about it and be, like, unnecessarily, almost mean. Saying she can't keep her knickers on. You're basically saying I'm a slag" - Lauren to Danielle
Danielle apologised to Lauren after making a quip in Wales about the rumour Popey slept with Jake, saying: "She don't seem to keep her knickers to herself, though." Danni insisted it was just banter and a joke but Lauren said: You're basically saying I'm a slag! We aren't on a friendly level to have banter. Saying she can't keep her knickers on is pretty serious, especially when the rumour isn't true. It's really frustrating. I appreciate the apology but I think our ideas of banter are very different."
14. TOMMY'S ANGRY AT JAKE
"The loyalty I done for you is making sure your girl didn't leave no club by herself, taking her out for dinner, didn't leave her by herself... If people don't think that it's loyalty for someone to look out for your ex-girlfriend as much as I have done here then I don't know what loyalty is" - Tommy to Jake
We didn't expect to see Jake and Tommy ever rowing but that's what happened in Marbs when Jake found out Chloe had gone on a night out with Tommy and the gang. Jake accused Tommy of being disloyal by enjoying a night out with a group including Chloe and Mike, the latter of whom he thought wanted to date Chloe. Tommy fired back that he'd been loyal by making sure Chloe was looked after in Marbs.
13. CHLOE TAKES ON THE WRIGHTS
"Go away! I don't want you in my space. Go away! Go away! Why are you here, you're approaching me, your sister is approaching me, I don't want to talk to you" – Chloe to Elliott
Chloe and Elliott had a showdown in February after he heard she'd been texting another man and talking to her ex-boyfriend. Chloe, however, said she had "every right to speak to somebody who has been in my life for nine years." Elliott said their whole relationship had been BS and she always turned to the same guy after they broke up. She countered by saying she had taken someone on a date a few days after they split: "It's nothing to do with you! I'm not in your life! I can do what I want!" Elliott called her disrespectful, Chloe said she just wanted a night out without the Wrights aorund.
12. GEORGIA IS FED UP WITH FERNE
"I would never slag you off or any woman in her relationship. I don't think it's right for you to say you're empowering women when your morals are disgusting" - Georgia to Ferne
The girls' feminism night erupted into a row when Ferne called Georgia a "doormat" because she felt Georgia let Tommy get away with calling her "loose". Ferne wanted the girls to stick together but Georgia was frustrated that Ferne couldn't drop it. "I am innocent in this and did nothing wrong!" Georgia was fed up having to defend her relationship with Tommy. "You can't stand in a feminist group being a powerful woman and then go completely against that. It's not fair. I'm sorry, Ferne, but I'm sick of defending my f**king relationship. It's not fair."
11. LEWIS QUITS AS ARG'S BAND MANAGER
"To be honest, if I didn't have you in my life it doesn't make one bit of difference to me but for you to not have me in your life, probably whether it's next week or next year, you will probably notice a big difference mate" - Lewis to Arg
Lewis quit as Arg's band manager back in July after accusing his pal of laughing at him behind his back and not respecting the hard work Lewis had put into making the Arg Band a success. There was a very awkward meeting at the local Chinese where Lewis laid out some home truths and said Arg didn't value his friendship. Arg responded by saying Lewis had been sending him vile texts. Arg ended up publicly apologising to Lewis at the carnival summer party and inviting him onstage to jam.
10. LYDIA AND VAS CLASH
"He is the most slipperiest snake I've ever met in my life" - Lydia on Vas
Lydia and Vas' bad blood began on Twitter back in February when Lydia described Vas' BFF Verity as "unappealing". He hit back by saying nobody cared about her opinions, leading to a row over social media. The fight spilled onto the show with Lydia branding Vas a "slippery snake and nasty boy," saying she didn't trust him. He responded by calling her a "pig" and saying she was boring. Ouch. They made up, however, on the Halloween special.
9. FERNE THINKS CHLOE AND JAKE ARE "F**KED UP"
"I find your and Jake's relationship very peculiar and you have a lot of issues. Your relationship is so f**ked up. It's very clear to see. Make your mind up, you're either single or you're out" – Ferne to Chloe.
Things got intense when Chloe overheard Ferne talking about her. Chloe had been in the dressing room at Lucy Meck's store when Ferne talked about drifting apart from Chloe and never really being friends, as well as rumours she had been flirting with Jake. Chloe told Ferne she'd embarrassed herself and was backstabbing her. When Ferne shared her opinion on Chloe's relationship with Jake, she replied: "Probably that's why you don't have a boyfriend, your attitude towards people."
8. JESS AND RICKY ROW IN THE WOODS
"Can you stop talking about me on Twitter and Instagram? You don't say it to my face. You put a thumbs up to every bad comment about me and every other f**king thing on the internet" – Jess to Ricky.
When former couple Jess and Ricky bumped into each other while out dog walking in February we expected major fireworks - and that's just what happened. Jess told Ricky to stop talking about her online, while he told her she needed to do the same. It all descended into a major row about their past relationship. Jess told Ricky he was bitter and clearly not over their romance, which is why he was gushing about his then-girlfriend Marnie Simpson, while he just laughed and said he had happily moved on.
7. ARG CONFRONTS VAS OVER LYDIA
"Instead of taking it like a man, being mature and being a gentleman about it, you felt the need to take another dig and hit Lydia where it hurts by using me" - Arg to Vas
These two had a row after Vas told Lydia that he'd been meeting up with Arg and Arg had told him not to tell Lydia. " Why did you feel the need to make a little dig at Lydia that we have been sneakily seeing each other behind her back?" said Arg. Vas, however, hit back: "You are very prone to exaggerating, spreading gossip and lying. I'm not doing that. You are lying to my face right now. We are not mates. Remember this. Remember you have said this. Don't ever talk to me again. We are not mates. Go, bye then. F**king idiot. "
6. JAKE TELLS FERNE TO STOP GETTING INVOLVED
"I am not going to lie to you. Before you walked over I did call you a prick and an asshole but that's only because I think you are one" - Ferne to Jake
Jake and Ferne weren't exactly BFFs at the start of this year because Jake thought Ferne was too involved in his relationship with Chloe and badmouthing him behind his back. "I just think he's an absolute asshole," said Ferne. Jake wasn't a fan of Ferne either, saying: "I don't know who you are. Why are you getting involved in my relationship? You really think you're something special. I don't see it." Later in the series, it was Ferne and Chloe who fell out – and Chloe accused Ferne of fancying Jake, which Ferne denied.
5. VERITY TELLS DANIELLE THAT LOCKIE WANTED TO SLEEP WITH HER
"Shall I tell you the truth about what happened? It might get me into s**t. Your f**king ex-boyfriend said he wanted to f**k me and take me back to Dagenham"- Verity to Danielle
Danielle thought Verity had been flirting with Lockie at a club in front of her, but when Verity came to her shop to clear the air and say she hadn't known Danni was there, Danni didn't believe her. "I think you're cold and heartless," she told her. Danni told Pete that Verity was an "absolute troublemaker… that there is a 24-carat bitch." Verity left the shop, only to storm back in and tell Danielle: "Your f**king ex-boyfriend said he wanted to f**k me and take me back to Dagenham. I was uncomfortable."
4. ELLIOTT AND LOCKIE'S ROW IN MARBS
" Listen Lockie, I am being straight with you, I ain't got time for it. Your girlfriend is causing a problem" - Elliott to Lockie
Lockie and Elliott's bromance fell apart in Marbs in June, apparently after comments Lockie's then-girlfriend Danni made about Elliott's then-girlfriend Chloe. It led to one of the most heated rows in
TOWIE
history, with Elliott telling Lockie that Danni was causing trouble because she was unhappy with Lockie – but Elliott criticised the editing via Twitter, saying: "Well all I'm gonna say is what a load of rubbish... Row made no sense... Was nothing to do with what was just shown.. #edited #Poor." Whatever happened, Lockie and Elliott did make up later in the year.
3. FRAN AND DIAGS V. GEORGIA AND TOMMY
"Don't accuse my boyfriend of cheating and then run off. Stand there and tell me" - Georgia on Fran
Former besties Fran and Georgia found their friendship flailing back in March and then Diags and Tommy fell out. The main woe was a rumour that Tommy cheated on Georgia in Newcastle. Tommy and Georgia brushed it off by saying it wasn't true and accused Fran and Diags of starting the rumour to be "s**t stirrers" and because they were jealous. It all came to a head at the St. Patrick's Day party with a massive row between all four and insults flying everywhere. Arg also got pulled into the row when Tommy questioned his loyalties.
2. TOMMY CALLS FERNE "LOOSEST GIRL IN ESSEX"
"Ferne, you're a headache to be around. You are the loosest girl in Essex at the minute. When are you ever going to settle down? You carry on, you'll never get another geezer in your life. A woman should have respect for herself." - Tommy to Ferne
It all kicked off between Tommy and Ferne in June when Tommy accused her of stirring things up with Georgia. Things turned nasty when Tommy then told Ferne she was "the loosest girl in Essex" and said he wouldn't want his sister acting like Ferne does. She later hit back via Twitter saying: "Just watched #Towie just to set the record straight I am far from 'loose' & a 'goer' @OnlyWayIsEssex this is character defamation!" Tommy later offered an apology to Ferne which she accepted.
1. GEMMA THROWS DRINK OVER BOBBY
"Gemma, now here's when you're supposed to be my mate. It was Chloe Sims. That was Chloe Sims that done that. Now don't f**king throw me under the bus. Come here and tell the truth, now" - Bobby to Gemma
We never thought we'd see Bobby and Gemma fight like they did in July. GC had confronted Vas and Lauren at a pool party (after rowing with them previously) but Bobby was the one who ended up with a glass of wine thrown over him. Why? Cause Gemma told Lauren that Bobby had also done an impression of him. "You are meant to be my mate!" he told her. "Chloe f**king Sims did that." As Gemma walked off, he shouted: "Come here and tell me the truth!" GC then threw the drink at him… But they made up later in the series.