Miss out on The Only Way Is Essexmas last night? Don't worry, we've got you covered. Here's everything you need to know to get you up to date with our TOWIE faves.
As Christmas gets ever nearer (8 days and counting!), the
TOWIE
cast have been feeling all festive and yesterday they returned to our screens with their Christmas special.
Not only did we see the return of three familiar faces (oh, how we've missed Lauren Goodger, Mario Falcone and Gemma Collins), we finally got to tie up a few loose ends when it came to those on/off romances Essex is famous for, Arg sweated over proposing to Lydia yet again and Lewis Bloor grovelled for forgiveness after dropping *that* kissing bombshell...
Here's all you need to know:
1. Pete and Jess are just friends.
Finally, it looked like their 'Will they? Won't they?' storyline came to an end (although we wouldn't hold our breath just yet). Jess told Danielle she felt like things had been 'different' with
Pete since they kissed and made up in the show's recent finale
and when she finally came face-to-face with her beau, the pair agreed to remain as friends.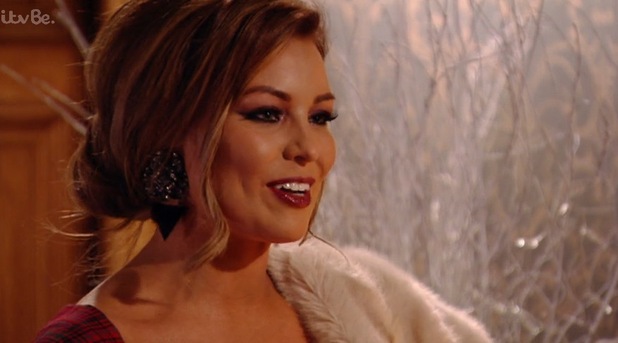 Pete told Jess his feelings haven't changed for her, whereas she confessed she probably had made him wait a bit too long. The duo then concluded they had been stuck in a "grey area" with each other and their romance had become stuck. Deciding they were not "moving forward", Jess told Pete they had to stop kissing each other.
His response? "You ain't a bad kisser, so I don't mind a kiss now and again." Cheeky.
2. Pete slept with someone else after kissing Jess.
Jess revealed to Danielle that she had found out Pete had slept with another girl, a day after kissing her - although Pete insisted it wasn't within 24 hours. She later confronted the Essex Boy over his smooch, but admitted she had been on a date herself too and technically they both are single, so there's no hard feelings. She couldn't resist digging though: "You can do better than that." With Pete replying: "And you can do better him."
Something tells us this isn't
totally
over, don't cha think?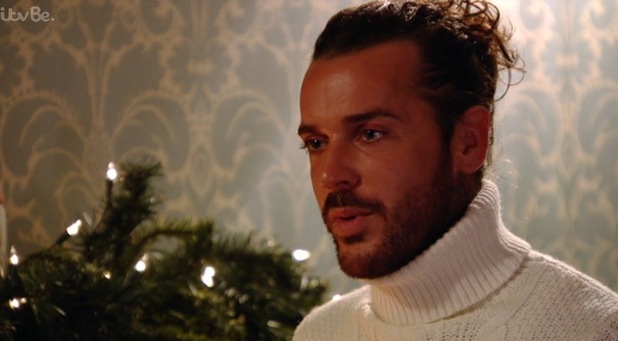 3. Danni rules out a reunion with Lockie.
Lockie had surprised Danni in Scotland, although instead of her sweeping her off her feet, things got pretty awkward between the pair. Lockie got a bit "aggy" with Danni, after feeling put out that Danni wasn't that fussed to see him. He later apologised and laid his cards on the table, telling his former flame he wants them to get back together.
Telling Danni he's not happy with their situation at the moment, James told her she was giving him mixed signals. He said: "I'm just frustrated because at the minute, you won't give me the time of day."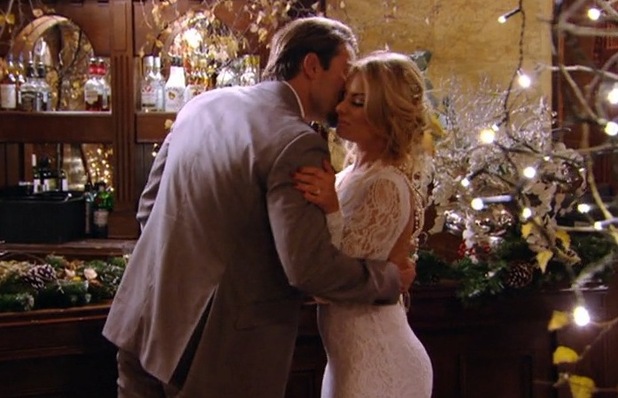 Danni then admitted that she was still bitter about how Lockie had treated her in the past. Admitting she can't get over everything that has happened between them, Dani told her ex-beau she doesn't think he has changed and as much as half of her wants to give things another go, she doesn't think she can.
She told him: "I think it's too late now, but it's not easy for me."
Lockie replied: "I know. It's never easy is it? We spent a chunk of our lives together... I'm sorry that I couldn't give you or make you what you wanted."
4. Lydia wants a proposal next year.
Arg, are you feeling the pressure yet?
Speaking with his co-stars, Arg said he was looking forward to 2016, with everyone admitting they feel like it could be their year. Lydia was certain next year will be one to remember for her and told her boyfriend:
When Arg questioned whether it would be, she cheekily replied: "It f***** better be."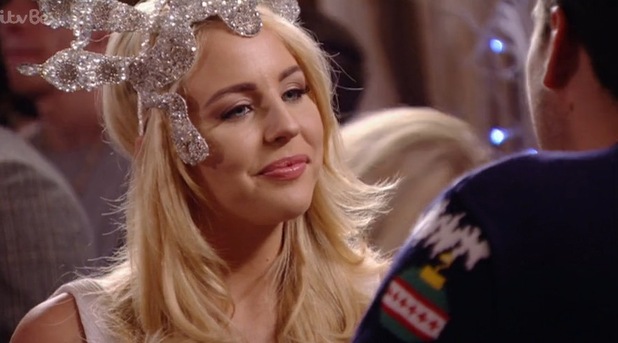 Later on, Arg made us all think he had finally stepped up to the mark and was going to propose, giving Lydia a soppy speech about how much he loves her and knows they are going to be together. He told her there's a right time and a right place to pop the question and while his nervous face had us thinking the Christmas ball may have been it, Lydia stopped him before he got too ahead of himself and gave Arg an ultimatum.
No driving license, no ring.
She told him: "One thing that I would like before you propose to me, is that you pass your driving test. That is all I care about."
5. Chloe Sims is happy to be single.
After an on/off romance with her co-star Elliott Wright that had us all hooked, Chloe revealed she is looking forward to spending Christmas as a singleton. Sharing an update on her love life to returning face Lauren Goodger, Chloe told her: "I'm happy, I've got no Essex men in my life. I'm single for Christmas and I'm really happy about it."
She joked: "It's more agg than it's worth. And it's so much cheaper."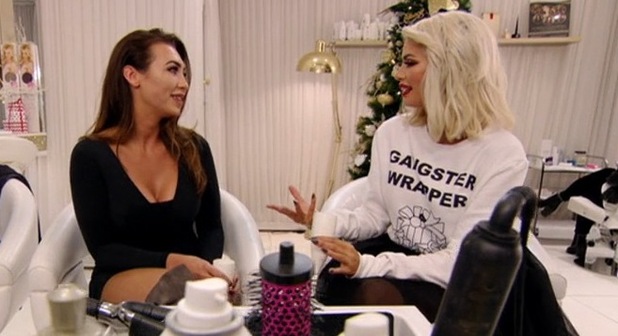 6. Lauren's transformation.
She's a far cry from her former self on
TOWIE
. After embarking on a get-fit mission and overhauling her lifestyle,
Lauren shocked her co-stars by revealing her new look when she popped into Chloe Sim's beauty salon
for a blow-dry. Showered with compliments, Lauren was told she looks "amazing", proving her hard efforts really have paid off.
Explaining what she's been up to since bowing out of Essex, Lauren said: "I've just taken myself out and focused an growing up a little bit."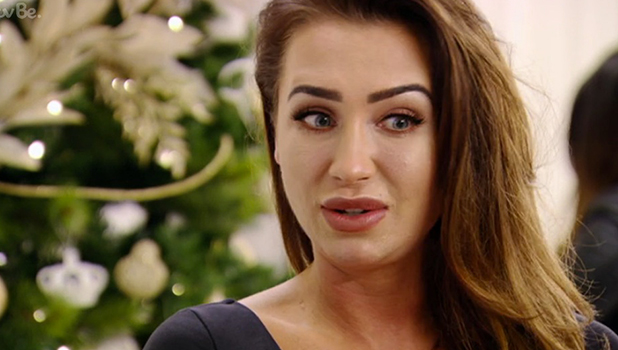 7. Mario is single.
Catching up with Chloe and Billie, Mario shared an update on his love life and revealed he is single again. He has split from former girlfriend Emma McVey, although something tells us he may not have been completely honest with the girls as he is thought to be romancing athlete Louise Hazel. Perhaps we could get another cameo in the New Year, Mario?
While there, he shrugged off claims Lewis has taken over his crown as Essex's 'bad boy' - insisting his co-star just doesn't have it in him. And proving he can be a softie, he even turned up with a personalised Christmas present for little Nelly.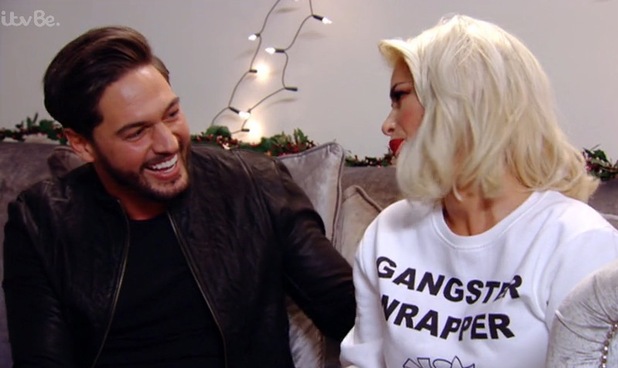 8. Gemma got embarrassed over Pete.
Gemma Collins was back in business and was on a mission to get Bobby, Pete and Lockie feeling festive. Giving Pete a Santa Hat to wear, Gemma not so subtly revealed she had a bit of a crush on him, telling the Essex boy: "I'm not being funny, but everyone fancies you." When he joked everyone but Jess, Gemma told Pete she was available this Christmas and he cheekily suggested a "bunk up".
Poor ol' Gem got a tad embarrassed with the offer and couldn't help but blush. Teasing, Pete said: "Have you gone a bit red there Gem?"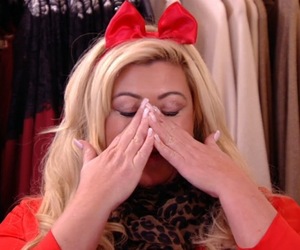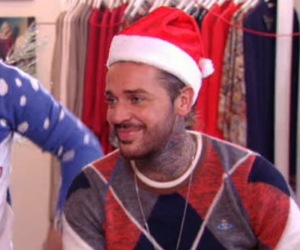 9. Lewis is sorry for *that* kissing bombshell.
No one can forget when
Lewis dropped that bomb that he had kissed Jess last series.
She had been dating Pete at the time and he wasn't too impressed to hear about her drunken snog with Lewis. Finding himself isolated from the group after the way he acted when telling Pete about the kiss, Lewis admitted he is sorry for how he went about things.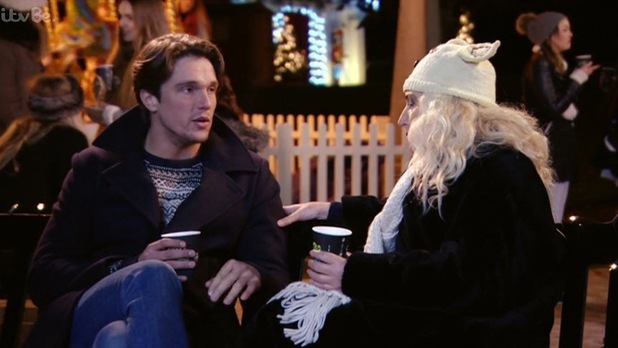 Confiding in Debbie Douglas he revealed he is most sorry about losing Jess as a friend. He revealed the pair had been good friends since they were nine years old and didn't want to throw that all away. He said: "All that's on my mind, I go to bed and I think Jess is next door and I miss her. I miss her as a friend and she knows me so well. I think should I knock on her door with a bacon sandwich? I don't know what to do. If anything having that secret probably made our friendship that much stronger."
"I've lost a good, good friend in Jess," he added. "But as long as she knows that I am genuinely sorry... that's enough for me."
10. Jess forgives Lewis.
After peeking through the windows of the Christmas ball, Lewis finally plucked up the courage to go inside (with a little help from Arg and Lydia) and sought out Jess to apologise once more. He had sent her a Christmas card, telling Jess his only wish this Christmas is for her to know how sorry he is about causing her trouble that she didn't deserves.
When they finally came face-to-face, Lewis confessed he had been thinking about moving out to try and resolve their friendship.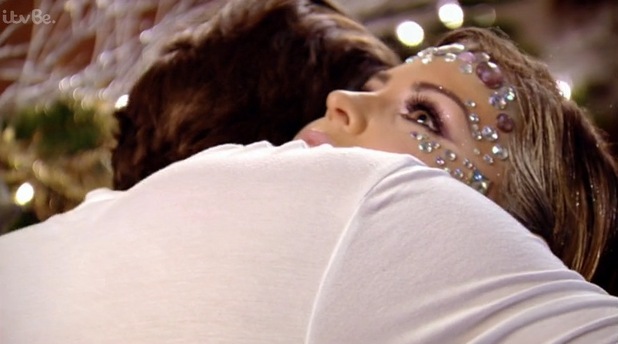 He revealed he had been thinking of moving out to try and resolve their friendship. He said: "Everyone I have met boy and girl in my whole life, you're the person who least deserves their name to be thrown into that light where people think you're doing things behind closed doors that you shouldn't be doing."
"I decided I'm going to move out the flat," he continued. "I want to be your friend again and it's only going to be easier if we are not neighbours."
Jess told him he absolutely didn't need to move out and admitted it would probably upset her more if he did. Accepting his apology, she added: "Sometimes you know what, some things are meant to come out... don't think I'm not here as a friend because I am. Stop beating yourself up about it."
For exclusive competitions and amazing prizes visit Reveal's Facebook page NOW!