Mark Wright has shared his grief at the death of beloved Nanny Pat.
The
TOWIE favourite - real name Patricia Brooker - passed away
at the age of 80 following a short illness.
A devastated Mark took to Twitter this afternoon to say: "My heart is broken but so overwhelmed by your support. To know good ole Nanny was loved by so many is the best feeling in the world Thank you."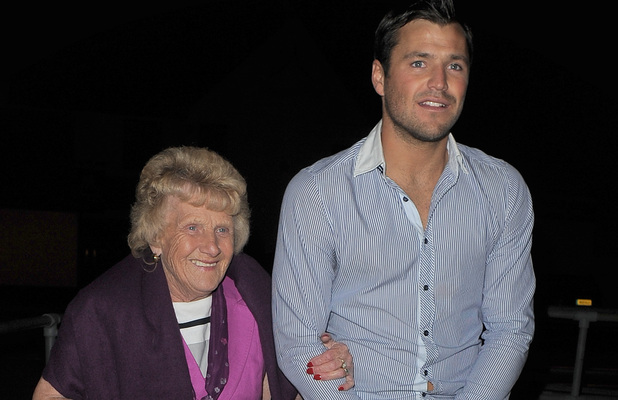 The Wright and Brooker families issued a statement this morning saying: "Sadly our amazing, courageous and beautiful Nanny Pat passed away this morning after a short illness. We are overwhelmed by sadness, and the whole family ask for privacy at this horrible time."
Nanny Pat had been a
TOWIE
favourite since the first series when she introduced us to her sausage plait. Over the years, she became a fan favourite thanks to her pearls of wisdom, unwavering devotion to her family and comic timing.
Several
TOWIE stars and celebrities have been sharing their memories of Nanny Pat
on Twitter and offering condolences to the family, which includes Nanny Pat's daughter Carol and Mark's sister Jessica.
Scores of fans have also been sending prayers to the Wright family, including:
@MarkWright_ she was a star in TOWIE, now she will be looking down at you all x

— Debbie McCrory (@debbiedotmac) December 16, 2015
@markwright_ She absolutely smashed the last few years of her life, love to you an all the family #RIPNannyPat

— Kyra Haughan (@Kyroid69) December 16, 2015
@MarkWright_ she was loved by people who never even met her true legend nanny pat thoughts with you all xx

— Michelle (@michelle4285) December 16, 2015
@MarkWright_ So sorry to hear about Nanny Pat. I'm truly devastated for all the family. She was so lovely. Thoughts are with you all x

— Leanne Ebbrell (@LeanneEbb) December 16, 2015
@MarkWright_ Just remember all the good times Mark.Nanny Pat will always be in your heart mate.Another Angel to watch over us all.

— NickyHayesPhotos (@NickyHayesPhoto) December 16, 2015