TOWIE fans have been voicing their sadness at the death of beloved star Nanny Pat.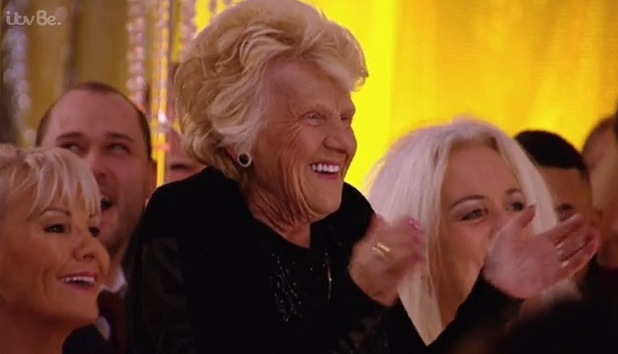 The reality star - who has appeared in
The Only Way Is Essex
since its first series back in 2010 - has
passed away at the age of 80
following a short illness.
Fans of the show have taken to Twitter to share their memories of
Nanny Pat
and send their condolences to her family, including daughter Carol and grandchildren Jessica and Mark Wright.
Such sad news on the passing of the legendary #NannyPat Sending love and prayers to the Wright family #RIP

— J e n n i f e r (@Jennifer06931) December 16, 2015
Hearing nanny pat has died is the most horrible news I've heard in a while

— carly white (@xcarlywhitex) December 16, 2015
Nanny Pat was such a legend RIP #TOWIE

— Sunny Somal (@Ssomal) December 16, 2015
Rip Nanny Pat, reunited with your husband now, a life lived to the full, condolences to the Wright family #TOWIE #NannyPat

— emily beaumont (@twinklyb) December 16, 2015
Such sad news about Nanny Pat, such an incredible lady, you will be missed by everyone Xxx

— Carlie. (@carliefaiersxo) December 16, 2015
Condolences to @MarkWright_ and family on the loss of their beloved nanny pat. A true character who brought smiles to the faces of many

— Karen Lynn (@k_lynn1974) December 16, 2015
Nanny pat will b sadly missed on Towie R.I.P to amazing dear lady throughts r with all the family my heart is felt for u all

— diane cox (@di4cox) December 16, 2015
I can't believe it. Cannot believe Nanny Pat has died. RIP Angel, you'll be missed by many. Sleep tight. True legend.

— char. (@CharCM_PD) December 16, 2015
Rip nanny pat from @towie u will be missed,sad to hear never knew who i was but felt so connected to her through watching her rip legend

— Lynz Weston (@LynzWeston) December 16, 2015
Nanny Pat was the best thing about #towie what a legend im sure she will be forever remembered #sausageplait

— Alison Oswell (@xxalibobxx) December 16, 2015
Just woke up to the news that Nanny Pat has passed away this morning and cried it's just so sad.. She was such a diamond.

— Sophie Jemma Rose (@SophieJemRose) December 16, 2015