She spent her weekend posing in a shop window in Manchester's Trafford Centre and now we've caught up with former Pussycat Doll Kimberly Wyatt to find out just why she's become a human mannequin!
The
Got To Dance
judge, 33, also tells us about her beauty regime and how she'll be spending Christmas with model husband Max and their beautiful daughter Willow...
Why did you want to be involved with Soap and Glory's #MistletoePout campaign and its interactive window displays?
"I am so in the the Christmas spirit this year so am really excited to get everyone mistletoe ready!"
With face, body and make-up items on offer, what's your favourite product from the range?
"Sexy Motherpucker - it's a firm staple in my makeup bag!"
Everybody knows that product and that tingly feeling! What do you think about the trend for big plumped up lips like Kylie Jenner?
"I think that it's important to feel good but also embrace your natural beauty which is more important than plumped lips!"
How important is a good skin care regime for you?
"Ultimately I like to keep it simple - but think a good skincare regime is important - hydrate, exfoliate and moisturise - that's it! I'm a five minute beauty girl as a mum but if I have a red carpet event I will take my time to look pretty."
With a one-year-old do you find you have any 'me' time for pampering??
"I try and aim for one long bubble bath a week. It helps massively that I have a really hands on husband that helps me. We make a great team!"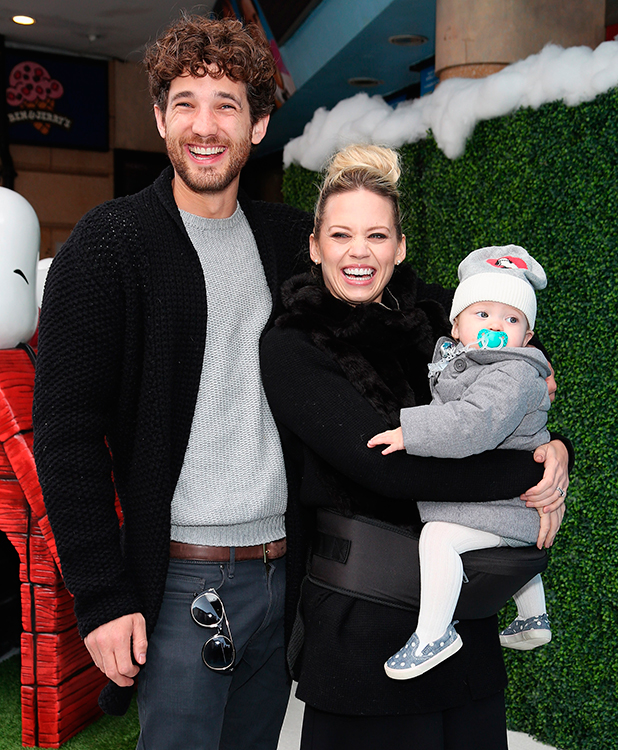 We saw little Willow had her first birthday recently. Are you looking forward to Christmas with her?
"Yes - I can't wait ! She has a cute little penguin jumper to wear and loads of presents. I am most excited about her kitchen that we have got her!"
What's your typical Christmas Day like?
"We having an Anglo / American Christmas that we are hosting in London. We will do milk and cookies for Santa and have Christmas crackers and crowns for everyone. We have friends and family coming and we will cook the dinner with all the trimmings together."
Has becoming a mother changed Christmas for you in any way?
"To the attention to detail in that making it special is much more thought out as a mummy. It's filled with Christmas films, stockings and decorations. I just love it!"
What will you be wearing on Christmas Day and what will your beauty be like?
"Christmas to me is cosy. It's a big fire and pyjamas on straight after dinner. Makeup-wise, it's simple but glam."
What do you want for Christmas?
"Lots of love and kisses!"
You're been posting pictures from Dubai recently making us super jealous! What have you been doing there?
"I have been doing a foodie trip discovering all the amazing flavours from Dubai - it's been brilliant - it's fast become quite the gastronomy destination."
How will you be spending New Year?
"With friends, food, wine, watching
The Secret Life of Walter Mitty
and maybe a few fireworks!"
And finally, we saw you wishing Brian Friedman luck on I'm A Celebrity – what did you think about this year's show?
"I didn't actually get the chance to watch it but I was proud to see my friend give it a go!"
Kimberly is supporting Soap and Glory's #MistletoePout campaign. For more information head over here