Lady Colin Campbell has threatened legal action against Duncan Bannatyne's girlfriend Nigora Whitehorn.
The
I'm A Celebrity
star, 66, told Nigora she had called lawyers after a nasty dispute on Twitter.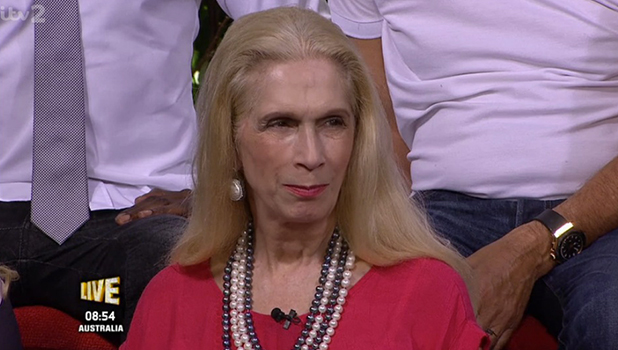 It's no secret that
Lady C and Duncan clashed in the jungle
, before
she left mid-series
amid claims of 'bullying'.
Then, just days ago, author
Lady C accused Duncan of physical assault
- a claim he vehemently denies.
And on Saturday (12 December), Duncan's stunning girlfriend Nigora provoked Lady C into a fight telling a friend: "I kept quite for a while, now I will not let her to bully or belittling my man!"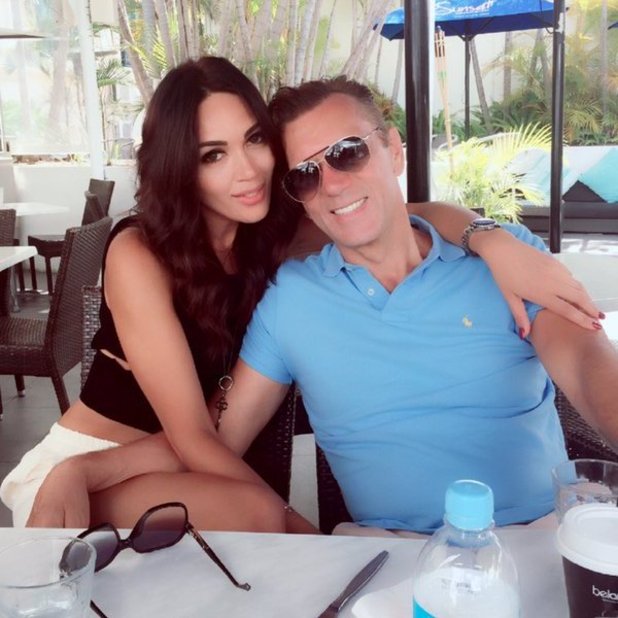 Referring to Lady C's appearance on
Alan Carr's Chatty Man
, where she angered some viewers with her comments about Princess Diana, Nigora tweeted: @LadyColinCampb @AlanCarr someone who's hinging on to her fake title, to judge Princess Diana?! How dare !! Slagging off someone who's dead!"
Not one to shy away from a fight, Lady C replied: "@wnigora_nigora @AlanCarr The only fake is you. http://sugardaddys.com? I started as D's official biog. My title is genuine. Monaco expert."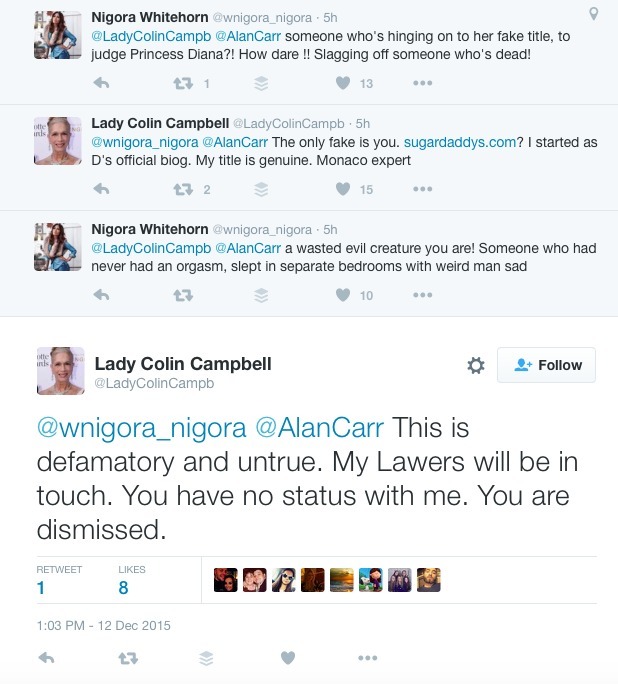 Nigora responded: "A wasted evil creature you are! Someone who had never had an orgasm, slept in separate bedrooms with weird man sad."
To which Lady C bit back: "@wnigora_nigora @AlanCarr This is defamatory and untrue. My Lawers will be in touch. You have no status with me. You are dismissed."
@lindaraper darling don't worry...I kept quite for a while, now I will not let her to bully or belittling my man!

— Nigora Whitehorn (@wnigora_nigora) December 12, 2015
During her interview on Alan Carr's popular chat show, which aired on Friday 11 December, Lady C punched below the belt - literally - when she belitted the size of Duncan's manhood.
She told Alan: "I couldn't believe that anyone with so little to flaunt would flaunt it.
"I felt sorry. He had on underpants that were very sheer and lightweight. It was like one teensy-weensy little peanut in a husk with two shelled peanuts on either side."
Hmmm, so you must have been looking Lady C!
For exclusive competitions and amazing prizes visit Reveal's Facebook page NOW!