A night out turns into a nightmare on the next episode of Geordie Shore, when Chloe Etherington accuses Holly Hagan of flirting with Scott Timlin.
This lot never have a drama free night, do they? In next Tuesday's episode Chloe turns on Holly when she suspects her friend is trying to get close with Scott, who she's had a huge crush on since day one!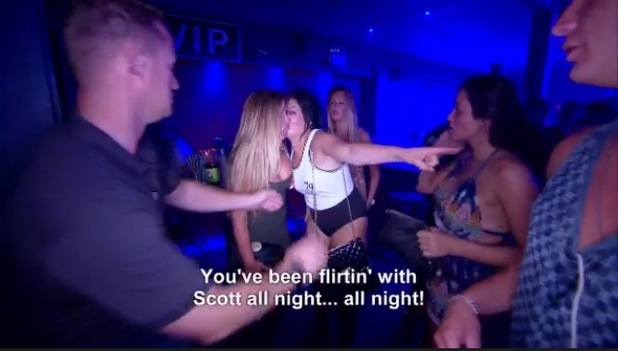 A seriously annoyed Chloe explains: "I've not spoken to Holly one bit tonight because she's been too busy flirting with Scott."
And although everyone else seems oblivious, Aaron predicts things are about to kick off...saying: "I can see that Chloe is boiling, someone is about to f*cking get it."
Turns out his prediction is spot on, as even though Chloe admits she realises her temper needs to be kept under control "it's so f*cking hard." So instead she decides to confront Holly and storms up to her in the club, accusing her of "flirting with Scott all night."
"You know how I feel about Scott" Chloe tells Holly, and then things really kick off as she proceeds to push Holly across the dance-floor, and has to be restrained by Aaron.
"I have just been finished [with], and Chloe has the audacity to comer over to me and accuse me of flirting with somebody who isn't even her f*cking lad!"
Clearly upset by the sudden confrontation Holly tells Gaz: "After everything I've been through, she dare speak to me like that?"
It all gets too much for Chloe, who claims none of the Geordie Shore lot actually understand what she's going through, causing her to leave the club and put an end to everyone's night.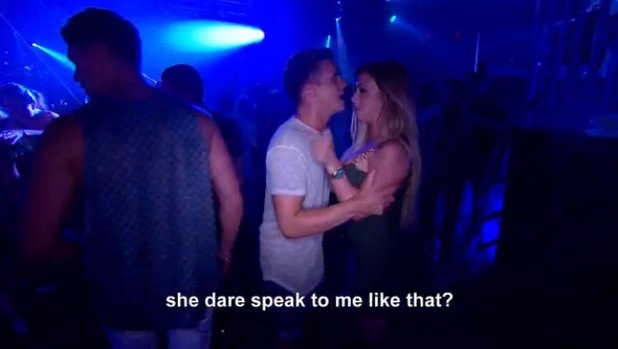 If a ruined night out wasn't bad enough, to makes things worse, a baffled Charlotte later admits to the camera that it was actually Marnie who was flirting with Scott all night, oops!
However in typical style, Scott revels in the fact he's caused a row between the girls and it even gives him a business plan...
He tells the camera: "What a surprise, the girls are kicking off over us again, I'm telling you, the amount of girls fighting over me these days, I might as well organise a street fighting tournament."
This isn't the only drama between Scott and Chloe on the next
Geordie Shore
...
in fact, this blunder is even worse
!
The next episode of Geordie Shore airs on Tuesday 15 December at 10pm on MTV
For exclusive competitions and amazing prizes visit Reveal's Facebook page NOW!