Former
Made In Chelsea
star
Sophia Sassoon
has tonight announced some surprise baby news - she's given birth and become a mum!
Brunette beauty
Sophia confirmed her exit from MIC in 2013, following an on-screen kiss with diamond dealer Francis Boulle
, and all has been quiet on the west-ern London front.
Well, it appears it's not been
too
quiet for Sophia, as she has recently given birth to a baby boy!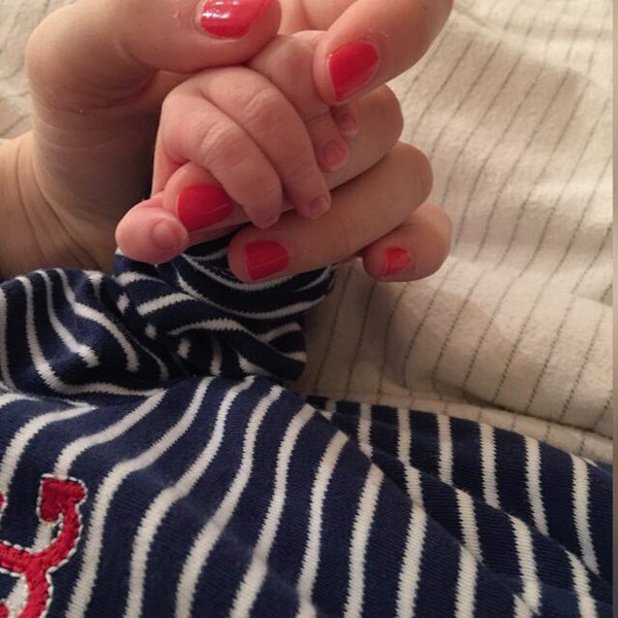 Announcing her news on Twitter tonight, alongside a cute photo of her bubba holding her finger, Sophia told her followers: "I gave birth to a beautiful baby boy - 17.11.15 our little angel ...a love like no other xxx"
Well she certainly kept mum on that one!
Like Sophia, I too didn't make a big song and dance about my pregnancy on social media. One of my former school pals didn't even know I was expecting, all because I didn't post the obligatory 'bun in oven' scan picture, which has become all too common these days.
Who would want to see the inside of my uterus anyway??
And once Molly was here, it took us at least five days before publicly declaring her arrival to the world. She didn't have a name for a start, and I wanted to make sure I didn't look bedraggled in the first post-baby selfie.
I know Kate Middz was happy to show off her mummy tummy, and quite rightly she was applauded for it, but I didn't. One iota.
My sister said I had micro-managed the announcement like a costly
Reveal
exclusive. And all because I asked my family to sign a contract, agreeing to keep it a secret until I was ready.
That is a joke. But it did cross my mind...
Congratulations, Sophia!
Meanwhile, last week I told how
Rochelle Humes' daughter Alaia-Mai had undergone a Frozen makeover at Harrods
. Starting at £300 and going up to an eye-watering £1,000, I asked if you would spend that much on one for your kid.
Unsurprisingly, 70 per cent of you would not... However, 15 per cent said they would spend £300 to make their cherub happy, while a further 15 per cent revealed they would go the whole hog and spend a grand.
This week, I want to know if you announced your pregnancy on social media.
Did you announce your pregnancy on social media? Answer in our poll!
Yes! I couldn't wait to tell everyone!
30.19%
No..I like to keep these things private.
43.40%
I waited until my baby was born.
26.42%