Uh-oh! Chloe Etherington drops the L bomb to Scott Timlin in the next Geordie Shore - but does she mean it?
It's no secret that Chloe has a super-sized crush on Scott, and on next Tuesday's episode viewers will see Chloe tell Scott she loves him, and almost immediately regret it!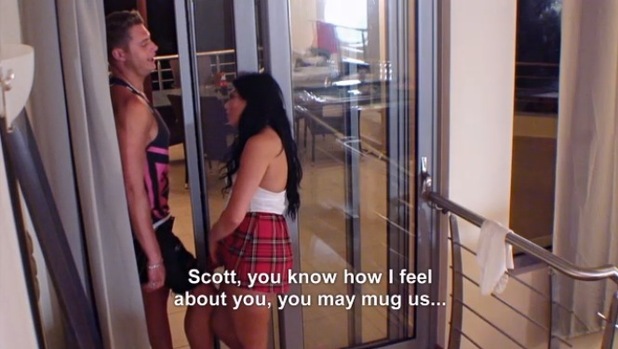 When Chloe spies Scott spooning with Nathan after a night out, it's safe to say she isn't impressed
at all
, but Scott doesn't let that get in the way of his snuggle with Nath!
Well, that is until Chloe stumbles backwards, falls over and causes a bit of a scene...
A clearly unimpressed Scott comes to make sure Chloe's ok and then reveals that he's finding her a 'nightmare' saying: "No matter what I do, Chloe is going to kick off. I was only having some friendly banter with Nathan, and she was going berserk.
"She's like a constant nightmare."
Chloe admits that she's jealous of Nathan getting Scott's attention and tells the camera: "Seeing Nathan and Scott in bed together has made me even more angry, I just wish it was me!"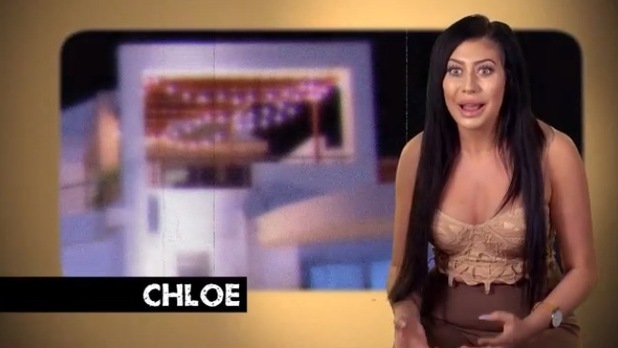 With the boy's spooning session interrupted, Chloe takes the opportunity to tell Scott how she really feels, but it doesn't quite go to plan...
"Scott, you know how I feel about you," she says, to which Scott replies: "Well I don't know how you feel about me, because you never tell me.
Chloe continues: "I'm telling you now, I fancy...I love, no, no I don't love you!" Uh-oh!
Later on an embarrassed Chloe still can't quite believe what words have come out of her mouth, holding her head in her hands she insists the whole 'love' part was a mistake, saying: "No, no no, I do not love Scott! I don't know why I said that, I don't love Scott!
"I've told Scott a million times how much I like him, but his problem is he doesn't listen."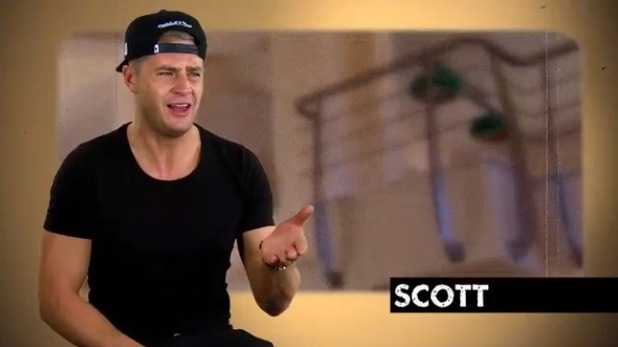 Caught up in the awkward situation, Scott chooses to totally ignore Chloe's slip-up and plays dumb, saying: "She's just said some random word beginning with L, and I have no idea what it means."
However he later admits to feeling 'pretty bad' that he doesn't like Chloe in that way, telling the camera:
"I do feel pretty bad, because I don't feel the same way about her. But wherever she goes from here, I do wish her the best of luck, and a f*cking happy new year."
There is one winner however, as Nathan does eventually end up back spooning Scott after Chloe decides to call it night!
The next episode of Geordie Shore airs on Tuesday 15 December at 10pm on MTV
For exclusive competitions and amazing prizes visit Reveal's Facebook page NOW!