Vicky Pattison has admitted she has a soft spot for her controversial I'm A Celebrity… Get Me Out Of Here! co-star Lady C.
Former
Geordie Shore
star
Vicky, who was crowned Queen of the Jungle
this year, told ITV's
Loose Women
that she couldn't help liking the divisive Lady Colin Campbell.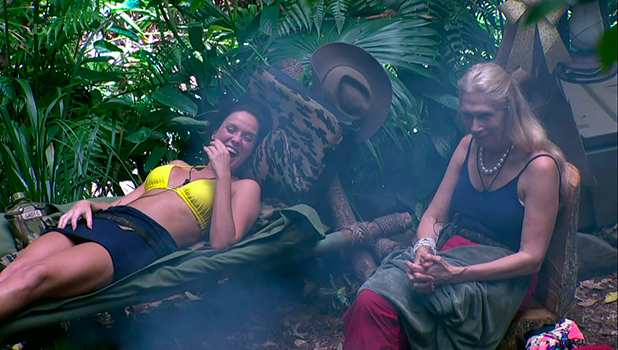 "When it came to Lady C I just have a soft spot for her," said Vicky.
"I'm sorry! I can't say anything else. I looked at that woman and thought she could be someone's grandma and I've been brought up to respect my elders. Luckily she never said anything to me. She provided the series with a lot of entertainment and I dread to think what it would have been like without her."
Vicky also shared her thoughts on
Lady C's claims that she had been bullied by Duncan Bannatyne and Tony Hadley
, which they have both denied.
"I hate that word, I just think it's so ugly and comes with so many connotations. For me, I'm sorry, if you're big enough to dish it out you're big enough to take it. Two consenting adults standing there, old enough to know better rowing like kids, it's not bullying, it's a pathetic argument, if you ask me."
Lady C, 66, has claimed that she felt bullied by Duncan and Tony in the jungle which brought back childhood memories of bullying. "I'm delighted to be out of the jungle not because of the jungle but because of the rats that were in the jungle – Duncan Bannatyne and Tony Creepsville," she said. "They ganged up against me to shut me down and turn me out. They never gave up on the constant harassment and bullying."
But Duncan and Tony have vehemently denied this. Duncan said: "Lady C knows she wasn't bullied. There was only one bully in camp and that was Lady C. She really is very silly. I have a wonderful life, wonderful children, amazing girlfriend. I'm not going to let Lady C come anywhere near me. She's insignificant, like a flea on an elephant's back."
Spandau Ballet's Tony added: "Georgie Campbell, when she came into the camp she was very funny very intellectual, she's a very clever woman. But then there's this other side to her - it's a real Jekyll & Hyde. She's meant to be a lady and the language was 'woah'. [The bullying allegation is] completely not true and anyone who thinks I would bully a 66-year-old woman needs their head examined. I wish her well, good luck in life, but that's the end of it."