Geordie Shore's Gary Beadle and Charlotte Crosby were caught locking lips last night, and now, the pair have addressed their smooch on Twitter.
Last night (8 December),
Holly Hagan sent fans into a frenzy after capturing Char and Gaz kissing on her Snapchat.
It seems after a few drinks, the pair couldn't resist locking lips, fuelling the romance rumours that have been surrounded them recently.
Waking up to their fans in a frenzy, both Charlotte and Gary have tweeted about their kiss and they may just be a tad embarrassed...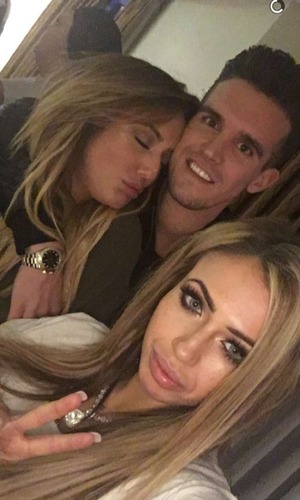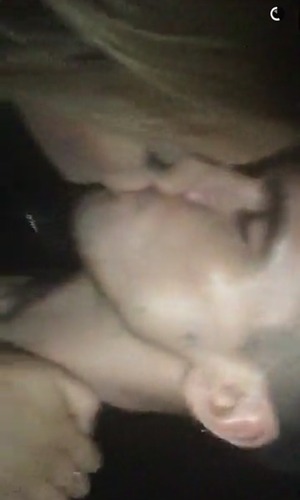 Charlotte posted an emoji of monkey covering its eyes, while simply tweeting: "Oh no."
Gaz, meanwhile, told fans he was nursing a bit of a sore head this morning, before adding: "F*cking snap chat."
And while we thought Holly may be getting a talking to today, she didn't seem that phased by her big reveal. Seeming to see the funny side instead, she tweeted: "Woopsie."
Oh no

— Charlotte Crosby (@Charlottegshore) December 9, 2015
Woopsie

— MissHollyHagan❤️ (@HollyGShore) December 9, 2015
Oh, Hols!
Gaz and Char's kiss has got literally everyone talking - especially after the pair's flirty antics recently. Newly single after splitting with his ex-girlfriend Lillie Lexie Gregg,
Gary had asked Charlotte out for a coffee
and while he insisted it wasn't a date, his co-star certainly took it for one.
Char then made a bet with Gaz that could see her marrying him
(yes, really!), telling the Geordie lad that if Sunderland beats Newcastle in their next derby day football match, the pair are jetting to Vegas to get hitched. If they lose, she has to get Gary's name tattooed on him.
As you can imagine, fans were all for a
Geordie Shore
wedding and now that Charlotte and Gary have kissed, they're almost certain the pair may finally make things official - even if
Char is supposed to be dating Love Island's Max Morley...
Watch this space, perhaps?
Here's how the Twitter'verse reacted:
Those that questioned their eyesight...
did I actually just see Gaz and Charlotte kissing the face off each other in Holly's snapchat story? Please please please

— kaylz (@kaylzy90) December 9, 2015
hold up was that Gaz and Charlotte kissing in Holly's snapchat????

— hols (@h0lzibra) December 9, 2015
have I just seen Charlotte and Gaz pull on @HollyGShore snapchat? Oh I hope so, made for each other . #GeordieShore #Chaz

— Alex Blenkley (@alexblenkley) December 9, 2015
Did I just see Charlotte and Gaz hooking up on Holly's snapchat OMG OMG

— Roma (@radgalroma) December 9, 2015
do my eyes deceive me or is that snapchat of gaz and Charlotte necking on???

— elle (@_elwby) December 9, 2015
Those that were oh-so-happy 'Chaz' seems to be a thing again...
I'm so happy to wake up seeing videos of Charlotte and gaz kissing on Holly's snapchat

— courts (@courtneypearton) December 9, 2015
legit just seen the video on hollys snapchat of gaz n charlotte getting off omg YAS

— jake sims (@ndubletnananii) December 9, 2015
Its not normal how happy I am to see Charlotte and Gaz kissing on holly's snapchat! I adore them two

— jade borthwick. (@itsjadeb) December 9, 2015
Charlotte n Gaz totally making out on Holly's snapchat yaaaasss it's time guys. Get your shiz together

— Sade (@sadeschwalger) December 9, 2015
@HollyGShore snapchat story has my made my morning Gaz & Charlotte getttttttttttttting it oooooooon

— micheala burgess (@michealaamariee) December 9, 2015
Buzzing at the fact I've just seen gaz and Charlotte kissin on hollys snap chat. Eeeeeek

— Tiegan pratt (@pratt_tiegan) December 9, 2015
Those that felt capitals were necessary to share their excitement...
OMG CHARLOTTE AND GAZ ON HOLLYS SNAPCHAT IM SO HAPPY

— Moglia (@louisesux) December 9, 2015
BUT GAZ AND CHARLOTTE KISSING ON HOLLY'S SNAPCHAT MAKES ME VERY HAPPY BECAUSE THEY ARE SO CUTE TOGETHER NO ONE UNDERSTANDS

— Jess. (@Jess1DOM) December 9, 2015
OMG GAZ AND CHARLOTTE KISSING ON SNAPCHAT !!!?!!!!!!! I actually LOVEEEE my life

— lauren thompson (@laurenth0mpsn) December 9, 2015
GAZ AND CHARLOTTE ARE KISSING IN HOLLYS SNAPCHAT!

— Lyla (@Lyla_Hiddleston) December 9, 2015
Those that are longing for a reunion...
Gaz and Charlotte necking on in Hollys snapchat they've got to become a couple soon #GeordieShore

— Carla-Jade (@CarlaMacph3rson) December 9, 2015
Well looks like charlotte and gaz can't deny them dating rumours now after hollys snapchat of them necking each other

— Chloe (@MissChloeMarie_) December 9, 2015
Those that couldn't forget about the third party...
Just seen Charlotte & Gaz kissing on holly's snapchat, poor max

— sepideh (@zepzepzepzep_) December 9, 2015
holly has just filmed charlotte cheating on max and necking on with gaz on her snapchat

— lauren cable (@laurencable08) December 9, 2015
Did Holly just video Charlotte cheating on Max with Gaz on her snapchat orrr......

— regina xo (@reshmaa23) December 9, 2015
Not impressed with Charlotte kissing Gary last night when she had Max on the go.. I would pick Max any day

— . (@lauzalouu_) December 9, 2015
For exclusive competitions and amazing prizes visit Reveal's Facebook page NOW!