Lady C was this year's most controversial and divisive contestant in I'm A Celebrity... Get Me Out Of Here! so we were intrigued to see what would happen when she met up with the rest of the cast post-jungle...
Well, tonight we will find out!
On this evening's
Coming Out
show, viewers will get some insight into how Lady C and the rest of the stars viewed their camp experience, and see what happened when Lady C left the jungle.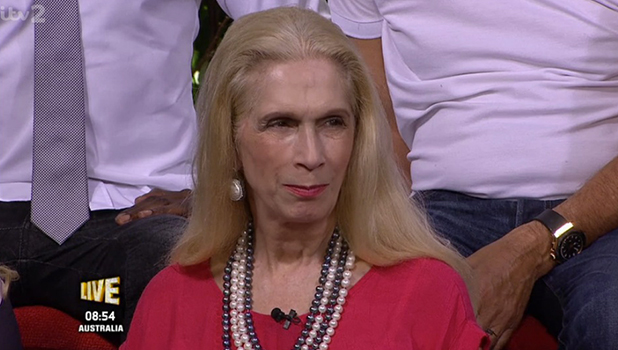 After being withdrawn on medical grounds, Lady C declares: "Au revoir jungle, never to return, thank god. I have been suffering from the injury for a week and a half now. To the people that have been voting me, thank you very much. If you did it because you liked me, I'm extremely flattered and sorry that I've had to leave.
"I'm delighted to be out of the jungle not because of the jungle but because of the rats that were in the jungle –
Duncan Bannatyne
and Tony Creepsville.
"They ganged up against me to shut me down and turn me out. They never gave up on the constant harassment and bullying. Many people will tell you I'm the best friend and ally you can have, but cross me at your peril because I'm an absolute bitch."
When Duncan leaves the jungle, however, he disagrees. "Lady C knows she wasn't bullied. There was only one bully in camp and that was Lady C. She really is very silly."
And Tony echoes those thoughts. When told Lady C has accused him of bullying, he replies: "You are kidding me. You're serious? It's completely not true and anyone who thinks I would bully a 66 year old woman needs their head examined. I wish her well, good luck in life, but that's the end of it."
After the finale, all the celebrities gather at the luxury Versace Hotel for a champagne reception - and Lady C turns up. She approaches Yvette, Brian, Chris and Susannah... and greets everyone but Yvette. She also refuses to join in when the stars say cheers for Duncan.
Lady C explains to the camera: "Quite a few of us aren't speaking to others, but that's fine." And Yvette said: "I think it would be very hypocritical if I became very chatty to somebody who has been quite nasty about me."
Will she talk to Tony and Duncan?
We'll have to watch tonight's
Coming Out
show at 8pm on ITV to find out!