I'm A Celebrity viewers have complained to ITV and OFCOM after watching Ferne McCann eat a live water spider during a Bush Tucker Trial.
TOWIE
star
Ferne chowed down on the wriggling spider
while taking part in the notorious eating trial on Sunday night's finale.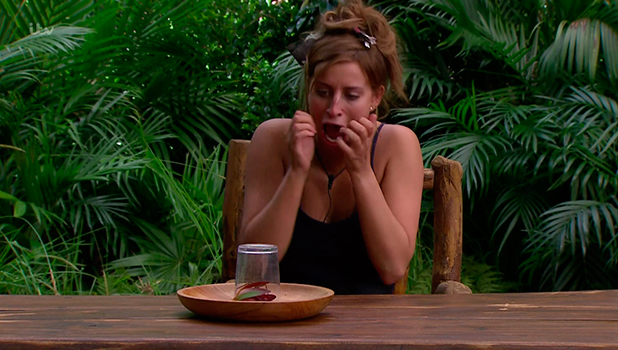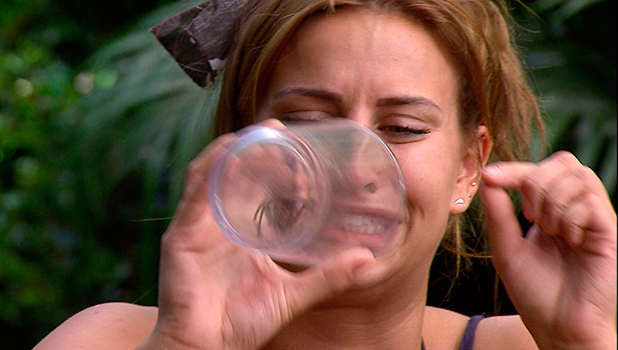 It was rather stomach churning to watch as she had to shake the spider in a water glass to get it to ball up, making it easier to tip him into her mouth. She told Ant & Dec she wasn't sure she could do it and screamed when the spider moved, before plucking up the nerve to get it done.
At one stage, spider legs could be clearly seen poking out of her mouth as she chewed on the creature.
According to
The Mirror
, more than 500 viewers complained to OFCOM while another 500 voiced their concerns with ITV directly.
A rep for ITV said: "I'm a Celebrity complies with all regional and international laws concerning the use of insects in the eating trials, which have become a well-established part of the show over the past 15 years." Meanwhile, a spokesperson for OFCOM said the complaints would be assessed before any decision on further action or not is taken.
We asked you for your opinions on the trial via Facebook earlier today and had a mixed response.
"No way I could have ate that spider. I cringed when I saw her eating it, with the legs hanging out of her mouth lol, but they do say, people eat a spider or two when they are asleep Yuck!!"
- Pauline Harrison
"No animal should be eaten alive it may only be a spider and there are billions of them but the poor thing would still feel fear and pain."
- Jennie Gordon
"It's only a bloody spider! I'm pretty sure most of you don't think twice about killing a spider if you find one in your house so how is that any different??"
- Jemma Strachan
"Meanwhile, the live witchety grub that got eaten 5 minutes beforehand is not given a second thought......."
- Jay Hill
"People say this is cruel how many people have stepped on a spider and killed it ?"
- Steven Holman
"Well you all know what they have do on show so get over it."
- Elaine Arthur
Ferne also had to eat live wichetty grubs, as well as lamb's brain and a bull's penis. Unfortunately, it didn't help her win the show as she ended up in third place behind Union J singer George Shelley and
Geordie Shore
's Vicky Pattison.
For exclusive competitions and amazing prizes visit Reveal's Facebook page NOW!