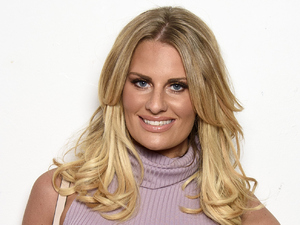 The Only Way Is Essex's Danielle Armstrong exclusively shares her views on the latest episode of I'm A Celebrity... Get Me Out Of Here!The Final!
Ferne, Vicky and George started the last episode by celebrating being in the final. "Not bad for two reality tw*ts, is it?" said Vicky, who also cried in the Bush Telegraph, saying: "By the public keeping me in here, it shows I'm not a bad person, am I?" I, of course, always knew she wasn't; that's my mate and one of the best mates a girl could ask for!
They trio danced in silence and screamed and hugged with joy as Vicky asked Ferne and George not to make her the third wheel by flirting in front of her for the remainder of their time in there. As Vicky went to do her last Bush Tucker Trial, she joked with Ferne and George: "Don't have sex on my bed".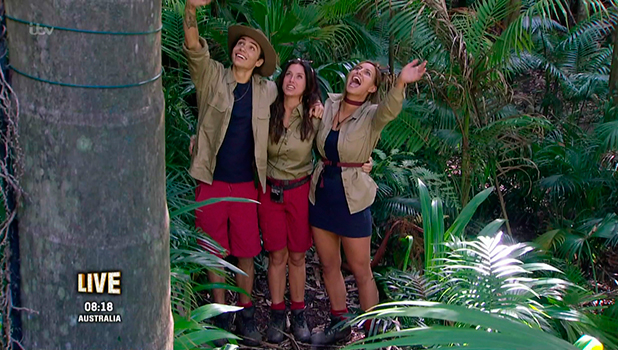 'Surf and Turf' was the name of Vicky's trial. Four stars were up for grabs, with the first three worth a starter course for camp and the fourth star for 50 dingo dimes to use at the vending machine. Vicky had to travel through four perspex boxes filled with snakes, spiders, eels, yabbies and mud crabs, and unlock boxes that were underwater.
Vicky was doing it in record time despite Ant and Dec trying to scare her and I thought they were not happy that she was getting through it so quickly. "In your face snakes," she shouted, as "the gobby lass from Newcastle" (as Ant & Dec describe her), completed the trial in no time at all.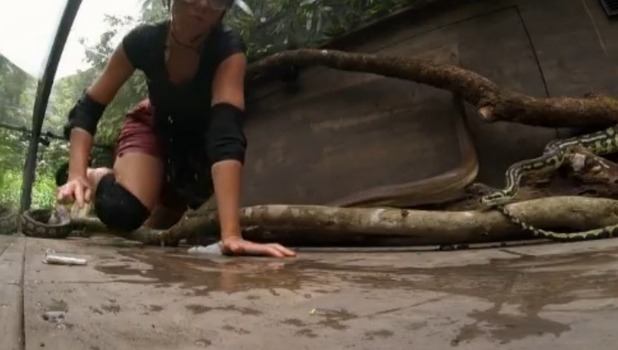 Ferne was up next with her Bush Tucker Bonanza Trial, with four stars available again. Three stars would win them the main course for camp and the fourth was for 50 dingo dimes. Ferne was presented with four dishes which were either jungle critters or traditional food.
The first one Ferne was faced with was the option of a witchetty grub or a piping hot pizza. She went for the grub and as she bit into it we saw blood drip from her mouth. She said it tasted of 'parsley, leaves and a bit milky' - lovely then, Ferne! Next the option was a lamb's brain or pie and mash. Again, she wasn't tempted and went for the brain, cooing "oooh meaty" as she munched it. She also said: "I'm never gonna get a date again, you know that?" She coughed and wretched as she ate it but she did it - so that's two stars! The third dish was a bull's penis or a roast chicken dinner. Of course, she went for the penis, ha ha! She said, "it's so chewy" as she struggled to swallow it but, again, did it.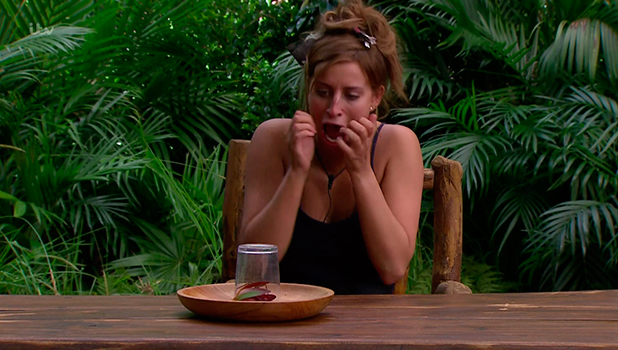 The last dish was a live water spider or profiteroles, which is her favourite desert. After seeing the spider, she said, "No... how?!?!" Ant and Dec advised her to swirl it around in the glass so it would go into a ball and assured her if she bit it first then it wouldn't bite her.
Ferne had trouble swirling the spider around in the glass
, prompting Ant to quip: "You like your spider shaken not stirred!" Eventually she threw the spider into her mouth and I don't know how she did it, but she did!
She was munching on a massive live spider with legs hanging out of her mouth and all! Even Ant and Dec said, "Oh my God you're a hero!" and I couldn't agree more. She described the taste in graphic detail but again she won the four stars and when she told Vicky and George about the trial, they couldn't believe she ate what she did.
Finally, George went to do his last trial, which was called Critter Attack. 25,000 crickets, five kilos of meal worms, 45,000 cockroaches and 20 witchetty grubs were put in a perspex box with him; the most used in any trial this series. George had to raise the stars out of the caging behind him as he was covered in the creatures, which were dropped on him from above.
As if that wasn't bad enough, they then put five nests of green ants in with him too. "They've gone in my bum," he shouted, but in no time at all, he finished it and won all four stars for desert and 50 dingo dimes. The girls were sleeping in camp when he returned, so he shook the bag of dingo dimes to wake them up. "Talk about a fire crotch," Vicky said when she heard about what George had to endure.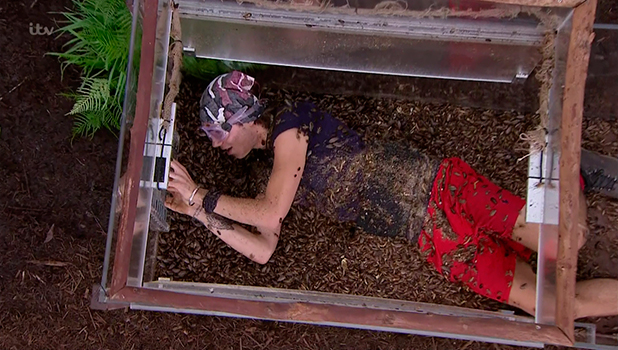 The campmates then told us what they wanted for their meal as they salivate in the Bush Telegraph. Ferne dreamt of "a whole Peking duck and profiteroles but the chocolate has to be melted on top" while Ant and Dec mocked George for wanting "moussaka" as his main dish. I'm going to have the profiteroles on ice waiting for Ferne when she gets back from the jungle!
We then saw highlights from the series before Ant and Dec went into camp to tell my girlie Ferne that she's come in third place. She couldnt' hide her disappointment. I know how gutted she would be not to win but I think she's done so, so well to get to that final considering all the preconceptions people have of reality stars - she's definitely shed those.
The first thing
Ferne wanted to know was whether Chris said 'purple' or 'Duncan' earlier this series
and, sure enough, we know Chris said 'purple' so Ferne was right all along! It was so funny seeing Ferne's relief at finding out that she wasn't going mad! Then we addressed the flanter between Ferne and George, and Ferne said that they will meet up and just be friends. Ahh I knew it! I'm pleased George was in there to make her happy though. Seeing Ferne crying as she was reunited with mummy Gilly obviously pulled at my heart strings.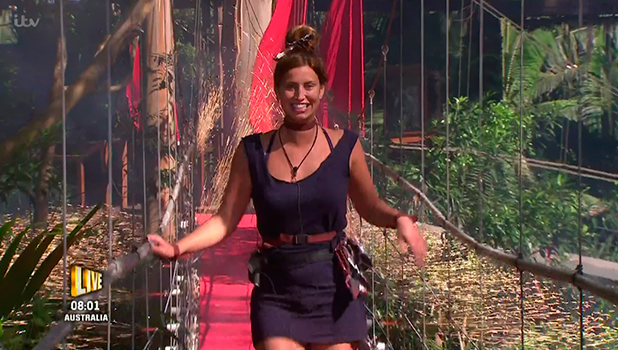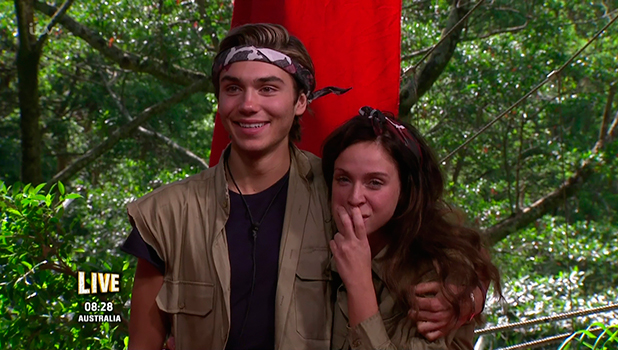 Back to see the last supper in camp, and the final three feasted on spaghetti with meatballs, duck and pizza for starters, and the noises they made as they ate were hilarious! Then came sweet and sour chicken, chips with curry sauce, lasagne etc. They all agreed that the last supper has been their best moment in camp but they felt like pigs afterwards and had to lie down in pain from eating so much after having not eaten anything for weeks.
As they recovered from the feast they were quickly brought back to reality when they spotted a snake in camp. "That's one of them brown deadly ones ain't it?" said Ferne, while Vicky added: "Didn't he know our dinner party was invite only?" Only Vicky could joke at a moment like that when confronted by a deadly snake!
Vicky and George then joined Ant and Dec live to watch their jungle highlights - and gulp down champagne like it was water! It was
George's turn to be grilled about the flanter with Ferne
and he blushed and said, 'We'll see what happens.' He got tearful thinking about the prospect of winning and how proud it would make his mum.
Next, we saw Vicky's jungle highlights and a montage of all her brilliant one liners. "You certainly have got a way with words!" said Ant & Dec, stating the obvious.
Vicky spoke about her relationship with Ferne and her desire to win
, and then we heard the other campmates' opinions on George and Vicky. They are all very complimentary about both of them.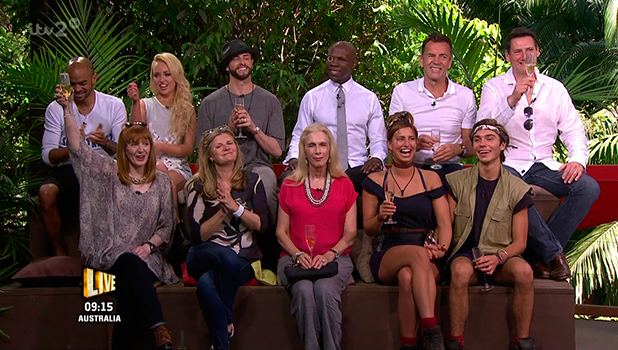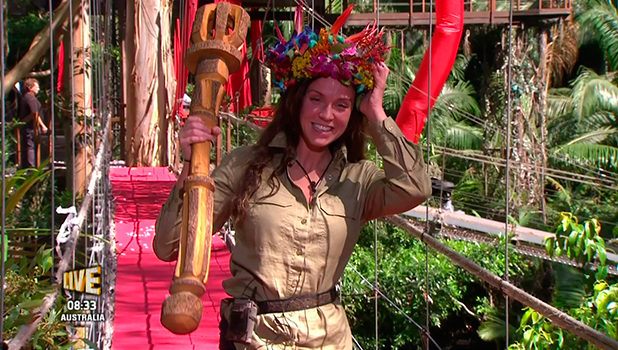 All the 'fresh and clean' campmates joined the finalists live and...
Vicky was announced Queen of the Jungle
! She went wild, kissing all the formercamp mates who looked on bewildered! Vicky took her place on her jungle throne and had the crown put on her by last year's King of the jungle, Carl Fogarty. Vicky thanked the public and said she didn't think she deserved to win, but I think she truly does. Then we had one last funny quip from Vicky who said: 'I'm probably going to have to pay for me mam and all me mates phone bills when I leave here!" No Vicky, the whole British public love you now as much as I do and were all voting for you!!! Well done my brave, hilarious, gorgeous girlie Vicky!
Danni xx