Vicky Pattison may have won I'm A Celebrity but it was Ferne McCann eating that LIVE spider that had most us talking last night!
It was the grossest trial we've seen all series – perhaps since the very start of the whole show – as the
TOWIE
star was tasked with devouring a live, wriggling, rather large water spider.
VOM! Plus poor spider...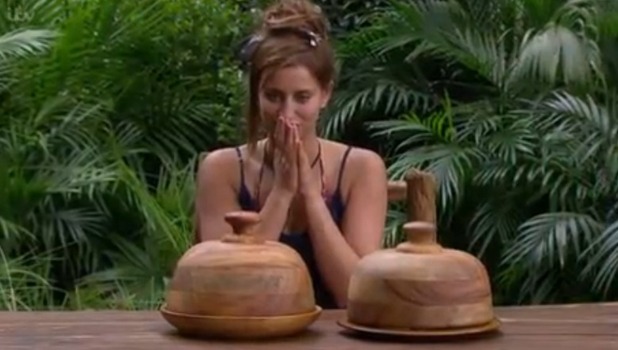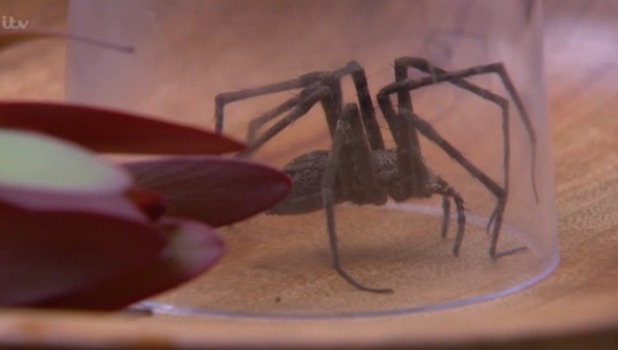 Like us, plenty of Twitter users first expressed total shock that anybody could be expected to eat a spider, let alone one that big, then confusion about how exactly one does eat a very fast moving spider, and whether this was a tad cruel for the poor spider just minding his own business.
Well, Ant & Dec had the answer to that: apparently you have to shake the cup holding the spider so that it balls its legs up together making it easier to get in your mouth and chew. Gross, gross, gross, gross, gross!
BUT SHE DID IT!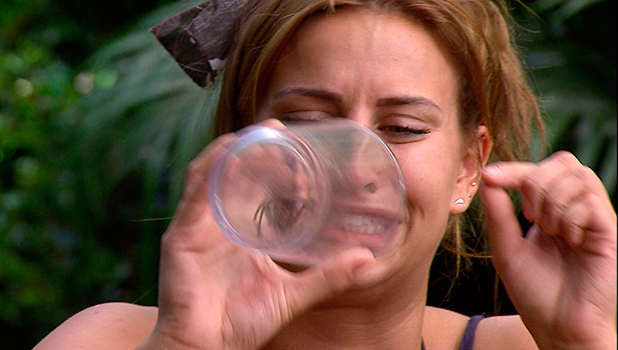 After some hesitation (understandably!) the Essex starlet faced her fears and gulped down the spider, giving us one of the most hard to watch moments of this series – spider legs sticking out of Ferne's mind as she tried to chew it up.
Even just remembering that moment makes us shiver.
As you'd expect, Ferne's
TOWIE
co-stars and fellow celebrities were quick to praise her for actually attempting the challenge, let alone completing it, with many saying that trial alone should have been enough to crown Ferne as Queen of the Jungle.
Wow @fernemccann was so so wicked, made the show for me! Entertainment and a real sport! She went for it, all in total! #winner!

— Jacqueline Jossa (@jacquelineMjos) December 6, 2015
Well done @fernemccann that was the most intense thing I've seen on I'm a celeb! Eating a live spider is FULL ON!!

— matt willis (@mattjwillis) December 6, 2015
@imacelebrity @antanddec there was a young lady who swallowed a spider! It wriggled and squiggled inside her @fernemccann to win!!!!!

— Amanda Holden (@AmandaHolden) December 6, 2015
how did @fernemccann eat that spider!!! #fernetowin

— Lucy Mecklenburgh (@lucy_meck) December 6, 2015
Just got home in time to watch @fernemccann eat a live spider wow that girl is amazing #ImACeleb #queenofthejungle

— Danielle Armstrong (@Daniarmstrong88) December 6, 2015
I don't know how on earth @fernemccann just powered through eating that spider #weapon

— Chloe Goodman (@Chloe__Goodman) December 6, 2015
After eating that spider @fernemccann deserves to win #ImACeleb

— JORDAN (@JordanWeekender) December 6, 2015
@fernemccann nooooooooooooo wow amazing that's ridiculous

— Robbie Savage (@RobbieSavage8) December 6, 2015
Ah that's it .........@fernemccann to WIN!!!!!!!!!!!!!!! Upmost respect!!!!

— hayley tamaddon (@hayleysoraya) December 6, 2015
I cannot believe she actually did it you have big balls @fernemccann - @antanddec we've got a sweat on too here at home

— Jess Impiazzi (@jess_impiazzi) December 6, 2015
That is the best thing ever on @imacelebrity

@antanddec you're right @fernemccann is a hero!

She has to win

#ImACeleb

— James Jordan (@The_JamesJordan) December 6, 2015
I think @fernemccann deserves to win this after her last few trials ! Just got on and done it ! #goferne #essexgirl

— jo o meara official (@joomeara) December 6, 2015
@fernemccann Jesus Christ!! Had to turn tv over

— Jennifer Metcalfe (@missjenjomet) December 6, 2015
As you'd expect, not everyone was happy that a live spider was eaten for entertainment, with many viewers taking to Twitter to express disappointment in producers for selecting the trial.
So u all go mad when Lady C puts a bug in the fire but Ferne has to eat a ALIVE spider & its funny & entertaining?! #Hypocrites #ImACeleb

— Mr Aaron Purewal (@iamMrAaron) December 6, 2015
#ImACeleb the live insects were always wrong but the spider was a new low ferne should have refused! Who cares for 1 meal?!

— Bex (@bubblybex3) December 6, 2015
I do like I'm a celeb but I thought it was so so cruel how they made Ferne eat a live spider, I'm scared of them but that's just wrong

— Kerry(@kerryjonesx) December 7, 2015
I've a phobia of Spiders,but Ferne eating a live water spider, after being advised to spin it to make it huddle up was #cruel #ImACeleb

— flufftail (@FLUFFIEHAMSTER) December 7, 2015
Am I the only one that thought it was pure cruel ferne eating the poor spider?

— Hannah Dillon (@cats4liife) December 6, 2015