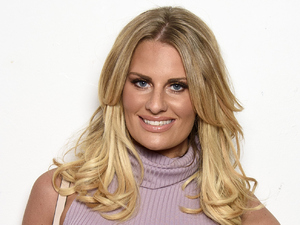 The Only Way Is Essex's Danielle Armstrong exclusively shares her views on the latest episode of I'm A Celebrity... Get Me Out Of Here!Episode 17
It's a rainy morning in camp and there's been an incident, someone has created a foam bath in the shower by leaving the conditioner bottle on its side with the lid off...Who could it be? Ferne takes it upon herself as new camp leader and becomes 'DC McCann' interrogating both Duncan and Kieron, who were the only celebs that had showered until the foam explosion, ha! As a viewer we see it was Kieron that had left the bottle on its side, but watching Ferne have fun playing the Sherlock Holmes of the jungle was entertaining - I loved it!
The celebs are discussing where they would like to be in five years from now. Kieron's dream is to run his local football club, Ipswich Town, Tony wants to continue making music (can't remember the last Spandau Ballet song that was released), be an actor, oh, and to be the next David Attenborough, ha! George would like to try out acting maybe in a soap and Ferne's ambition is to appear in
Downton Abbey
(I think there's more chance of Lady C being on
TOWIE
)!! Vicky tells her campmates how she would like to stop reality TV and keep her life more private... I totally understand where Vicky is coming from. As much as reality TV has given her, myself and Ferne a platform, it can be very hard when everyone knows what's going on in your life and to keep anything private these days. Vicky also talks of her struggle day to day to deal with her temper (any
Geordie shore
fans will know what she means... We still love her for it though). Mr Bannatyne doesn't want to be anywhere different in five years, he just wants his life to be exactly how it is now, "perfect"... I think I wouldn't want anything if I had your bank balance too Duncan, ha!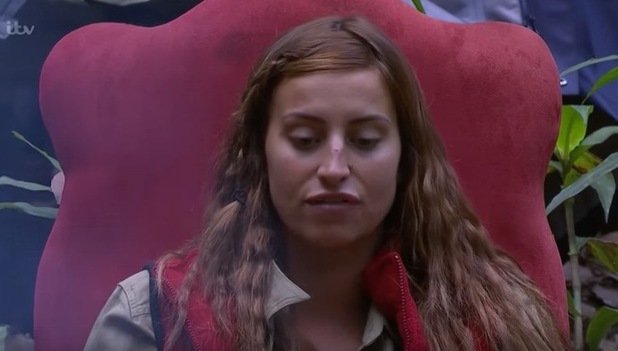 It's trial time and Ferne had to pick two celebs to face the Bushtucker... both my girls ruled themselves out as they have done a lot the last few days. All the guys were keen and a hesitant and slightly annoying Jorgie half put her hand up. What has happened to Jorgie? She doesn't seem to bond with anyone at all since her 'clique' was evicted and she's just got nothing about her at the moment. I agree with Vicky, maybe giving her the chance to do a trial will give her some energy and bring back the young girl we saw at the start of the show!
Kieron and Jorgie were the lucky chosen ones and they faced The Horrible Heist! One celeb has to get into a lift shaft, enter the bank volt and search draws to find the stars. The other celeb has to direct them where to go! Jorgie is eager to prove to camp she can do this so that leaves Kieron's map skills to direct Jorgie to the stars. She starts off and with Kieron's superb directing, Jorgie finds the the draw full of fish guts, but nothing too awful - well, maybe for Jorgie it was as struggled to find the star and was moaning about her fingers being cold. She finally found the star...great, now she just has to unscrew the star but it's becoming difficult and with time against her. She's now spent half of her time on one draw! Ant and Dec and a patient Kieron are in fits of giggles but eventually she gets the star. She goes from one draw to another taking her time and I'm frustrated watching her lack of urgency. I'm now screaming at my TV "come on Jorgie". She's advised by Dec to move onto the volt as there's now several minutes to find five stars. She manages to win another star just in time but it wasn't the best attempt - all she did was moan about how cold her hands were.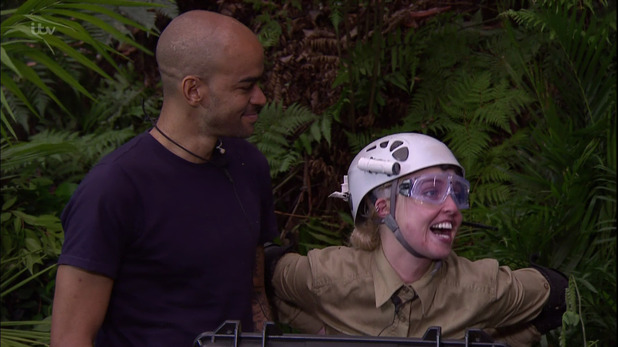 Returning back to camp, Jorgie nervously giggles as she admits she's only won three stars - that's food for less than half the camp! My girls and George are just happy she had the chance to get out of camp, but a frustrated Duncan and Tony weren't impressed!
Duncan and Tony get to do a trial to win a treat for camp. They of course win but it was down to the big question that was asked to British parents, "What percentage think they know what is going on in their teenagers' life: 81% or 63%?" Both camps and Tony and Duncan guessed 63%, which is what I would have gone with, but both were wrong much to my surprise too. Oh, and to think they could have had meat and veg pasties... I bet Jorgie's feeling even more guilty from her lousy attempt at the trial earlier!
There's flirting between Ferne and George...Ferne loves to do role play games she's like an excited child so they decide to pretend it was the first time they met. Ferne's giving George a hand massage whilst asking him the typical chat up line, "You come here often". George is loving it and interacting with her. The chemistry is cute between the pair but watching Kieron laughing at the bad banter is funny! I don't think there will be a jungle romance but a good friendship with a bit of flirting.
Ferne and George have a challenge of sleeping in the Bush Bunker full of alarm clocks that go off throughout the night that they then have to turn them off within 15 seconds and if completed they win a full English breakfast for camp. They start off their flirty banter "flanter" as we call it in Essex, discussing previous dates and all seems cute until they realise it wasn't just those two sleeping in the Bush Bunker when six to eight big rats scatter around them. We see both celebs get up in the night turning off the alarm clocks...they stick together and get up working as a team and eventually the buzzer sounds as they complete the challenge! In the words of Duncan, "they brought home the bacon" ha!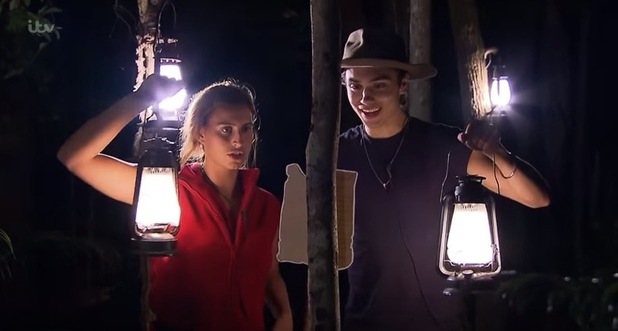 Eviction time and both Duncan and Tony receive the lowest votes. I was thinking Jorgie would be in the bottom. Duncan's name is announced and I'm a little gutted as the Scottish millionaire leaves camp as he had really grown on me! He went off to be reunited with his girlfriend, who is a proper sort, and defiantly announces he never wants to see Lady C again - don't worry Duncan, I think it's safe to say that the feeling is mutual!
Danni xx
Try Reveal's digital edition on iPhone & iPad. Subscribe now & never miss an issue!