Geordie Shore: Charlotte Crosby tells her BFF Holly Hagan a few home truths.
Following her break-up with Kyle Christie, a heartbroken Holly hasn't been herself and viewers have watched the Geordie favourite either crying or rowing onscreen. But after
Kyle decided to leave Greece and the Geordie Shore house behind
, Char was excited to finally get her fun-loving bestie back again.
Although, that didn't exactly go to plan. Kyle may have gone, but Holly is still hurting and after getting teary on another night out, Charlotte decided to deliver her pal a few home truths.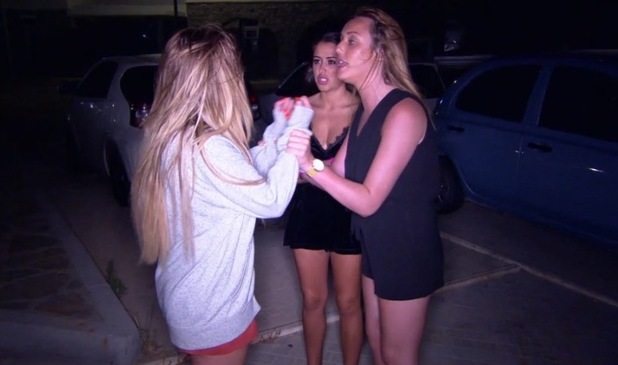 Not only did Kyle tell Holly he wanted to be single, but the reality star continued to flirt and fallout with her following their break-up -
kissing another girl and bringing two girls home with him just days after their split.
Frustrated that Holly is still getting upset over him, despite the way Kyle treated her, Charlotte steps in and hopes that what she has to say may make Holly think twice about dwelling on her heartache.
And though she tries to get through to her, Holly doesn't want to hear it.
Not wanting to be told she's been "taken for a mug" - even though she feels like it - Holly tries to storm out, but Char isn't giving up.
In emotional scenes to be aired on Tuesday's episode (even Gaz looks like he is getting teary-eyed!), Charlotte tells Holly: "Until your best friends tell you, it won't sink in... You saw it, but you will never believe it because you are in love with him.
"But listen to me... he is an a*sehole," she says. "All I want you to do is f****** forget about him... I don't see my Holly. I can't see her. You're trying to please Kyle and you're not even with him... don't you ever stick up for him. He never cared about you."
Ouch.