Geordie Shore's Scott Timlin has hinted he and Holly Hagan may rekindle their romance in the future.
She may have only just split with Kyle Christie, but it looks like Holly could already move on from her ex-beau and with her former flame Scotty T.
In the past, things have heated up between Holly and Scott, but he took a step back from their friendship, after Kyle admitted he didn't like seeing the pair together knowing their history. But after Holly apologises for avoiding him for the past year, Scott soon eyes up a reunion...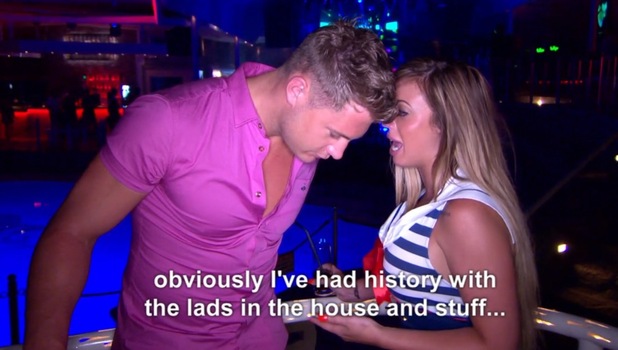 Oh, Scotty T!
In Tuesday night's episode of the show, the cheeky Geordie lad is back up to his old tricks and trying to charm his co-star.
Feeling like her old self again after her recent heartbreak and Kyle leaving the
Geordie Shore
house, Holly is in high spirits when the cast head out in Greece and all in nautical fancy dress.
While out, she grabs Scott to apologise for being distant. Holly tells him: "Obviously in the past I've had history with the lads in the house... me and you. You've kind of stepped aside from being my friend for the sake of me and Kyle."
And seeing it as the perfect opportunity to suggest picking up where they left off, Scott admits: "I can't promise you that I won't try and come on to you again, because... history does have a tendency to repeat itself."
A little forward, perhaps?
Before you get your hopes up, though, Holly isn't so keen on locking lips with Scott again.
"Oh. My. God. Scott can flirt with me all he wants," she says. "But history will never repeat itself."
Hmm... never say never Hols!