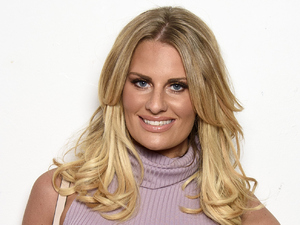 The Only Way Is Essex's Danielle Armstrong exclusively shares her views on the latest episode of I'm A Celebrity... Get Me Out Of Here!Episode 17
So it's not a very nice start to the show as we see a mouse run over the pots in camp and Duncan wakes Ferne and George up by waving dirty pots and pans over their faces, saying that they're not clean and that they should get up and wash them. How those kids don't say nothing to that abhorrent man I will never know. Duncan was so patronising and picking on Ferne who stood up for herself, but not as much as I'm used to with her, and so probably out of frustration Ferne cried in the Bush Telegraph. Lady C snitched on Duncan and Tony, who said George is a bad camp leader, which I do kind of agree with but only because he's too nice to boss people around. The guys should have spoken to George directly about this though. Then a fight ensued as Lady C whispered to George and Tony said it's rude to whisper.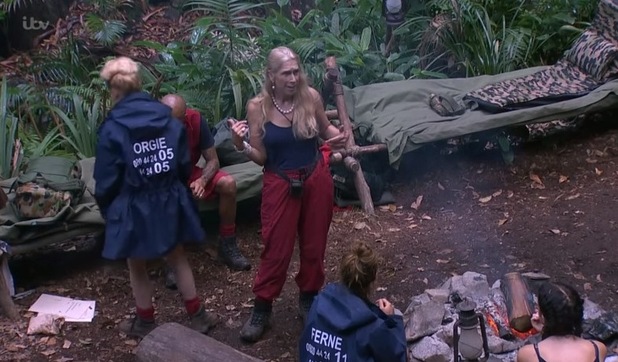 The camp were arguing over the tidiness and cleanliness, with Lady C of course leading the pack calling Duncan a hypocrite and telling Tony to "f*ck off". The younger ones are telling the older ones off, it's like role reversal with the kids telling the adults off - my Vicky is all grown up and is living up to her
Judge Geordie
status. Next is... another argument involving Lady C! This time she questioned if Ferne, who's been nominated to do the trial, really wants to do it and is capable of it. This leads to yet another slagging match with Tony, and Lady C calls him boring again, but now I'm bored of the negativity and bickering all the time. Ferne sums it up when she says she'd rather be lying in a pit with snakes, spiders and creepy crawlies than with all this arguing.
Ferne's wish comes true as it's time for her trial Panic Pit and this will surely go down as the most amazing trial of the series, maybe even ever! Ferne was put into a pit in the ground and slowly over eight minutes 40 pythons were released and joined her in there. One slithered on her face and her muffled crying hurt my heart! Then a massive python wrapped around her neck and despite her suffering, Ferne comically says, "I'm doing a Britney Spears", but was so scared of being strangled by the snake. Ant and Dec stated "this is one of the worst trials ever" and Ferne did unbelievably well considering how challenging that trial was and got all 8 stars for camp.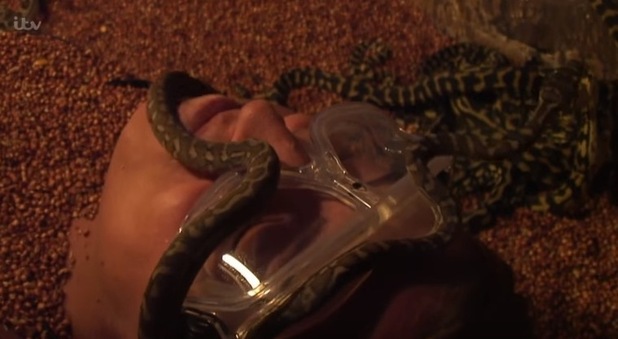 Then the news is given to the camp mates that Lady C has had to leave camp on medical grounds. I'll be glad that the bickering will be over but I bet it's a lot more boring now without her. I can't believe George cried when he heard the news, I think it was more because he wanted to leave. Luckily the camp don't have to dwell on Lady C's departure for too long as they are told they have to elect a new camp leader, and Ferne is voted in. Poor Kieron is desperate to get his arse on that red chair as he's so competitive but also wants a break. He said he's had the worst day ever and I really feel for him, he seems so fragile, I wish someone would just give him a cuddle! Ferne chose new best bud Vicky as her deputy and all I'm thinking is how good our nights out are going to be when they get back!
Then we had the dingo dollar challenge where Vicky was dressed as a giant flying squirrel and she and George had to crack nuts, but sadly the campers answered the questions wrong so they didn't get a treat. Dinner arrived and they were all so excited, but their excitement quickly turned to disappointment as little black scrawny chickens arrived - "looks like the ghost of chickens past", Vicky quipped!
Then it was time for letters from home so I got my tissues ready. George's dad was funny saying, "I'll show you how to put a bra back on a woman". Duncan's letter from his girlfriend had him holding back tears and Tony handled it well; wish they'd show some more emotion really. Vicky's letter from her mum said "maybe you should go for a more natural look when you get home", ha ha, sorry Mrs. P, I don't think there's any chance of that!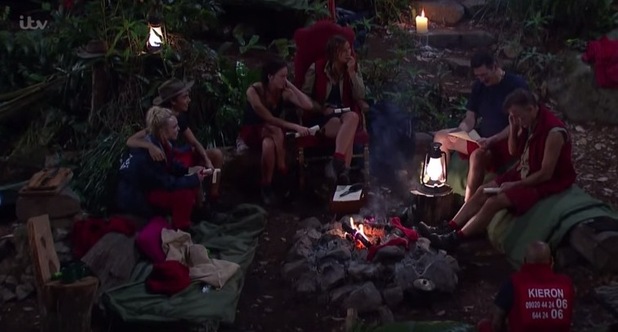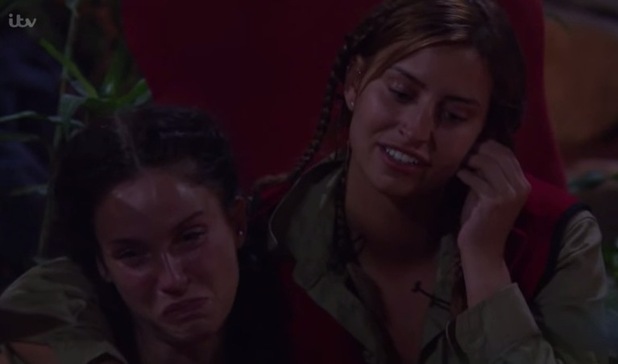 Jorgie's letter confirmed that her family were all proud of her and that her "grandma is watching down on her". Kieron's letter from his wife Holly had him crying so much surely he's now shed the bad rep that footballers have? I hope Mummy Gilly's letter to Ferne gets her through the next few days. The show ended with a brilliant sing-a-long round the camp fire with Tony leading them all in singing 'Gold' into his hairbrush mic - aww, what a nice note to end on.
Danni xx
Try Reveal's digital edition on iPhone & iPad. Subscribe now & never miss an issue!
I'm A Celeb: who's left in the jungle?
Copyright: ITV