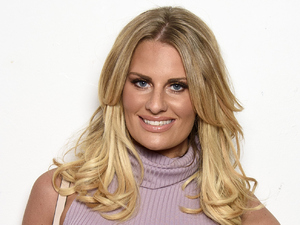 The Only Way Is Essex's Danielle Armstrong exclusively shares her views on the latest episode of I'm A Celebrity... Get Me Out Of Here!Episode 14
There's a storm in camp and, no, it's not Lady C for once, ha!
Duncan says he's ready to walk out
because he's missing his girlfriend and wants to be "in her arms." Tony has also had enough and listening to Chris talk about "staying in the game" doesn't seem to help either of the grumpy pair.
Elsewhere, Lady C, Kieron and Ferne are completing their daily chores down at the rocks and it's not long before we see
Kieron pull up Lady C on her behaviour towards Tony from the night before
. I love how Kieron says it how it is and sticks to what he believes in regardless of what any of the celebs think. Lady C still doesn't accept she's in the wrong, again calling Tony "a fat pig" (which doesn't make me giggle to myself) but Ferne is quick to end the conversation and move on.
The mood in camp is low and when Jorgie asks Yvette to do the laundry, well, her face says it all. I feel this woman is on the verge of a break down. She seems extremely miserable. Maybe she should just walk out now? It's depressing for us to watch.
On a brighter note my girl Ferne is loving jungle life! Although maybe the jungle has sent her a little loopy as I watched her picking the dirt out of George's toe nails. Eeewww! Whilst giving the cute boy band member a pedicure she explains how she is enjoying her experience and finds it frustrating when people moan (I wonder who she's talking about, ha)... Yvette is still moping about expressing her thoughts of hunger and wanting to go home.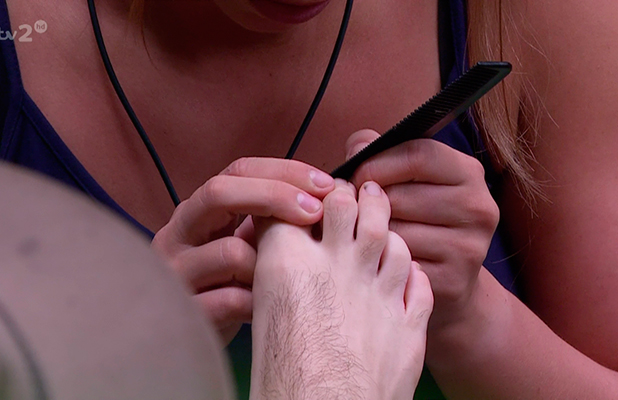 Two celebs have to be picked for tonight's trial and camp leader Vicky is quick to choose Duncan as he is yet to attempt a trial. Duncan wants either Kieron or George to do the trial with him. Poor Tony yet again is eager to face the trial but Vicky and the majority of the celebs aren't convinced he will be the best celeb and would rather the fit young boys do it.
I'm sitting here thinking, someone, please give the man a boost of confidence! He's been humiliated Lady C and now his man pride is being knocked yet again! I'm so happy when Tony finally gets picked; his chubby face lights up. Kieron is thrilled for Tony and explains how he can be "a different man" if he comes back with stars. Everything Kieron does and says I agree with. The young athlete has got a heart of gold and could be King Of The Jungle!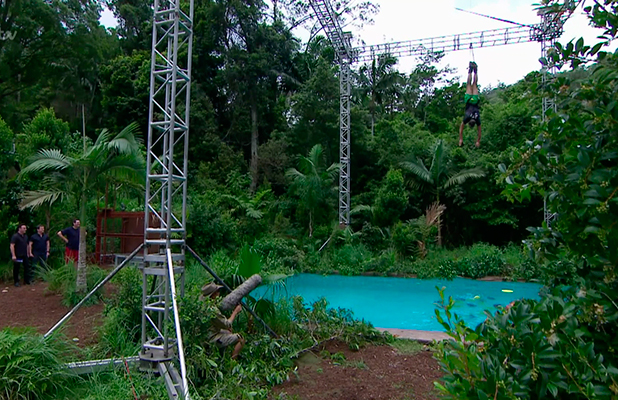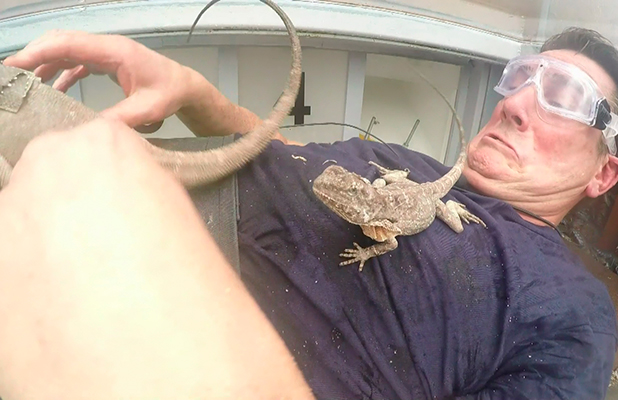 It's the Depths of Dispair trial for our elder male celebs and first up is Duncan, strapped high above the water he has to be dunked under water and grab yellow tokens each worth 10 seconds, which gives Tony more time for the second part of the trial, But if Duncan grabs any red tokens then that takes off time for Tony's trial. Wow, I think someone in production is running out of Bush Tucker ideas, ha!
Anyway Duncan's off and hearing him shout out "Dunk Duncan" sets me off, ha! He's started off well but in the end only releases three yellow tokens which gives Tony only 30 seconds extra. So the pressure is on the Spandau Ballet singer now... He's trapped inside a perspex box and has to put his hand in each hole in the box to find the stars. He's doing well - a lot better then I thought - and he doesn't seem phased one bit about the jungle creatures in the box with him and climbing all over him. He wins an impressive nine stars! But returning back to camp,
poor Duncan looks like he's done three rounds with Chris Eubank
after the water dunking!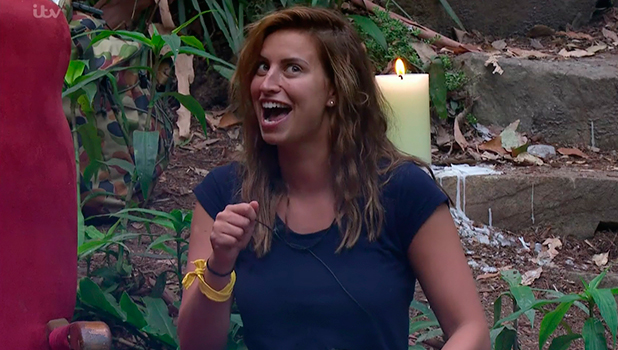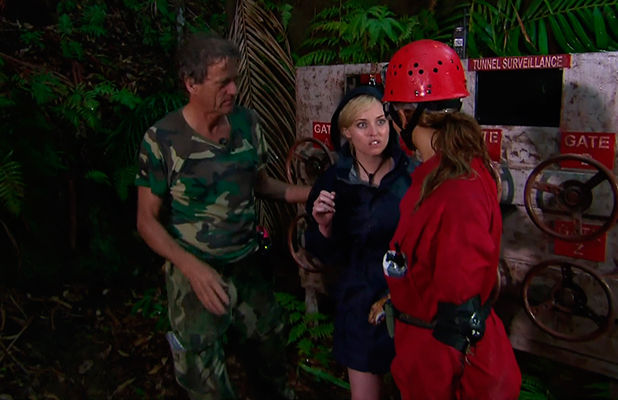 We see Ferne and George liven things up in camp with some singing and quite bad beat boxing, ha! Whenever we got bored at filming, Ferne would always be the one entertaining us by breaking out into a ballad or dance so it was lovely to see her settled in and being herself. The fun pair played Jungle Radio and if Ferne ever leaves
TOWIE
, I think she would be fab as a radio host, ha!
It's late afternoon and our
celebs have been ordered to hide out in the Bush Telegraph due to the thunder storms and torrential rain.
Once the weather settled, Ferne and Jorgie had to guess the answer "to what percentage of Brits know all the names of their sexual partners?" and celebs at camp had to get the same percentage. They both went for 64 per cent which was the right answer! So it was a treat of bread, butter and jam for everyone!
The episode ends with the second eviction and it's between Yvette and Brian... I was 99 per cent sure Yvette was going but, as shocked as he was,
Brian has the least votes!
I've never been a huge fan of the famous choreographer but I think his bitching and stirring will be missed!